The Life of Mark Twain: The Final Years, 1891–1910 (Mark Twain and His Circle #3) (Hardcover)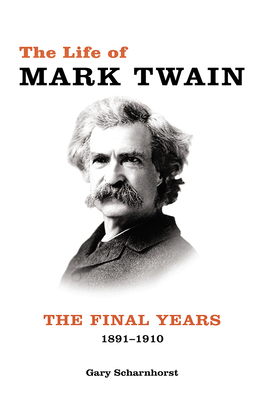 $44.95

Not in the store. We can order it and should have it in store in 3-5 business days.
Other Books in Series
This is book number 3 in the Mark Twain and His Circle series.
Description
---
In the final volume of his three-volume biography, Gary Scharnhorst chronicles the life of Samuel Langhorne Clemens from his family's extended trip to Europe in 1891 to his death in 1910 at age 74. During these years Clemens grapples with bankruptcy, returns to the lecture circuit, and endures the loss of two daughters and his wife. It is also during this time that he writes some of his darkest, most critical works; among these include Pudd'nhead Wilson; Personal Recollections of Joan of Arc; Tom Sawyer Abroad; Tom Sawyer, Detective; Following the Equator; No. 44, the Mysterious Stranger; and portions of his Autobiography.
 
About the Author
---
Gary Scharnhorst is Distinguished Professor Emeritus of English at the University of New Mexico. He is the author or editor of fifty books, including Mark Twain on Potholes and Politics: Letters to the Editor. He lives in Albuquerque, New Mexico.
 
Praise For…
---
"The final volume of Gary Scharnhorst's epic biography of Mark Twain brings new insight and clarity to Twain's most controversial and misunderstood period. Chronicling the twenty years that saw Twain grapple with seemingly unrelenting personal and professional disaster, The Life of Mark Twain: The Final Years, 1891-1910 dives deep into the historical record, persistently distinguishing fact from long-held academic hearsay, to reveal a fresh, coherent, and wholly substantive understanding of the last two decades of Twain's life. But be warned: Scharnhorst's portrait is at times unsettling. The net result, however, is arguably the most critically balanced and information-rich scholarly biography of Mark Twain yet produced."—Joseph Csicsila, Eastern Michigan University, author of Heretical Fictions: Religion in the Literature of Mark Twain 

"Mark Twain spent much of his energy during the final twenty years of his life promoting an image of himself and of the Clemens family that does not square with reality. Gary Scharnhorst is the first Twain biographer to give us an unvarnished, comprehensive view of this heart-wrenching chapter in the life of America's favorite writer and public personality. Twain's final twenty years were filled with tragedy and triumph, and Scharnhorst walks us through every step of the journey with an unwavering commitment to fact. Volume III of The Life of Mark Twain presents the culmination of a miraculous career, and it is itself the culmination of a masterful work of scholarship."—Henry B. Wonham, author of Mark Twain and the Art of the Tall Tale

"Gary Scharnhorst's The Life of Mark Twain: The Final Years, 1891–1910 examines the personal, social, and financial twists and turns of Twain's life in extraordinary detail. Whether he is clarifying the contested particulars of Twain's business relationships, unraveling his personal entanglements, rehearsing his travel schedules, or simply listing his dinner companions, Scharnhorst offers us the most comprehensive look ever at the packed, complex life of this icon of American letters. Its impeccable scholarship destines The Life of Mark Twain: The Final Years to be scholars' go-to information source for decades."—Susan K. Harris, President, Mark Twain Circle of America, and author of Mark Twain, the World, and Me

"Scharnhorst has given us a magnificent conclusion to his definitive biography. Like the preceding two volumes, the scholarship is astonishingly vast as well as precise, offering new insights and correcting a number of myths about America's greatest writer. It is the biography to depend upon, and it also makes splendid reading, garnished with humor and wit befitting the life of the extraordinary man it reveals."—Jeanne Campbell Reesman, University of Texas-San Antonio, author of Jack London's Racial Lives: A Critical Biography

"Among (by my count) nearly one hundred biographies and memoirs, Gary Scharnhorst's volumes have managed what perhaps no other biography has, piecing together a narrative of Samuel L. Clemens's life more fully realized, but not fulsomely so, than all the rest. Not hagiography but neither a hit job nor habitual psychologizing, Scharnhorst's portrait of the final years of Clemens in particular does not shy away from Sam's bad temper, mean-spirited and petty and vengeful at times, to provide contrast with his fundamental habit of generosity, always ready to raise money for worthy causes, harboring a Joan of Arc idealism to temper his satiric view of the damned human race. . . . Scharnhorst's three-volume effort may be the closest view we ever can have of the cultural comet called Mark Twain."—James E. Caron, author of Satire as Comic Public Sphere: Postmodern "Truthiness" as Civic Engagement

"Scharnhorst uses exhaustive research and granular detail to great effect, creating a fantastic portrait of his subject. This coda to a well-lived life is a stunner."—Publishers Weekly
Thank you for shopping local!