The Life of Mark Twain: The Middle Years, 1871–1891 (Mark Twain and His Circle #2) (Hardcover)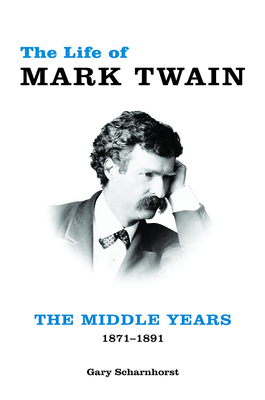 $44.95

Not in store, not in stock at our distributor. Once you place the order, we can give you a better time frame.
Other Books in Series
This is book number 2 in the Mark Twain and His Circle series.
Description
---
Choice Outstanding Academic Title for 2020

The second volume of Gary Scharnhorst's three-volume biography chronicles the life of Samuel Langhorne Clemens between his move with his family from Buffalo to Elmira (and then Hartford) in spring 1871 and their departure from Hartford for Europe in mid-1891.

During this time he wrote and published some of his best-known works, including Roughing It, The Gilded Age, The Adventures of Tom Sawyer, A Tramp Abroad, The Prince and the Pauper, Life on the Mississippi,Adventures of Huckleberry Finn, and A Connecticut Yankee in King Arthur's Court.

Significant events include his trips to England (1872–73) and Bermuda (1877); the controversy over his Whittier Birthday Speech in December 1877; his 1878–79 Wanderjahr on the continent; his 1882 tour of the Mississippi valley; his 1884–85 reading tour with George Washington Cable; his relationships with his publishers (Elisha Bliss, James R. Osgood, Andrew Chatto, and Charles L. Webster); the death of his son, Langdon, and the births and childhoods of his daughters Susy, Clara, and Jean; as well as the several lawsuits and personal feuds in which he was involved. During these years, too, Clemens expressed his views on racial and gender equality and turned to political mugwumpery; supported the presidential campaigns of Grover Cleveland; advocated for labor rights, international copyright, and revolution in Russia; founded his own publishing firm; and befriended former president Ulysses S. Grant, supervising the publication of Grant's Memoirs.

The Life of Mark Twain is the first multi-volume biography of Samuel Clemens to appear in more than a century and has already been hailed as the definitive Twain biography.
About the Author
---
Gary Scharnhorst is Distinguished Professor Emeritus of English at the University of New Mexico. He is the author or editor of fifty books, including Mark Twain on Potholes and Politics: Letters to the Editor. He lives in Albuquerque, New Mexico.
Praise For…
---
"A masterful, detailed account of America's most famous literary wit."—Publishers Weekly

"The second installment of Gary Scharnhorst's multi-volume biography of Mark Twain is arguably even more momentous than the first, as it takes up Twain's major phase, the period in which he produced much of his best-known work, including Roughing It, The Adventure of Tom Sawyer, A Tramp abroad, The Prince and the Pauper, Life on the Mississippi, A Connecticut Yankee in King Arthur's Court, and his masterpiece, Adventures of Huckleberry Finn. Readers familiar with the first volume will not be disappointed by the second one."—Joseph Csicsila, author of Canons by Consensus: Critical Trends and American Literature Anthologies

"Given how many biographies have been written on Mark Twain, one might wonder why another one would be necessary. But Gary Scharnhorst is no ordinary biographer. His research is first-rate, discovering sources and information that contribute to a fuller picture of its subject. He pulls no punches, giving us an unvarnished portrait of one of the most complex figures in American cultural history. This comprehensive biography is a welcome addition to an already full shelf because it makes a number of them obsolete."—Lawrence Howe, author of Mark Twain and the Novel: The Double-Cross of Authority

"Weaving together mountains of facts, material not commonly quoted, and his own revisionist perspective, Scharnhorst provides a rich narrative that sets this biography apart from earlier biographies." —D. E. Sloane, Choice

"Gary Scharnhorst's biography is massive, meticulous, thorough, and monumental. When complete, his work will become the definitive biography of Mark Twain for this and for many subsequent generations." —John Bird, Missouri Historical Review

"The reduction of a variegated (reportedly one of Twain's favorite words) and complex life into a simple narrative is something that Gary Scharnhorst's expansive, thorough, and deeply engaging three-volume biography of Samuel Clemens works to avoid, and the result is remarkably successful."—Western American Literature