The Hardest Place: The American Military Adrift in Afghanistan's Pech Valley (Paperback)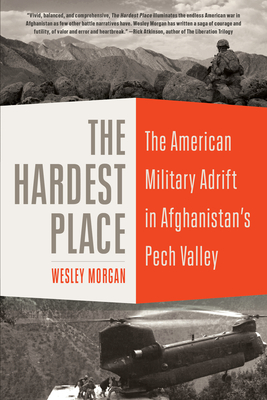 $22.00

Likely on our shelves now
Description
---

COLBY AWARD WINNER • "One of the most important books to come out of the Afghanistan war."—Foreign Policy

"A saga of courage and futility, of valor and error and heartbreak."—Rick Atkinson, author of the Liberation Trilogy and The British Are Coming
 
Of the many battlefields on which U.S. troops and intelligence operatives fought in Afghanistan, one remote corner of the country stands as a microcosm of the American campaign: the Pech and its tributary valleys in Kunar and Nuristan. The area's rugged, steep terrain and thick forests made it a natural hiding spot for local insurgents and international terrorists alike, and it came to represent both the valor and futility of America's two-decade-long Afghan war.

Drawing on reporting trips, hundreds of interviews, and documentary research, Wesley Morgan reveals the history of the war in this iconic region, captures the culture and reality of the conflict through both American and Afghan eyes, and reports on the snowballing missteps—some kept secret from even the troops fighting there—that doomed the American mission. The Hardest Place is the story of one of the twenty-first century's most unforgiving battlefields and a portrait of the American military that fought there.
About the Author
---
Wesley Morgan is a military affairs reporter who most recently covered the Pentagon for two and a half years at Politico. He previously worked as a freelance journalist in Washington, D.C., Iraq, and Afghanistan, contributing stories to The Washington Post, The New York Times, The Atlantic and other publications. He is an alumnus of Princeton University.
Praise For…
---
"Demands your attention, even when you would rather look away."—The Washington Post
 
"Unique in its completeness. Arguably, it is the closest any book about the American war in Afghanistan has come to capturing what transpired in a slice of territory occupied by U.S. forces . . . Especially relevant now."—The New York Times
 
"Wesley Morgan has written the definitive account of America's heroic but ultimately doomed effort in one of Afghanistan's most rugged regions. His research is stunningly thorough, and his writing style absolutely irresistible."—Sebastian Junger, author of Tribe: On Homecoming and Belonging

"Vivid, balanced, and comprehensive, The Hardest Place illuminates the endless American war in Afghanistan as few other battle narratives have. Wesley Morgan has written a saga of courage and futility, of valor and error and heartbreak."—Rick Atkinson, author of the Liberation Trilogy

"America's war in Afghanistan is dangerous, complicated, and now in its second decade. Few books have told the real story of this lengthy conflict, but Wesley Morgan has pulled off this feat. The Hardest Place is one of the best books telling the story of America's longest war."—Peter Bergen, author of Manhunt: The Ten-Year Search for Bin Laden from 9/11 to Abbottabad

"The Hardest Place captures the heroism, fear, and exultation of combat while laying out a damning portrait of military leaders who rushed into battle against an enemy they didn't understand and ultimately couldn't beat."—Evan Wright, author of Generation Kill

"Readers who want to understand the war in Afghanistan and the experiences of those who fight in their name should read Wesley Morgan's impeccably researched and well-told story."—Lt. Gen. (Ret.) H. R. McMaster, former national security adviser and author of Battlegrounds: The Fight to Defend the Free World

"A superb piece of writing."—Emma Sky, director of Yale World Fellows and author of The Unraveling: High Hopes and Missed Opportunities in Iraq 
 
"This is the story of how America, with the best of intentions, great bravery, and a lot of firepower, got itself into a long and thankless struggle in a very hard place. Wes Morgan spent ten years reporting this story, and his digging and search for the truth have produced a compelling and timeless tale of men at war."—Evan Thomas, author of First: Sandra Day O'Connor

"Deeply reported, vividly told, The Hardest Place is not only the definitive account of America's longest battle in its longest war but also a cautionary tale for any policy maker who would plunge us into another war."—Elliot Ackerman, author of Red Dress in Black and White

"[An] impressive debut . . . Required reading for anyone who wants to understand the war in Afghanistan."—Kirkus Reviews (starred review)

"Superbly researched and smoothly written . . . an essential, thoroughly reported work."—Library Journal (starred review)
Thank you for shopping local!