Enrique's Journey: The Story of a Boy's Dangerous Odyssey to Reunite with His Mother (Paperback)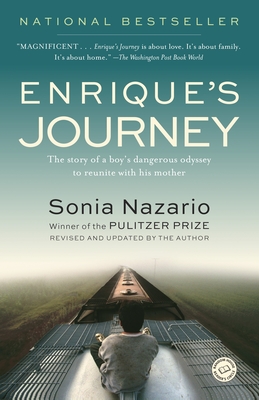 $18.00

Not in the store. We can order it and should have it in store in 3-5 business days.
Description
---
An astonishing story that puts a human face on the ongoing debate about immigration reform in the United States, now updated with a new Epilogue and Afterword, photos of Enrique and his family, an author interview, and more—the definitive edition of a classic of contemporary America
 
Based on the Los Angeles Times newspaper series that won two Pulitzer Prizes, one for feature writing and another for feature photography, this page-turner about the power of family is a popular text in classrooms and a touchstone for communities across the country to engage in meaningful discussions about this essential American subject.
  
Enrique's Journey recounts the unforgettable quest of a Honduran boy looking for his mother, eleven years after she is forced to leave her starving family to find work in the United States. Braving unimaginable peril, often clinging to the sides and tops of freight trains, Enrique travels through hostile worlds full of thugs, bandits, and corrupt cops. But he pushes forward, relying on his wit, courage, hope, and the kindness of strangers. As Isabel Allende writes: "This is a twenty-first-century Odyssey. If you are going to read only one nonfiction book this year, it has to be this one."
 
Praise for Enrique's Journey

"Magnificent . . . Enrique's Journey is about love. It's about family. It's about home."—The Washington Post Book World
 
"[A] searing report from the immigration frontlines . . . as harrowing as it is heartbreaking."—People (four stars)
 
"Stunning . . . As an adventure narrative alone, Enrique's Journey is a worthy read. . . . Nazario's impressive piece of reporting [turns] the current immigration controversy from a political story into a personal one."—Entertainment Weekly
 
"Gripping and harrowing . . . a story begging to be told."—The Christian Science Monitor
 
"[A] prodigious feat of reporting . . . [Sonia Nazario is] amazingly thorough and intrepid."—Newsday
About the Author
---
Sonia Nazario, a projects reporter for the Los Angeles Times, has spent more than two decades reporting and writing about social issues, earning her dozens of national awards. The newspaper series upon which this book is based won the Pulitzer Prize for feature writing, the George Polk Award for International Reporting, and the Grand Prize of the Robert F. Kennedy Journalism Awards. Nazario grew up in Kansas and Argentina. She is a graduate of Williams College and has a master's degree in Latin American studies from the University of California, Berkeley. She lives in Los Angeles with her husband.
Praise For…
---
"A remarkable feat of immersion reporting . . . [Gives] the immigrant . . . flesh and bone, history and voice . . . The kind of story we have told ourselves throughout history, a story we still need to hear."—Los Angeles Times Book Review

"Compelling . . . Nazario doesn't pull any punches."—Dallas Morning News

"A meticulously documented account of an epic journey, one undertaken by thousands of children every year . . . [Nazario] covers both positive and negative effects of immigration, illuminating the problem's complexity. . . . In telling Enrique's story [she] bears witness for us all."—San Francisco Chronicle

"Compelling . . . drama, pathos, and [the] hot topic of illegal immigration."—The San Diego Union-Tribune

"Astounding . . . I am unaware of any journalist who has voluntarily placed herself in greater peril to nail down a story than did Nazario."—Steve Weinberg, former executive director of investigative reporters and editors, The Baltimore Sun
 
"A story of heartache, brutality, and love deferred that is near mythic in its power."—Los Angeles Magazine

"[Enrique's Journey] personifies one of the greatest migrations in history. . . . Much of the book is a thriller . . . a 12,000-mile journey worthy of an Indiana Jones movie."—The Orange County Register

"Riveting . . . expert reporting . . . Nazario puts a human face upon a major issue. . . . The breadth and depth of [her] research is astounding."—The Plain Dealer

"A heart-racing and heart-rending trip."—The Daily Nonpareil

"A story readers won't soon forget."—Tu Ciudad

"Gripping . . . astounding . . . viscerally conveys the experience of illegal immigration from Central America . . . [Nazario] has crafted her findings into a story that is at once moving and polemical."—Publishers Weekly (starred review)

"This portrait of poverty and family ties has the potential to reshape American conversations about immigration."—Kirkus Reviews (starred review)

"Insightful and beautifully written and sheds a great deal of light on the horrific journeys immigrants risk to find a better life. Highly recommended."—Library Journal

"This is a harrowing odyssey that depicts one young man's attempts to reunite with his mother and the social and economic issues involved in illegal immigration."—Booklist

"Gripping, heroic and important, Enrique's Journey captures the heart. Most Americans or their forebears came to the United States from other countries. They experienced difficult journeys and wrenching family separations-all in the hope of finding a better life in this new land. Enrique's story is our story, beautifully told."—Edward James Olmos
Thank you for shopping local!