"Thou, Dear God": Prayers That Open Hearts and Spirits (King Legacy #6) (Paperback)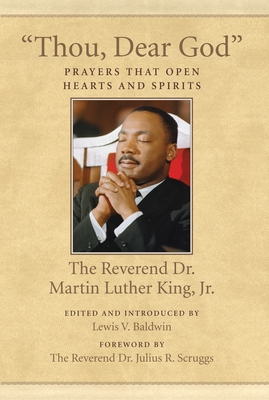 $19.00

Backordered at our distributor but we can check availability from the publisher.
Other Books in Series
This is book number 6 in the King Legacy series.
Description
---
"Thou, Dear God" is the first and only collection of sixty-eight prayers by Martin Luther King, Jr. Arranged thematically in six parts--with prayers for spiritual guidance, special occasions, times of adversity, times of trial, uncertain times, and social justice--Baptist minister and King scholar Lewis Baldwin introduces the book and each section with short essays. Included are both personal and public prayers King recited as a seminarian, graduate student, preacher, pastor, and, finally, civil rights leader, along with a special section that reveals the biblical sources that most inspired King. Collectively they illustrate how King turned to private prayer for his own spiritual fulfillment and to public prayer as a way to move, inspire, and reaffirm a quest for peace and social justice. With a foreword by Rev. Dr. Julius R. Scruggs, it is the perfect gift for people and leaders of all faiths, and an invaluable resource for spiritual individuals and those who lead worship.

The book includes a very rare, very limited use photo of Dr. King praying and gold foil stamping on the front cover, a frontispiece photo of the King family at prayer, a prayer ribbon, and elegant endpapers.
About the Author
---
Dr. Martin Luther King, Jr. (1929-1968), Nobel Peace Prize laureate and architect of the nonviolent civil rights movement, was among the twentieth century's most influential figures. One of the greatest orators in U.S. history, King is the author of several books, including Stride Toward Freedom: The Montgomery Story, The Trumpet of Conscience, Why We Can't Wait, and Where Do We Go from Here: Chaos or Community? His speeches, sermons, and writings are inspirational and timeless. King was assassinated in Memphis, Tennessee, on April 4, 1968.

Lewis V. Baldwin is professor of religious studies at Vanderbilt University and an ordained Baptist minister. An expert on black-church traditions, he is author of The Voice of Conscience: The Church in the Mind of Martin Luther King, Jr.; There Is a Balm in Gilead: The Cultural Roots of Martin Luther King, Jr.; and Never to Leave Us Alone: The Prayer Life of Martin Luther King, Jr.
Praise For…
---
"Many of us are eager to learn all we can about Dr. King. There are many books about his work and his thought, but 'Thou, Dear God' provides a unique and needed window into his spiritual life."—Brian D. McLaren, public theologian, blogger, activist and author of numerous books including A New Kind of Christian

"If you want to know the source of his dream and his courage, understand what he lived for and why he was willing to die for it, eavesdrop on King's conversations with God."—The Rev. Dr. James Alexander Forbes, Jr. Senior Minister Emeritus of The Riverside Church and President of the Healing of the Nations Foundation

"My father believed that prayer was essential to daily living, not just in times of struggle and fear, but in times of great joy and great love as well. 'Thou, Dear God' celebrates his profound love of God and God's presence in our lives, and brings his inspiring words of grace to all of us. Through my father's own prayers, we can experience God's love and wisdom in every aspect of our lives, and just as he did, use our own prayer life to keep changing the world."—Dr. Bernice A. King 
 
"The prayers of Dr. Martin Luther King Jr. carefully compiled in 'Thou, Dear God' speak to the journey and challenges of a prophetic spirit in the midst of turbulent circumstances. One of the most catalytic voices in history takes us on a personal tour that through the power of prayer reconciled sanctification with service, covenant with community and righteousness with justice. Martin Luther King Jr. had conversations with God. As a result, the world will never be the same again. "—Reverend Samuel Rodriguez, President, National Hispanic Christian Leadership Conference & Hispanic Evangelical Association
Thank you for shopping local!