All Souls: A Family Story from Southie (Paperback)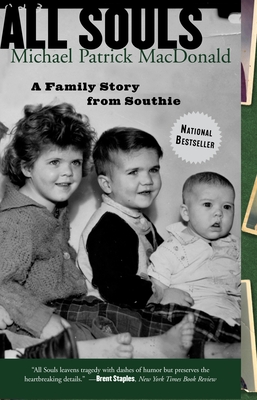 $16.95

Should be on our shelves now -- but wait for confirmation from us before coming to pick up. We'll respond to your order shortly.
Description
---
A NATIONAL BESTSELLER

"All Souls is the written equivalent of an Irish wake, where revelers dance and sing the dead person's praises. In that same style, the book leavens tragedy with dashes of humor but preserves the heartbreaking details."—Brent Staples, New York Times Book Review

A breakaway bestseller since its first printing, All Souls takes us deep into Michael Patrick MacDonald's Southie, the proudly insular neighborhood with the highest concentration of white poverty in America.

Rocked by Whitey Bulger's crime schemes and busing riots, MacDonald's Southie is populated by sharply hewn characters. We meet Ma, Michael's mini-skirted, accordian-playing, single mother who endures the deaths of four of her eleven children. And there are Michael's older siblings Davey, sweet artist-dreamer; Kevin, child genius of scam; and Frankie, Golden Gloves boxer and neighborhood hero whose lives are high-wire acts played out in a world of poverty and pride.

Nearly suffocated by his grief and his community's code of silence, MacDonald tells his family story here with gritty but moving honesty. All Souls is heartbreaking testimony to lives lost too early, and the story of how a place so filled with pain could still be "the best place in the world."
About the Author
---
Michael Patrick MacDonald grew up in South Boston's Old Colony housing project. After losing four siblings and seeing his generation decimated by poverty, crime, and addiction, he became a leading Boston activist, helping launch many antiviolence initiatives, including gun-buyback programs. He continues to work for social change nationally, collaborating with survivor families and young people.
MacDonald won the American Book Award in 2000 and has written numerous essays for the Boston Globe Op-Ed Page. His national bestseller, All Souls, and his follow-up, Easter Rising: A Memoir of Roots and Rebellion have been adopted by university curriculums across the country.
Praise For…
---
[A] rare and compelling book . . . Highly passionate.—Liam Ford, Chicago Tribune

"His anecdotes have the searing power of a redeemed sinner's fiery sermon. His swift, conversational style sweeps you into his anger and sorrow. He is a born rabble-rouser whose emotional power numbs the reader's reason."—Charles Carberry, USA Today

"All Souls is a memoir filled with desperation and despair, but there is also hope in it . . . MacDonald's discovery of his vocation in neighborhood activism is a refreshing change from most memoirs, which so often . . . are largely concerned with describing an ascent to celebrityhood." —Julian Moynahan, New York Review of Books

"Michael Patrick MacDonald takes us on a heartbreaking tour of his South Boston family." —Frank McCourt, Irish America Magazine

"An incendiary, moving book that startles on nearly every page . . . MacDonald's nimble prose and detailed recall of grim times long past make for luminous reading; his hard-won conception of how ghettoized poverty spawns localized violence, and the dignity he brings to lives snuffed out in chaos, gives All Souls a moral urgency usually lacking in current memoir or crime prose. A remarkable work." —Kirkus Reviews, starred review

"All Souls leavens tragedy with dashes of humor but preserves the heartbreaking details."—Brent Staples, New York Times Book Review

"If you were charmed by Frank McCourt's Angela's Ashes but wished at times the author would have got out of the way of his own beguiling style, try All Souls: A Family Story from Southie, Michael Patrick MacDonald's guileless and powerful memoir of precarious life and early death in Boston's Irish ghetto."—R. Z. Sheppard, Time

"A must read . . . All Souls is poised to become one of the most significant Irish American books of the era."—Irish Edition

"An honest, piercing tale—once you read it, you will never look at our country the same way."— Geoffrey Canada, author of Fist Stick Knife Gun

"MacDonald has a gift for narrative, an eye for social detail, and a voice of earned authenticity."—Jack Beatty, Author of The Rascal