An African American and Latinx History of the United States (REVISIONING HISTORY #4) (Hardcover)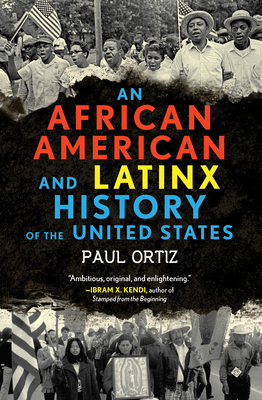 $27.95
Alas, not available through us.
Description
---
An intersectional history of the shared struggle for African American and Latinx civil rights

Spanning more than two hundred years, An African American and Latinx History of the United States is a revolutionary, politically charged narrative history, arguing that the "Global South" was crucial to the development of America as we know it. Scholar and activist Paul Ortiz challenges the notion of westward progress as exalted by widely taught formulations like "manifest destiny" and "Jacksonian democracy," and shows how placing African American, Latinx, and Indigenous voices unapologetically front and center transforms US history into one of the working class organizing against imperialism.

Drawing on rich narratives and primary source documents, Ortiz links racial segregation in the Southwest and the rise and violent fall of a powerful tradition of Mexican labor organizing in the twentieth century, to May 1, 2006, known as International Workers' Day, when migrant laborers—Chicana/os, Afrocubanos, and immigrants from every continent on earth—united in resistance on the first "Day Without Immigrants." As African American civil rights activists fought Jim Crow laws and Mexican labor organizers warred against the suffocating grip of capitalism, Black and Spanish-language newspapers, abolitionists, and Latin American revolutionaries coalesced around movements built between people from the United States and people from Central America and the Caribbean. In stark contrast to the resurgence of "America First" rhetoric, Black and Latinx intellectuals and organizers today have historically urged the United States to build bridges of solidarity with the nations of the Americas.

Incisive and timely, this bottom-up history, told from the interconnected vantage points of Latinx and African Americans, reveals the radically different ways that people of the diaspora have addressed issues still plaguing the United States today, and it offers a way forward in the continued struggle for universal civil rights.

2018 Winner of the PEN Oakland/Josephine Miles Literary Award
About the Author
---
Paul Ortiz is a professor of history and the director of the Samuel Proctor Oral History Program at the University of Florida. He is the author of Emancipation Betrayed: The Hidden History of Black Organizing and White Violence from Reconstruction to the Bloody Election of 1920 and coeditor of the oral history Remembering Jim Crow: African Americans Tell About Life in the Segregated South. He lives in Gainesville, Florida.
Praise For…
---
"A concise, alternate history of the United States. . . .A sleek, vital history that effectively shows how, 'from the outset, inequality was enforced with the whip, the gun, and the United States Constitution.'"
—Kirkus Reviews, Starred Review

"A challenging and necessary approach to understanding our history. A must-read for those who want a deeper perspective than is offered in the traditional history textbook."
—Library Journal

"A welcome antidote to the poison of current reactionary attitudes toward people of color, their cultures, and place in the US."
—Booklist

"Here is a far more inclusive, alternative history—one developed from the bottom up—that does not worship the cult of Europe."
—CHOICE

"An African American and Latinx History of the United States is a curriculum as much as it is an ongoing story of liberation. And it does the work of both without resorting to academese, or resembling an academic text at all—to its immense credit."
—Los Angeles Review of Books

"An African American and Latinx History of the United States is a gift."
—Ibram X. Kendi, National Book Award–winning author of Stamped from the Beginning: The Definitive History of Racist Ideas in America

"Paul Ortiz is a true people's historian . . . essential reading for our times."
—Greg Grandin, author of Empire of Necessity: Slavery, Freedom, and Deception in the New World

"A crucial read for our current moment."
—Donna Murch, author of Living for the City

"An imaginatively conceived, carefully researched, beautifully written, and passionately argued book . . . Accessible, engaging, and enlightening."
—George Lipsitz, author of The Possessive Investment in Whiteness

"A fierce and masterful work of historical scholarship. Extraordinary in its depth and breadth."
—Gaye Theresa Johnson, author of Spaces of Conflict, Sounds of Solidarity

"An epic, panoramic account of class struggles in the Western Hemisphere. At center stage are the Black, Latinx, and Indigenous people who built the 'new world.'"
—Robin D. G. Kelley, author of Freedom Dreams: The Black Radical Imagination

"From Crispus Attucks and José Maria Morelos to César Chávez and Martin Luther King Jr . . . The result is simultaneously invigorating, embarrassing, and essential to anyone interested in what the revolutionaries of years past can teach us about struggles for freedom, equality, and democracy today."
—William P. Jones, author of The March on Washington: Jobs, Freedom, and the Forgotten History of Civil Rights

"A groundbreaking book about African Americans and Latino/a Americans whose ancestors came from Africa, the Americas, and the Caribbean. . . [Ortiz] has captured the historic drama of their collective experience in their struggles for social justice, writing from the perspective of an activist scholar engaged in the current issues facing both peoples."
—Carlos Muñoz Jr., author of Youth, Identity, Power: The Chicano Movement

"After reading An African American and Latinx History of the United States, I was taken back to Professor Paul Ortiz's classroom at UC Santa Cruz. There, we—Black and Brown student artists, poets, and organizers enrolled in his undergraduate course—rejoiced in our shared history of struggle for a United States rooted in peace and mutual respect. This book is both register of African American and Latinx freedom seekers and encouragement to see that there has never been a more urgent time than ours to heed the call for 'emancipatory internationalism.'"
—Jonathan D. Gomez, PhD, University of California, Santa Barbara, Center for Black Studies Research

"Paul Ortiz's African American and Latinx History of the United States provides an essential frame for understanding how freedom struggles dating back to the eighteenth century inform today's entrenched inequality and systemic racism across diasporas. This is a necessary text for reconceptualizing American history, and Ortiz meticulously establishes historical precedent for multiethnic coalition building that extends beyond geographical borders to restore dignity and architect descriptive and substantive representation."
—Sonja Diaz, executive director of the University of California, Los Angeles, Latino Policy and Politics Initiative
Thank you for shopping local!