Saying Kaddish: How to Comfort the Dying, Bury the Dead, and Mourn as a Jew (Paperback)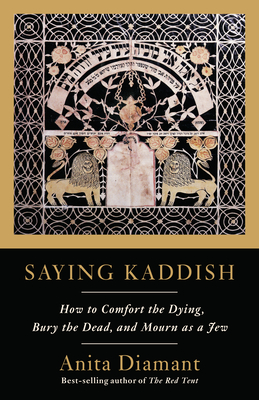 $18.00

Should be on our shelves now -- but wait for confirmation from us before coming to pick up. We'll respond to your order shortly.
Description
---
From beloved New York Times bestselling author and award-winning journalist—the definitive guide to Judaism's end-of-life rituals, revised and updated for Jews of all backgrounds and beliefs.

From caring for the dying to honoring the dead, Anita Diamant explains the Jewish practices that make mourning a loved one an opportunity to experience the full range of emotions—grief, anger, fear, guilt, relief—and take comfort in the idea that the memory of the deceased is bound up in our lives and actions.
 
In Saying Kaddish you will find suggestions for conducting a funeral and for observing the shiva week, the shloshim month, the year of Kaddish, the annual yahrzeit, and the Yizkor service. There are also chapters on coping with particular losses—such as the death of a child and suicide—and on children as mourners, mourning non-Jewish loved ones, and the bereavement that accompanies miscarriage.
 
Diamant also offers advice on how to apply traditional views of the sacredness of life to hospice and palliative care. Reflecting the ways that ancient rituals and customs have been adapted in light of contemporary wisdom and needs, she includes updated sections on taharah (preparation of the body for burial) and on using ritual immersion in a mikveh to mark the stages of bereavement. And, celebrating a Judaism that has become inclusive and welcoming. Diamant highlights rituals, prayers, and customs that will be meaningful to Jews-by-choice, Jews of color, and LGBTQ Jews. Concluding chapters discuss Jewish perspectives on writing a will, creating healthcare directives, making final arrangements, and composing an ethical will.
About the Author
---
ANITA DIAMANT's guides to contemporary Jewish practices include How to Raise a Jewish Child, Choosing a Jewish Life, and The Jewish Wedding Now. She is the founding president of Mayyim Hayyim Living Waters Community Mikveh and the Paula Brody & Family Education Center in Newton, Massachusetts.
Praise For…
---
"Does a wonderful job of showing how Jewish ritual can help mourners heal and how friends and community members can be an important part of that healing."
-- Jewish Family and Life Online