The Mold in Dr. Florey's Coat: The Story of the Penicillin Miracle (Paperback)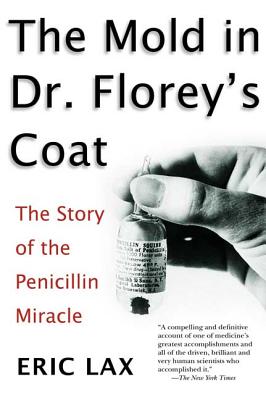 $23.00

Not in the store. We can order it and should have it in store in 3-5 business days.
Description
---
The dramatic, untold story of the discovery of the first wonder drug, the men who led the way, and how it changed the modern world

In his wonderfully engaging book, acclaimed author Eric Lax tells the real story behind the discovery and why it took so long to develop the drug. He reveals the reasons why credit for penicillin was misplaced, and why this astonishing achievement garnered a Nobel Prize but no financial rewards for the doctor that discovered it and the team that developed it.

Alexander Fleming's discovery of penicillin in his London laboratory in 1928 ushered in a new age in medicine. But it took a team of Oxford scientists headed by Howard Florey and Ernst Chain four more years to develop it as the first antibiotic, and the most important family of drugs in the twentieth century. At once the world was transformed -- major bacterial scourges such as blood poisoning and pneumonia, scarlet fever and diphtheria, gonorrhea and syphilis were defeated. Penicillin helped to foster not only a medical revolution but a sexual one as well.

The Mold in Dr. Florey's Coat is the compelling story of the passage of medicine from one era to the next and of the eccentric individuals whose participation in this extraordinary accomplishment has, until now, remained largely unknown.

"Admirable, superbly researched . . . perhaps the most exciting tale of science since the apple dropped on Newton's head." -- Simon Winchester, The New York Times
About the Author
---
Eric Lax is the author of Woody Allen, A Biography and Life and Death on 10 West, both New York Times Notable Books. His work has appeared in The New York Times Magazine, Vanity Fair, Life, The Atlantic Monthly, and Esquire, as well as in many other magazines and newspapers. He lives with his wife and two sons in Los Angeles.
Praise For…
---
"Beautifully researched and written, alive with scientific and human insight, Lax's fine book likely will become the classic account of penicillin's true medical beginnings." —Los Angeles Times Book Review
Thank you for shopping local!