The Battle for Paradise: Surfing, Tuna, and One Town's Quest to Save a Wave (Hardcover)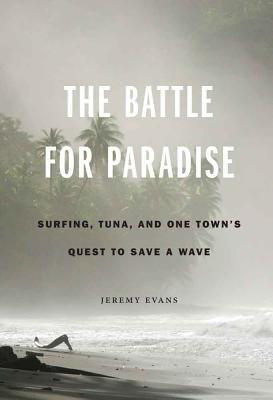 $36.95

Not in the store. We can order it and should have it in store in 3-5 business days.
Description
---
CORRECTION:

Regarding the book, The Battle for Paradise by Jeremy Evans, the following correction has been made on page 163 in paragraph three (3) to wit:

"Weston once worked in concert with government officials in a pre-planned sting operation, complete with marked bills: Weston, whose role in the operation involved paying a bribe to the Golfito mayor for a concession and then documenting the bribe as a way to expose the mayor as a corrupt government official, was a former cocaine dealer, according to Dan, and someone who illegally acquired possession of his sawmill property."

Pavones, a town located on the southern tip of Costa Rica, is a haven for surfers, expatriates, and fishermen seeking a place to start over. Located on the Golfo Dulce (Sweet Gulf), a marine sanctuary and one of the few tropical fjords in the world, Pavones is home to a legendary surf break and a cottage fishing industry. In 2004 a multinational company received approval to install the world's first yellowfin tuna farm near the mouth of the Golfo Dulce. The tuna farm as planned would pollute the area, endanger sea turtles, affect the existing fish population, and threaten the world-class wave. A lawsuit was filed just in time, and the project was successfully stalled. Thus began an unlikely alliance of local surfers, fishermen, and global environmental groups to save a wave and one of the most biodiverse places on the planet. In The Battle for Paradise, Jeremy Evans travels to Pavones to uncover the story of how this ragtag group stood up to a multinational company and how a shadowy figure from the town's violent past became an unlikely hero. In this harrowing but ultimately inspiring story, Evans focuses in turn on a colorful cast of characters with an unyielding love for the ocean and surfing, a company's unscrupulous efforts to expand profits, and a government that nearly sold out the perfect wave.
About the Author
---
Jeremy Evans is a former daily newspaper reporter whose eight-year journalism career garnered numerous awards for his outdoor and sports writing. He is the author of In Search of Powder: A Story of America's Disappearing Ski Bum (Nebraska, 2010) and currently teaches English at Lake Tahoe Community College and South Tahoe High School in California.
Praise For…
---
"Don't miss this uplifting tale of fantastic surfing, saving the environment, and a greedy company's efforts to expand their business at all costs—all in our sleepy little southern town of Pavones."—Carol Blair Vaughn,
Costa Rica Star
"A valuable addition to surf historiography. . . . Enjoyable and well-told narrative."—Tolga Ozyurtcu,
Sport in American History
"Congratulations to Jeremy Evans for telling the truest story so far about Pavones, the iconic end-of-the-road place where human greed and conflict threatened to destroy exactly what brought people there."—Drew Kampion, award-winning author and former editor of Surfer and Surfing magazines
"Jeremy Evans tells the true story of surfers, tuna, drug lords, and jungle fever in the backwaters and blue bays of Costa Rica. For anyone who has traveled the surf coast of Central America, The Battle for Paradise is a must-read."—Serge Dedina, executive director of Wildcoast and author of Wild Sea and Surfing the Border
"The waves of Pavones rifle down a long left-hand point break, and for this reason they have become some of the most iconic waves in Costa Rica. However, as incredible as the waves are, the story behind the town is what will truly leave you gasping for air."—Kyle Thiermann, professional surfer 
"Pavones, Costa Rica, lay in a bucolic slumber until an entrepreneurial American smuggler with a Napoleon complex paid cash for a county-sized chunk of its surf-swept coast and made himself king. Things spiraled out of control from there, subsiding into a tropical stew of escapists, surfers, squatters, greed, and long, clean lefts."—Steve Pezman, publisher of the
Surfer's Journal