The Unknowns: The Untold Story of America's Unknown Soldier and Wwi's Most Decorated Heroes Who Brought Him Home (Paperback)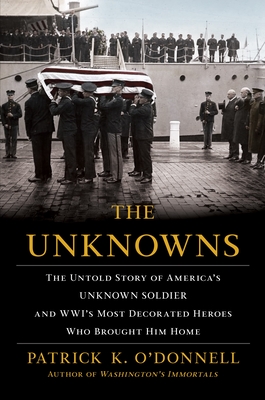 $17.00

Should be on our shelves now -- but wait for confirmation from us before coming to pick up. We'll respond to your order shortly.
Description
---
From the award-winning author of Washington's Immortals, The Unknowns takes readers into the heart of combat in the Great War to tell the powerful story behind the creation of the Tomb of the Unknown Soldier. When the Unknown Soldier was laid to rest in Arlington National Cemetery in 1921, eight of America's most decorated, battle-hardened WWI veterans served as Body Bearers for the casket. For the first time, celebrated military historian and bestselling author Patrick K. O'Donnell recounts their heroics on the battlefield a century ago, animating the Tomb and giving voice to all who have served. The Body Bearers included a cowboy who relived the Charge of the Light Brigade, a Native American who heroically captured sixty-three German prisoners single-handedly, and a salty New Englander who dueled a U-boat for hours in a fierce gunfight. Their stories reveal the larger narrative of America's involvement in the conflict, trans-porting readers into the midst of events and battles during 1917-1918 that ultimately decided the Great War. Superbly researched, vividly told, The Unknowns is a timeless tale of heeding the calls of duty and brotherhood and humanizes the most consequential event of the twentieth century, which still casts a shadow one hundred years later.
About the Author
---
Patrick K. O'Donnell is a bestselling, critically acclaimed military historian and an expert on elite units. He is the author of eleven books, including Washington's Immortals, We Were One, and Dog Company, and he is the recipient of several national awards. He served as a combat historian in a Marine rifle platoon during the Battle of Fallujah and speaks often on espionage, special operations, and counterinsurgency. He has provided historical consulting for DreamWorks' award-winning miniseries Band of Brothers and for documentaries produced by the BBC, the History Channel, Fox News, and Discovery.