Introduction to Manuscript Studies (Paperback)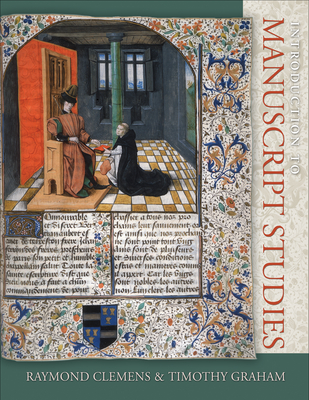 Description
---
Providing a comprehensive and accessible orientation to the field of medieval manuscript studies, this lavishly illustrated book by Raymond Clemens and Timothy Graham is unique among handbooks on paleography, codicology, and manuscript illumination in its scope and level of detail. It will be of immeasurable help to students in history, art history, literature, and religious studies who are encountering medieval manuscripts for the first time, while also appealing to advanced scholars and general readers interested in the history of the book before the age of print.
Introduction to Manuscript Studies features three sections:
- Part 1, Making the Medieval Manuscript, offers an in-depth examination of the process of manuscript production, from the preparation of the writing surface through the stages of copying the text, rubrication, decoration, glossing, and annotation to the binding and storage of the completed codex.
- Part 2, Reading the Medieval Manuscript, focuses on the skills necessary for the successful study of manuscripts, with chapters on transcribing and editing; reading texts damaged by fire, water, insects, and other factors; assessing evidence for origin and provenance; and describing and cataloguing manuscripts. This part ends with a survey of sixteen medieval scripts dating from the eighth to the fifteenth century.
- Part 3, Some Manuscript Genres, provides an analysis of several of the most frequently encountered types of medieval manuscripts, including Bibles and biblical concordances, liturgical service books, Books of Hours, charters and cartularies, maps, and rolls and scrolls. The book concludes with an extensive glossary, a guide to dictionaries of medieval Latin, and a bibliography subdivided and keyed to the subsections of the volume's chapters.
Every chapter in this magisterial guidebook features numerous color plates that exemplify each aspect described in the text and are drawn primarily from the collections of the Newberry Library in Chicago and the Parker Library of Corpus Christi College, Cambridge.
About the Author
---
Raymond Clemens is Associate Professor of History at Illinois State University and former Acting Director of the Newberry Library's Center for Renaissance Studies. Timothy Graham is Director of the Institute for Medieval Studies and Associate Professor of History at the University of New Mexico. He is the editor of The Recovery of Old English: Anglo-Saxon Studies in the Sixteenth and Seventeenth Centuries and coeditor of Medieval Art: Recent Perspectives.
Thank you for shopping local!