You Can Do Anything, Magic Skeleton!: Monster Motivations to Move Your Butt and Get You to Do the Thing (Hardcover)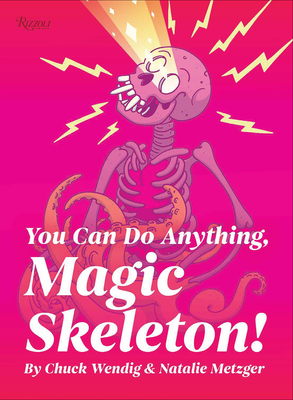 $9.98

Should be on our shelves now -- but wait for confirmation from us before coming to pick up. We'll respond to your order shortly.
Description
---
In the tradition of inspirational pick-me-ups like Lin-Manuel Miranda and Johnny Sun's G'Morning, G'Night but with a Calvin & Hobbesian sensibility comes this whimsically nerdy spin, illustrated by Natalie Metzger, on motivating folks into getting creative and "DOING THE THINGS."

For several years, Chuck has crafted hilarious and inspirational thoughts of the day--they might begin with an optimistic salvo, but inevitably and mirthfully detour into the demon-summoning, robot-making, or confirming that humans are actually mythical hybrid creatures. Equal parts inspiring, sweet, and very funny, Wendig's profane and imaginative galvanizing quips in You Can Do Anything, Magic Skeleton! are sure to amp up readers and motivate them to get things done.
About the Author
---
Chuck Wendig is the New York Times bestselling author of Star Wars: Aftermath, as well as the Miriam Black thrillers, the Atlanta Burns books, and Zer0es/Invasive, alongside other works across comics, games, film, and more. His recent book, Wanderers, is nominated for a Bram Stoker Award, and it was named one of the best books of the year by The Washington Post, NPR, The Guardian, Kirkus Reviews, Publishers Weekly, Library Journal, and Polygon, to name only a few. Natalie Metzger resides in the mysterious and moist Northwest, near the mythical city of Portland, Oregon. When not battling vicious slug hordes, she illustrates several webcomics including Cthulhu Slippers and Over-Encumbered. Her illustration work focuses on creepy cute fueled by a love of storytelling and a fascination for nature's weirdness.