100 Speeches That Changed the World (Hardcover)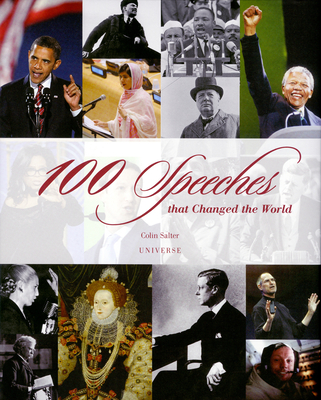 $14.98

Not in the store. We can order it and should have it in store in 3-5 business days.
Description
---
The history of the world as witnessed through the most inspiring, rousing, and memorable speeches ever given.

Throughout history, passionate orators have rallied nations, challenged accepted beliefs, and changed the course of history. Colin Salter has identified one-hundred of history's most inspirational, momentous, and thought-provoking speeches from ancient Rome and Athens to the 21st century and puts them into context, telling the stories behind the words that made history.
A celebration of the power of spoken rhetoric at its finest, this book profiles the words of the world's greatest public speakers. The speeches covered span the spectrum from stirring calls to arms to impassioned pleas for peace, along with speeches that marked major historical events such as the abolition of slavery, women achieving the right to vote, and the expansion of civil rights. Each speech features a concise introduction along with detailed analysis accompanied by key illustrations and photographs.
Highlighted speeches include: Elizabeth I's speech in preparation of the Spanish Armada (1588), Sojourner Truth's "Ain't I a Woman" (1851), Lincoln's Gettysburg Address (1863), Franklin D. Roosevelt, "Only thing we have to fear is fear itself" (1933), Winston Churchill, "Blood, Sweat and Tears" (1940), Martin Luther King, "I Have a Dream" (1963), Harvey Milk's "Hope Speech" (1978), Margaret Thatcher's "The Lady's not for Turning" (1980), Nelson Mandela on his release from prison (1990), among many more.
About the Author
---
Colin Salter is the co-author of Everything You Need to Know About Everything You Need to Know About Inventions. He is a history and science writer with a fascination for how things work, and how they used to work. He has written about everything, including the private lives of marine gastropods. His contributions to Chambers' Biographical Dictionary include the entries for 500 living scientists.