Thor: God of Thunder Volume 4: The Last Days of Midgard (Marvel Now) (Paperback)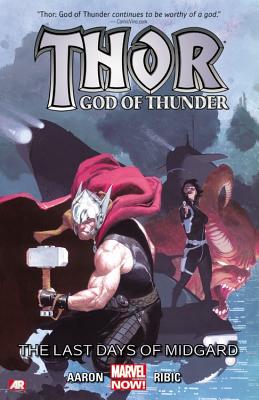 $19.99

Backordered at our distributor but we can check availability from the publisher.
Description
---
Thor battles to save Earth, but who can he fight when the planet itself is dying? S.H.I.E.L.D. Agent Roz Solomon has a suggestion: the nefarious energy company Roxxon and its ruthless new CE O, "the Minotaur!" Has Thor met his match in the form of a multinational supercorporation? Meanwhile, millennia from now, King Thor and his granddaughters, the Warriors of Thunder, face a very different battle to save what remains of the earth - from Galactus! But even if Thor wins, is the Earth still doomed? In the present, Thor makes a final stand against the Minotaur, Ulik the Troll and Roxxon's forces - but not even a god can save everyone. Plus: Young Thor vs. Frost Giants! The untold origin of Malekith! And King Thor's granddaughters discover the startling secret of his Original Sin!COLLECTING: Thor: God Of Thunder 19-25
About the Author
---
Jason Aaron is an American comic book writer, known for his work on titles such as "The Other Side," "Scalped," "Ghost Rider," "Wolverine" and "PunisherMAX." He currently lives in Kansas City
Thank you for shopping local!