A Short History of Nearly Everything (Hardcover)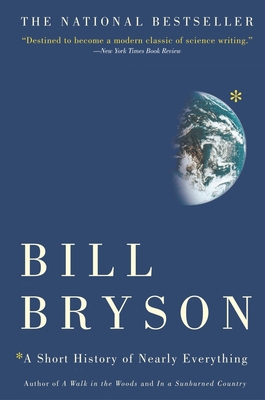 $34.00

Not in the store. We can order it and should have it in store in 3-5 business days.
Description
---
One of the world's most beloved writers and New York Times bestselling author of A Walk in the Woods and The Body takes his ultimate journey—into the most intriguing and intractable questions that science seeks to answer.

In A Walk in the Woods, Bill Bryson trekked the Appalachian Trail—well, most of it. In A Sunburned Country, he confronted some of the most lethal wildlife Australia has to offer. Now, in his biggest book, he confronts his greatest challenge: to understand—and, if possible, answer—the oldest, biggest questions we have posed about the universe and ourselves. Taking as territory everything from the Big Bang to the rise of civilization, Bryson seeks to understand how we got from there being nothing at all to there being us. To that end, he has attached himself to a host of the world's most advanced (and often obsessed) archaeologists, anthropologists, and mathematicians, travelling to their offices, laboratories, and field camps. He has read (or tried to read) their books, pestered them with questions, apprenticed himself to their powerful minds. A Short History of Nearly Everything is the record of this quest, and it is a sometimes profound, sometimes funny, and always supremely clear and entertaining adventure in the realms of human knowledge, as only Bill Bryson can render it. Science has never been more involving or entertaining.
About the Author
---
Bill Bryson's bestselling books include A Walk in the Woods, The Life and Times of the Thunderbolt Kid, and A Short History of Nearly Everything (which won the Aventis Prize in Britain and the Descartes Prize, the European Union's highest literary award). He was chancellor of Durham University, England's third oldest university, from 2005 to 2011, and is an honorary fellow of Britain's Royal Society.
Praise For…
---
"Stylish [and] stunningly accurate prose. We learn what the material world is like from the smallest quark to the largest galaxy and at all the levels in between . . . brims with strange and amazing facts . . . destined to become a modern classic of science writing."
—The New York Times

"Bryson has made a career writing hilarious travelogues, and in many ways his latest is more of the same, except that this time Bryson hikes through the world of science."
—People

"Bryson is surprisingly precise, brilliantly eccentric and nicely eloquent . . . a gifted storyteller has dared to retell the world's biggest story."
—Seattle Times

"Hefty, highly researched and eminently readable."
—Simon Winchester, The Globe and Mail

"All non-scientists (and probably many specialized scientists, too) can learn a great deal from his lucid and amiable explanations."
—National Post

"Bryson is a terrific stylist. You can' t help but enjoy his writing, for its cheer and buoyancy, and for the frequent demonstration of his peculiar, engaging turn of mind."
—Ottawa Citizen

"Wonderfully readable. It is, in the best sense, learned."
—Winnipeg Free Press
Thank you for shopping local!