One Second After (A John Matherson Novel #1) (Mass Market)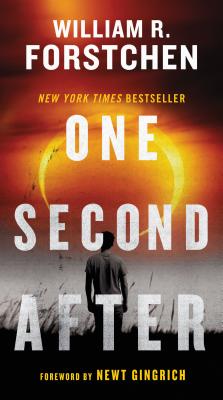 $10.99

Not in the store. We can order it and should have it in store in 3-5 business days.
Description
---
A post-apocalyptic thriller of the after effects in the United States after a terrifying terrorist attack using electromagnetic pulse weapons.

New York Times best selling author William R. Forstchen now brings us a story which can be all too terrifyingly real...a story in which one man struggles to save his family and his small North Carolina town after America loses a war, in one second, a war that will send America back to the Dark Ages...A war based upon a weapon, an Electro Magnetic Pulse (EMP). A weapon that may already be in the hands of our enemies.

Months before publication, One Second After has already been cited on the floor of Congress as a book all Americans should read, a book already being discussed in the corridors of the Pentagon as a truly realistic look at a weapon and its awesome power to destroy the entire United States, literally within one second. It is a weapon that the Wall Street Journal warns could shatter America. In the tradition of On the Beach, Fail Safe and Testament, this book, set in a typical American town, is a dire warning of what might be our future...and our end.

The John Matherson Series
#1 One Second After
#2 One Year After
#3 The Final Day

Other Books
Pillar to the Sky
48 Hours
About the Author
---
William R. Forstchen is the author of the New York Times bestseller One Second After and We Look Like Men of War, among numerous other books in diverse subjects ranging from history to science fiction. He has co-authored several books with Newt Gingrich, including Gettysburg: A Novel of the Civil War, Pearl Harbor, Days of Infamy, To Try Men's Souls and Valley Forge. Forstchen holds a Ph.D. in History from Purdue University, with specializations in military history and the history of technology. He is currently a Faculty Fellow and Professor of History at Montreat College, near Asheville North Carolina. He is a pilot and flies an original WWII recon "warbird." He resides near Asheville with his daughter Meghan.
Praise For…
---
"Civilization slides into the abyss of a new dark age in this horrifying apocalyptic novel. Forstchen has put Bin Laden's wet dream on paper and, in the process, taken civilization straight to the rack." —Stephen Coonts, New York Times bestselling author of The Art of War

"The only thing more terrifying than this masterfully crafted story is the possibility of it actually happening—and not a damn thing being done to protect us." —W.E.B. Griffin & William E. Butterworth IV

"Forstchen's work has flair and power." —Joel Rosenberg, author of The Sleeping Dragon

"Forstchen did such a damned fine job with One Second After that shortly after the first page, I had been reeled in hook, line, and sinker." —David Hagberg, New York Times bestselling author of Tower Down