Feed (Compact Disc)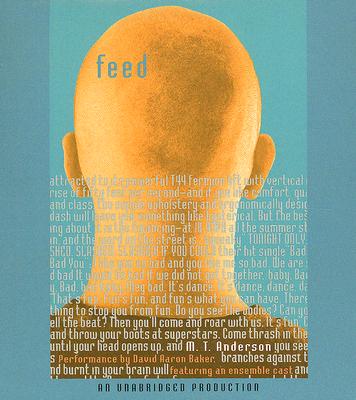 $30.00

Backordered at our distributor but we can check availability from the publisher.
Staff Reviews
---
Easy and instant communication, knowing the answer before the teacher finishes the question, constant entertainment. Having access to the internet in your head sounds like a dream, and it is for a while for Titus and his friends. That is, until corporations and hackers start taking control of everyone's thoughts. This book is a humorous, yet poignant look at society's reliance on technology to replace human contact.
— Nikki
Description
---
"We went to the moon to have fun, but the moon turned out to completely suck."

So says Titus, whose ability to read, write, and even think for himself has been almost completely obliterated by his "feed," a transmitter implanted directly into his brain. Feeds are a crucial part of life for Titus and his friends. After all, how else would they know where to party on the moon, how to get bargains at Weatherbee & Crotch, or how to accessorize the mysterious lesions everyone's been getting? But then Titus meets Violet, a girl who cares about what's happening to the world and challenges everything Titus and his friends hold dear. A girl who decides to fight the feed.

Following in the footsteps of Aldous Huxley, George Orwell, and Kurt Vonnegut, M. T. Anderson has created a not-so-brave new world–and a smart, savage satire about the nature of consumerism and what it means to be a teenager in America.
About the Author
---
M. T. Anderson is on the faculty at Vermont College's MFA Program in Writing for Children. He is the author of the young adult novels "Thirsty" and "Burger Wuss." He says of "Feed," "To write this novel, I read a huge number of magazines like "Seventeen," "Maxim," and "Stuff." I listened to cell phone conversations in malls. Where else could you get lines like 'Dude, I think the truffle is totally undervalued'?" M. T. Anderson lives in Boston, Massachusetts.