The Whisper on the Night Wind: The True History of a Wilderness Legend (Hardcover)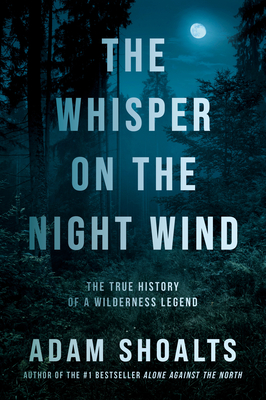 $27.00

Not in the store. We can order it and should have it in store in 3-5 business days.
Description
---
NATIONAL BESTSELLER

Spellbinding adventure from Canada's most beloved modern-day explorer.

Traverspine is not a place you will find on most maps. A century ago, it stood near the foothills of the remote Mealy Mountains in central Labrador. Today it is an abandoned ghost town, almost all trace of it swallowed up by dark spruce woods that cloak millions of acres.

In the early 1900s, this isolated little settlement was the scene of an extraordinary haunting by large creatures none could identify. Strange tracks were found in the woods. Unearthly cries were heard in the night. Sled dogs went missing. Children reported being stalked by a terrifying grinning animal. Families slept with cabin doors barred and axes and guns at their bedsides.

Tales of things that "go bump in the night" are part of the folklore of the wilderness, told and retold around countless campfires down through the ages. Most are easily dismissed by skeptics. But what happened at Traverspine a hundred years ago was different. The eye-witness accounts were detailed, and those who reported them included no less than three medical doctors and a wildlife biologist.

Something really did emerge from the wilderness to haunt the little settlement of Traverspine. Adam Shoalts, decorated modern-day explorer and an expert on wilderness folklore, picks up the trail from a century ago and sets off into the Labrador wild to investigate the tale. It is a spine-tingling adventure, straight from a land steeped in legends and lore, where Vikings wandered a thousand years ago and wolves and bears still roam free.

In delving into the dark corners of Canada's wild, The Whisper on the Night Wind combines folklore, history, and adventure into a fascinating saga of exploration.
About the Author
---
ADAM SHOALTS is a historian, archaeologist, geographer, and Westaway Explorer-in-Residence at the Royal Canadian Geographical Society. Shoalts holds a PhD from McMaster University where his research examined the influence Indigenous oral traditions had on fur traders in the subarctic and Pacific Northwest. He is also the author of Alone Against the North, A History of Canada in Ten Maps, and Beyond the Trees, all of them national bestsellers. He enjoys long walks in the woods. Follow his adventures on Facebook and Instagram.

Praise For…
---
PRAISE FOR THE WHISPER ON THE NIGHT WIND:

"A fantastic, fun, and chilling tale."
—Canadian Geographic
 
"Modern-day explorer Adam Shoalts . . . reminds us that our world is full of mystery, possibility and awe."
—CBC
 
"It is a spooky read, and after finishing it you might want to take a few days off before heading back into the wilderness . . . a page turner for sure."
—Kevin Callan, Explore Magazine
 
"The place they end up is so isolated and untravelled that it could give the yips to even the most seasoned explorer. Shoalts is precise in his descriptions of setting and his writing is filled with . . . a clever, intentional use of language that heightens tension and lets a creepiness seep into the narrative."
—Quill and Quire
 
"Like something out of Lovecraft. . . . He writes like an explorer of old. . . . [T]hrilling and sometimes unsettling."
—Book City

"[Adam Shoalts] continues to go where his curiosity pulls him—often into uncomfortable places we might not go ourselves—and is more than happy to bring us along in the recounting. Spine-tingling . . . captivating."
—Sudbury Star
 
"He's a great writer. . . [E]nthralling . . . [H]is use of language keeps you glued to the page."
—Mysterious Universe Podcast
 
"This book tweaks Shoalts' previous formula in all the right ways—the addition of another person allows for cheeky banter to pepper the narrative . . . All this is couched in what you expect from Adam Shoalts' adventure books: an exciting wilderness expedition, which is capped off with a satisfying conclusion to the mystery."
—The Book Lady
 
"If mysterious, unexplained tracks in the deepest of woods and a bold, hair-raising attempt to uncover the truth behind a century-old Labrador legend sound like just the kind of thrill you're after, then. . . . [read The Whisper on the Night Wind]."
—OrilliaMatters
Thank you for shopping local!