The Presidents and the Poor: America Battles Poverty, 1964-2017 (Hardcover)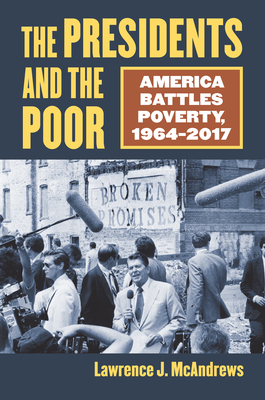 $54.00

Backordered at our distributor but we can check availability from the publisher.
Description
---
Declaring a War on Poverty in 1964, President Lyndon Baines Johnson proclaimed: "We shall not rest until that war is won." Since then, nine presidents have come and gone, each taking up the campaign in his own way--but the poor are still here. While all of these presidents have helped produce meaningful changes in the lives of the nation's underclass, their setbacks have been at least as notable as their successes. The Presidents and the Poor asks why. This book is the first thorough study of the policies and politics of the presidents from Johnson to Barack Obama--what they did right and how they went wrong--in over half a century of fighting poverty. Many factors conspired to frustrate Democratic efforts to escalate Johnson's War on Poverty and Republican attempts to unravel it: the rivalry of the two-party system; the frequency of congressional elections; the fluctuations of the economy; the demands of foreign policy; the inertia of the federal bureaucracy; the tensions among cities, states, and Washington, DC; and the priorities of the presidents, the press, and the public. Examining how each president tried to alleviate the suffering of the poor--including what resources he marshaled for which programs, policies, legal strategies, and political maneuvers--Lawrence J. McAndrews details how and why none of the presidents were able to surmount the enormous socioeconomic, political, and cultural barriers to eradicating poverty. Comprehensive and engaging, rich in primary research, and sobering in its conclusions, his book brings much-needed attention and clarity to an enduring yet too often neglected problem.
Thank you for shopping local!