Water: The Fate of Our Most Precious Resource (Paperback)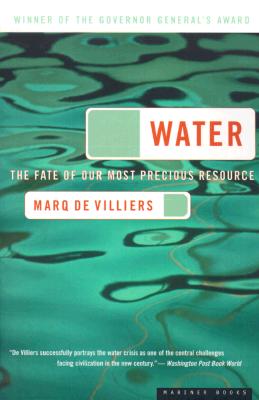 $19.99

Not in the store. We can order it and should have it in store in 3-5 business days.
Description
---
In his award-winning book WATER, Marq de Villiers provides an eye-opening account of how we are using, misusing, and abusing our planet's most vital resource. Encompassing ecological, historical, and cultural perspectives, de Villiers reports from hot spots as diverse as China, Las Vegas, and the Middle East, where swelling populations and unchecked development have stressed fresh water supplies nearly beyond remedy. Political struggles for control of water rage around the globe, and rampant pollution daily poses dire ecological theats. With one eye on these looming crises and the other on the history of our dependence on our planet's most precious commodity, de Villiers has crafted a powerful narrative about the lifeblood of civilizations that will be "a wake-up call for concerned citizens, environmentalists, policymakers, and water drinkers everywhere" (Publishers Weekly).
About the Author
---
Marq de Villiers is the author of six books on exploration, history, politics, and travel, including INTO AFRICE: A JOURNEY THROUGH THE ANCIENT EMPIRES and WITH TRIBE DREAMING, his award-winning memoir of growing up in South Africa. He resides in Nove Scotia, Canada.
Praise For…
---
". . . de Villier's important, compelling, highly readable report on the looming global crisis sounds a wake-up call for . . . water-drinkers everywhere." Publishers Weekly

"De Villiers' book provides a fascinating and disturbing worldwide survey of water delivery." The San Francisco Chronicle

"A sobering book detailing nearsightedness, greed and exploitation. If we do not change how we manage water, many people face a grim future." The Seattle Times

"Well researched, thought-provoking . . . " Minneapolis Star-Tribune

" Very readable. . . entertaining yet thought-provoking narrative style will make this book a good choice for serious summer reading." Library Journal Starred

"This book is as compelling and lucid as it is powerful. I couldn't put it down. As dire as the statistics are with regard to the world's imperiled and dwindling unpolluted aquifers, it is somehow a comfort to realize that all nations, "developed" and "undeveloped," share the same challenges; and a comfort, too, to have the situation chronicled and documented with such detail. WATER is a gift to the future. Whether we will accept it, and listen, remains to be seen. I thank de Villiers for writing it." -- Rick Bass, author of COLTER —