Pony (CD-Audio)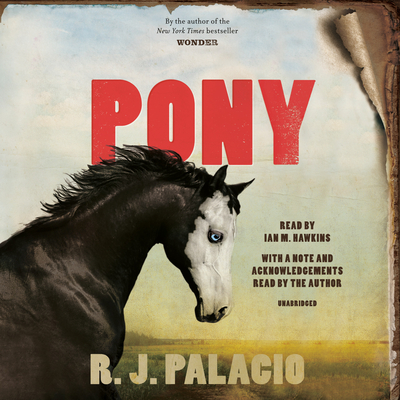 $40.00

Backordered at our distributor but we can check availability from the publisher.
September/October 2021 Kids Indie Next List
---
"This book takes you on a heartstring-tugging ride that covers some hard-to-handle subjects with the grace only R.J. Palacio can bring."
— Kerry Clemm, Anderson's Bookshops, Naperville, IL
Description
---
INSTANT NEW YORK TIMES BESTSELLER • NAMED ONE OF THE BEST CHILDREN'S BOOKS OF THE YEAR BY THE WALL STREET JOURNAL

"Perfection." –The Wall Street Journal

The bestselling author of Wonder returns with an enthralling adventure about a boy on a quest to rescue his father, with only a ghost as his companion and a mysterious pony as his guide.  

Twelve-year-old Silas is awoken in the dead of night by three menacing horsemen who take his father away. Silas is left shaken, scared, and alone, except for the presence of his companion, Mittenwool . . . who happens to be a ghost. When a pony shows up at his door, Silas makes the courageous decision to leave his home and embark on a perilous journey to find his father. Along the way, he will face his fears to unlock the secrets of his past and explore the unfathomable mysteries of the world around him.
 
R. J. Palacio spins a harrowing yet distinctly beautiful coming-of-age story about the power of love and the ties that bind us across distance and time. With the poignant depth of War Horse and the singular voice of True Grit, this is one of those rare books poised to become an instant classic for readers of all ages.

"A wonderful story of courage. ... It's got the feeling of a modern classic." —as recommended on NPR by Jorge Lacera
About the Author
---
R. J. Palacio is the author of the #1 New York Times bestseller Wonder, which has sold over 15 million copies worldwide. The book's message inspired the Choose Kind movement and has been embraced by readers around the world, with the book published in over 50 languages. Wonder was made into a blockbuster movie starring Julia Roberts, Owen Wilson, and Jacob Tremblay. Palacio's other bestselling books include 365 Days of Wonder: Mr. Browne's Book of Precepts, Auggie & Me: Three Wonder Stories, the picture book We're All Wonders, and the graphic novel White Bird, which is currently being filmed as a major motion picture starring Gillian Anderson and Helen Mirren. Palacio lives in Brooklyn with her husband, two sons, and two dogs.
Praise For…
---
Praise for PONY:

"Perfection." —The Wall Street Journal

"R.J. Palacio, author of a modern classic children's book of our era, has somehow crafted what feels like an entirely different breed of classic: page-turning and heart expanding, elegiac and adventurous, reminiscent of Jack London, with mediations on love and faith that feel timeless and utterly necessary to our current moment." —Gayle Forman, author of If I Stay and Frankie & Bug

"A magical story—Pony is pure delight." —Rebecca Stead, Newbery Medal–winning author of When You Reach Me
 
"A mystery, a frontier adventure, a ghost story: Pony tells the tale of a child 'with fire in his mind,' and it will light a fire in yours. R. J. Palacio's most ambitious book yet, it is as compelling as it is satisfying." —Adam Gidwitz, Newbery Honor–winning author of The Inquisitor's Tale
 
"Once you open Pony, R.J. Palacio's astonishing new novel, your life will no longer be your own. From the first pages, I fell under the thrall of the remarkable Silas, a boy as wise as he is brave. . . . An utterly absorbing, beautifully written book." —Margot Livesey, author of Eva Moves the Furniture and The Boy in the Field

"Pure joy, a rip-roaring adventure told by a master storyteller. You won't be able to turn the pages fast enough." —Josh Radnor
 
 "A story full of fantastical characters with fantastical circumstances. R.J. Palacio deftly communicates that we are ALL on our own unique journey, and that what binds us together is always stronger and more important than what tears us apart." 
– Jared Padalecki

"This book blew me away. It is one of the best 2021 books that I have read. I can't stop thinking about it." —Colby Sharp, Fifth Grade Teacher; Founder of Nerdy Book Club blog; Co-host of The Yarn podcast
 
"I feel like I just read a symphony, a melody I'd never heard before, but my heart somehow remembered. RJ Palacio, you are a Wonder." —Erin O'Leary, Reading Specialist
 
"Beautifully crafted...A timeless adventure of the heart." —Barb Langridge, M.Ed; Children's Instructor and Research Specialist; Howard County Central Library (retired); Founder of Abooknandahug blog
 
"Once I started reading, I could NOT stop. This may have become my new favorite middle-grade story of all-time!" —Patrick Andrus, Fourth Grade Teacher at Eden Prairie Schools/Prairie View Elementary

"[A] rip-roaring adventure… Pony illustrates Palacio's range as an author, with this tale being distinctly different from Wonder, yet sharing movingly captured central themes of heart, family, and overcoming challenges." —Booklist, starred review

"Readers in search of fast-paced historical fiction with speculative elements should look no further than Pony. The twists and turns of Silas' odyssey are both stunning and satisfying." —BookPage, starred review

"Readers will especially appreciate the following of a variety of threads to satisfying conclusions and Silas' linking of the past to a promising future." —The Bulletin of the Center for Children's Books

"The blend of rambling western, scientific, and paranormal elements mixed with lingering questions about Silas's father's past will appeal to many as the trio underscores how even unlikely friendships can make for strong bonds." —Publishers Weekly

"[An] elegantly written tale…This is Palacio's first novel that doesn't involve characters from Wonder (2012), but it involves plenty of wonder, in rich and haunting ways" —The Horn Book