Motherthing (Paperback)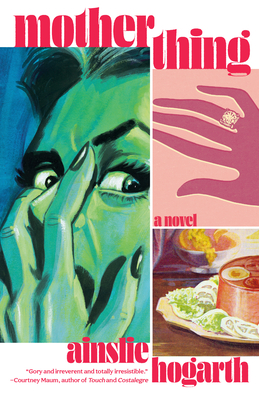 $17.00

Should be on our shelves now -- but wait for confirmation from us before coming to pick up. We'll respond to your order shortly.
Staff Reviews
---
This book is so eerie and smart and is the first book to ever give me motion sickness while reading it (page ) which is kind of amazing! Hogarth's writing is so precise and grotesque, this is an instant favorite!
—Nikki
— From
Staff Picks
October 2022 Indie Next List
---
"Motherthing is dark, witty, and absurd — the perfect combination! Abby and Ralph move in with Ralph's mother, but Laura is conniving and prickly. This book will leave you gasping, and you might think twice about eating chicken à la king."
— Caitlin Baker, Island Books (WA), Mercer Island, WA
Description
---
A NEW YORK TIMES BEST BOOK OF THE YEAR • A darkly funny take on mothers and daughters, about a woman who must take drastic measures to save her husband and herself from the vengeful ghost of her mother-in-law

"A quirky, gruesome, utterly original feminist horror experience." —The New York Times Book Review

When Ralph and Abby Lamb move in with Ralph's mother, Laura, Abby hopes it's just what she and her mother-in-law need to finally connect. After a traumatic childhood, Abby is desperate for a mother figure, especially now that she and Ralph are trying to become parents themselves. Abby just has so much love to give—to Ralph, to Laura, and to Mrs. Bondy, her favorite resident at the long-term care home where she works. But Laura isn't interested in bonding with her daughter-in-law. She's venomous and cruel, especially to Abby, and life with her is hellish.

When Laura takes her own life, her ghost haunts Abby and Ralph in very different ways: Ralph is plunged into depression, and Abby is terrorized by a force intent on destroying everything she loves. To make matters worse, Mrs. Bondy's daughter is threatening to move Mrs. Bondy from the home, leaving Abby totally alone. With everything on the line, Abby comes up with a chilling plan that will allow her to keep Mrs. Bondy, rescue Ralph from his tortured mind, and break Laura's hold on the family for good. All it requires is a little ingenuity, a lot of determination, and a unique recipe for chicken à la king…

A VINTAGE BOOKS ORIGINAL
About the Author
---
AINSLIE HOGARTH is the author of three novels. She lives in Canada.
Praise For…
---
A New York Times Notable Book the Year • A Cosmopolitan Best Horror Book of All Time • A New York Times Editors' Choice
 
"A quirky, gruesome, utterly original feminist horror experience."
—The New York Times Book Review

"Creepy, hysterical, emotionally complex."
 —The New York Times, 7 Audiobooks to Listen to Now
 
"This haunting is deliberate, unsettling, and reads like the sensation you get after licking a battery—sharp and bitter but intriguing. Turn to it when you want something different, when you're done with the traditional ghost story and need something unusual to sink your teeth into."
 —The Big Thrill
 
"Okay, friends, now hold on to your butts. This is one of those books that I finished and then thought, "I love this—what the hell is wrong with me??!" This book is DISTURBING AF. But it's also so freaking original and funny. . . . Like I said, this book is remarkably upsetting, but I also thought it was amazing. So much, that I just got Hogarth's last book, The Boy Meets Girl Massacre."
 —Liberty Hardy, Bookriot

"Filled with sharp, crackling sentences, which bend variously sinister, humorous and sad, Ainslie Hogarth's new novel is a stunner. Like Mona Awad's Bunny or Otessa Moshfegh's Eileen, Motherthing is a fabulous, frightening story built from fine, fine prose."
—Laird Hunt, author of Zorrie

"This novel is bursting with smart, provocative, heart-breaking things to say about the nature of grief and its ability to take up just as much—if not more—physical space than the actual person lost. Motherthing is gory and irreverent and totally irresistible—I can't wait to see what Hogarth spooks us with, next."
—Courtney Maum, author of Touch and Costalegre

"A grim, disturbing novel of family drama and mental illness, yet a bizarrely funny glimpse into one woman's mind. . . . Motherthing keeps readers as unstable as its narrator, struggling to manage the traumas and the waves of emotion. . . . The result of these roiling thoughts and images is a darkly comic, kaleidoscopic novel of unhealthy fixations, love, murder, the gifts and wounds that family can inflict and one woman's fight to save herself."
—CrimeReads

"Quirky, unexpected, and charming, Motherthing uses all the right ingredients combined in equal measure to ensure a delicious experience. Highly recommend."
—Mystery and Suspense Magazine

"As [Motherthing] ramps up, it quickens and amps up the grotesque. The end is spectacular. Sometimes books like this will crumble under the weight of themselves, but Hogarth never missteps. As spooky season gets underway, this was the perfect book to get into the spirit."
—The Big Smoke

"A masterfully crafted horror novel that's by turns humorous and deeply unsettling. . . . Abby makes a wonderful narrator; full of wry insights and frothy humor. . . . This dark domestic drama packs a punch." 
 —Publishers Weekly, **starred review**

"Hogarth's way with words enlivens every page of this psycho romp. . . . Her fearlessness and utter lack of inhibition animate the desperate longing and bitter trauma at the heart of this ghost story, administered with a steady drip of comic relief. Profane, insane, hilarious, disgusting—and unexpectedly moving."
—Kirkus Reviews **starred review**

"A darkly comic, kaleidoscopic novel of unhealthy fixations, love, murder, the gifts and wounds that family can inflict and one woman's fight to save herself."
—Shelf Awareness

"Fierce and unexpected, this darkly comedic horror is an exploration of how we haunt ourselves and how we allow others to haunt us, especially those closest to us. A crass narrator and an unraveling plot, coupled with subtext on sensitive and relatable topics, bring a dose of reality to what is otherwise a delightfully unhinged romp through domestic hell."
 —Rue Morgue Magazine

"If you took Jane Fonda's character from the 2005 film Monster-in-Law, made her an angry ghost, and mixed that with Neil Gaiman's Coraline, you might get Hogarth's new novel. . . . Fans of Jeff Strand, Grady Hendrix, and other dark-humor takes on horror will enjoy Motherthing."
 —Booklist

"Deeply dark and often funny. . . . Motherthing can be a difficult book to read on an emotional level, given Abby's frustratingly optimistic "I can fix him/it/this" attitude, but its scares and surprises are well worth the discomfort it causes—as well as the sleepless nights it will engender."
—Bookpage