New Dad, Same Bad Jokes: A Dad Joke a Day for That First Sleepless Year (Paperback)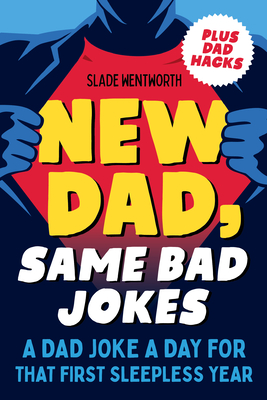 $11.99

Not in the store. We can order it and should have it in store in 3-5 business days.
Description
---
Q: Why is that baby still in diapers?
A: I'll give you two reasons: number one and number two.
Calling new dads! Cackle and eye-roll your way through baby's first year with 365 hilariously horrible dad jokes for parents who have no idea what they're in for. Classically corny plus new cringe, these jokes help first-time dads take a load off, tickle their loved ones, and give baby their first giggly groan.
New Dad, Same Bad Jokes
won't make it easier to be a new parent, but it will soften the blow with some hearty LOLs, new-dad tips, and prompts to document the messy, endearing, and hilarious moments of first-time fatherhood. While baby might still be little, this dad joke book is full-groan!
Inside, Dad will find:
A joke a day for baby's first year! Baby jokes and a whole lot more. 365 classic puns, one-liners, and Q&As to give you a zing when that coffee won't quite cut it.
Hilariously useful Dad Hacks. Stop pee mid-air? Wrap baby like a burrito? Help mom eat one-handed? Tips you didn't know you needed to survive year one.
Space to record early memories of baby. Prompts to jot down the sweet, the silly, the stinky as baby grows from swaddled to swindler.
About the Author
---
Slade Wentworth is a dad, author, and cook who cracks jokes like he cracks eggs, often making a mess of both. As a father of two, Slade found a passion for writing parenting humor and dad jokes as soon as his firstborn first pooped in the tub. He's built a social media community of involved parents and a following of foodie enthusiasts on Instagram, Facebook, and TikTok @thedadbriefs.

A native Floridian, Slade has lived in New York and Seattle and currently resides in Fort Lauderdale, Florida. He's enjoyed a 25-year career in publishing, advertising, healthcare, and technology. He's currently the content marketing director for Floyd Lee Locums, a premier healthcare staffing firm, and the founder/content creator of The Dad Briefs, a social media marketing company.