The Drifter (A Peter Ash Novel #1) (Paperback)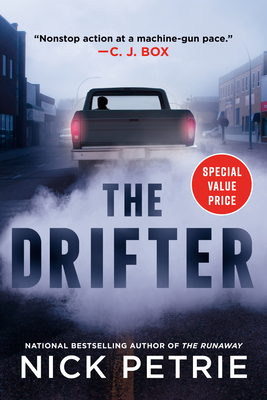 $12.00

Should be on our shelves now -- but wait for confirmation from us before coming to pick up. We'll respond to your order shortly.
Other Books in Series
This is book number 1 in the A Peter Ash Novel series.
Description
---
The first explosive thriller featuring Peter Ash, a veteran who finds that the demons of war aren't easily left behind...

"Lots of characters get compared to my own Jack Reacher, but Petrie's Peter Ash is the real deal."—Lee Child

Peter Ash came home from the wars in Iraq and Afghanistan with only one souvenir: what he calls his "white static," the buzzing claustrophobia due to post-traumatic stress that has driven him to spend a year roaming in nature, sleeping under the stars.

But when a friend from the Marines commits suicide, Ash returns to civilization to help the man's widow with some home repairs. Under her dilapidated porch, he finds more than he bargained for: the largest, ugliest, meanest dog he's ever encountered...and a Samsonite suitcase stuffed with cash and explosives.

As Ash begins to investigate this unexpected discovery, he finds himself at the center of a plot that is far larger than he could have imagined...and it may lead straight back to the world he thought he'd left for good.
About the Author
---
Nick Petrie received his MFA in fiction from the University of Washington, won a Hopwood Award for short fiction while an undergraduate at the University of Michigan, and his story "At the Laundromat" won the 2006 Short Story Contest in the The Seattle Review, a national literary journal. A husband and father, he runs a home-inspection business in Milwaukee. His novels in the Peter Ash series include The Drifter, winner of the ITW Thriller Award and the Barry Award for Best First Novel, Burning Bright, and Light It Up.
Praise For…
---
Praise for The Drifter
"As I was reading Petrie's exceptional debut,
O'Brien's [
The Things They Carried
] buzzed at the edges of my consciousness, casting the newer book as a thematic sequel to O'Brien's classic...
The Drifter
 may be about a different war, but it's about the same hell, and in this book it's about the things a vet carries home with him....[The] lean prose, gritty descriptions, and raw psychological depth give the novel a feel that reminded me of early Dennis Lehane."—
Milwaukee Journal-Sentinel
"A gripping, beautifully written novel."—The Huffington Post  
"
The Drifter
 is a stunning debut. Peter Ash is one of the most complex characters I've come across in a long time. The pace is like a sniper round, extraordinarily fast and precisely calibrated. The prose is fluid, original and frequently brilliant, the story heart-wrenching and uplifting at the same time. There is grit in this tale that will stay with you for a long time. Perhaps forever. I eagerly await Nick Petrie's next creation."—
New York Times
-bestselling author David Baldacci  
"A powerful, empathetic, and entertaining tale about the plight many combat veterans face when they come home from Iraq and Afghanistan. Top-notch storytelling."—
Kirkus Reviews
 (starred review)  
"[Ash's] sharply intelligent, witty voice strikes the right tone for an honest exploration of the challenges returning veterans face, and while this wandering veteran will remind some of Jack Reacher, Peter's struggle to overcome PTSD sets him apart. An absorbing thriller debut with heart."—
Booklist
"Petrie's expertly paced plot sets a colorful array of characters on a collision course. Readers will look forward to seeing more of the resourceful Ash."—
Publishers Weekly
"Petrie's impressive debut thriller is fine tuned, the action gripping, and through Ash offers a well-drawn portrait of a vet who can't escape his combat experience. Like Raymond Chandler's Philip Marlowe, Ash's philosophy of detection is to poke a stick into something and see what happens. His discoveries will keep the reader on edge and whet the appetite for more from this author."—
Library Journal
"Nick Petrie's debut novel follows the compelling story of one former Marine's struggle to reacclimate himself to civilian life while honoring his commitment to a fallen soldier. That alone is reason to keep reading, but Petrie amps up the stakes in surprising fashion, creating a story that is moving, thrilling and satisfying on every level....[An] intimate story of personal discovery as well as an obsessive pageturner of a book."—BookPage   
"Gritty and engaging, this debut novel will capture readers from the first word. Edge-of-your-seat action keeps the plot racing to a stunning conclusion....This is a fantastic first novel and a captivating thriller."—
RT Book Reviews
 (4 ½ stars)  
"With 
The Drifter
, Nick Petrie has written just about the perfect thriller. I haven't read such a well-crafted and gripping story in a month of Sundays. If this is Petrie's first novel, watch out for the second one. But why wait? This one's here now, and it's a home run."—
New York Times
-bestselling author John Lescroart   
"A tangled tale of intrigue, action, and adventure with a battle-scarred hero who definitely rises to the challenge. The clever plot is firmly conceived and crisp writing makes this a terrific story, told terrifically."—
New York Times
-bestselling author Steve Berry  
"Nick Petrie's 
The Drifter
 has one of the most thrilling openings I've ever read, involving a dank crawlspace, the nastiest, smelliest dog in creation, and a former Marine lieutenant still suffering from the trauma of his war. It can't get better than this, I figured, but it does. Petrie's novel keeps accelerating even as it burrows ever deeper into the dark heart of the new American dream.  It is a sterling debut.  And yes, the dog is a star."—
New York Times
-bestselling authorWilliam Lashner 
"A timely, intelligent thriller, as much an indictment as a gripping page-turner. Nick Petrie's debut simmers and seethes until it finally boils over in a masterfully-drawn final showdown. Teeming with grit and desperation and told in spare, vivid prose, this is not a debut you'll want to miss."—Owen Laukkanen, author of The Stolen Ones