What Napoleon Could Not Do: A Novel (Hardcover)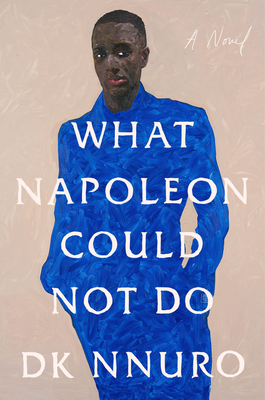 $28.00

Not in the store. We can order it and should have it in store in 3-5 business days.
Description
---
One of the Books Barack Obama Is Reading This Summer
One of Vulture's Best Books of 2023
One of Goodreads' Buzziest Debut Novels of 2023
One of Essence's 31 Books You Must Read
One of the most anticipated books by Town & Country and Elle

America is seen through the eyes and ambitions of three characters with ties to Africa in this gripping novel

When siblings Jacob and Belinda Nti were growing up in Ghana, their goal was simple: to move to America. For them, the United States was both an opportunity and a struggle, a goal and an obstacle.
 
Jacob, an awkward computer programmer who still lives with his father, wants a visa so he can move to Virginia to live with his wife—a request that the U.S. government has repeatedly denied. He envies his sister, Belinda, who achieved, as their father put it, "what Napoleon could not do": she went to college and law school in the United States and even managed to marry Wilder, a wealthy Black businessman from Texas. Wilder's view of America differs markedly from his wife's, as he's spent his life railing against the racism and marginalization that are part of life for every African American living here.
 
For these three, their desires and ambitions highlight the promise and the disappointment that life in a new country offers. How each character comes to understand this and how each learns from both their dashed hopes and their fulfilled dreams lie at the heart of what makes What Napoleon Could Not Do such a compelling, insightful read.
About the Author
---
DK Nnuro is a Ghanaian-born writer and is a graduate of Johns Hopkins and the Iowa Writers' Workshop. He has taught novel writing at the University of Iowa and is currently curator of special projects at the University of Iowa Stanley Museum of Art. He lives in Iowa City, Iowa.
Praise For…
---
Praise for What Napoleon Could Not Do:

"What Napoleon Could Not Do is a multifaceted drama of familial relationships, duty, loss, and dreams deferred. Nnuro creates beautiful symmetry between America and Ghana, juxtaposing the physically draining disappointments of the Ghanaian government with the emotionally draining letdowns of the U.S. bureaucracy. He boldly explores discrimination across and within race and culture and intricately crafts characters readers will feel intimately connected with. In this deeply thoughtful tale, Nnuro establishes himself as a powerful storyteller." —Booklist

"[A] pristine debut …Belinda, Wilder and Belinda's feckless brother Jacob form the heart of Nnuro's novel, which explores how one extended Ghanian family grapples with its strained relationship with America, a country that mistreats them despite the family's constant efforts to do right …Nnuro's language is economical, precise, but never artless." —The New York Times Book Review

"A carefully captured account of sibling rivalry, diverging ambitions, and the rot at the heart of the American Dream." —Elle
 
"[An] intelligent and wrenching debut." —Vulture

"Spellbinding… In this compelling and insightful debut, Nnuro delivers a nuanced exploration of the American Dream's broken promises." —Esquire

"What an intricately textured and deeply thoughtful novel this is. What Napoleon Could Not Do is a powerful debut, an exploration of family that's at once intimate and expansive." —Claire Lombardo, author of The Most Fun We Ever Had

"In his brilliant debut, DK Nnuro shows us what happens when we do—and don't—get our heart's desire. The characters in this novel are fascinating in their honesty, their hope, and their humor, and their story is unforgettable: involving, surprisingly, and very human." —Kate Christensen, author of The Great Man and Trouble
 
"What Napoleon Could Not Do is an exquisitely written meditation on family, secrets, duty, loss, and the desire for success and inner peace. D.K. Nnuro has crafted each character—whether their role is large or small—with great care and singularity. What a striking debut." —De'Shawn Charles Winslow, author of the award-winning In West Mills
 
"DK Nnuro's striking first novel offers its readers a highly nuanced portrait of how the shadow of American hegemony shapes the lives of two Ghanian siblings, one who immigrates and one who doesn't. In Nnuro's deft hands, these particulars rise into a vision, panoramic in scope, of the global trade not in goods and services but in fantasy, desire, and regret. Jacob and Belinda are characters you will not soon forget, and the ache of their lives caught between Ghana and the United States is at the heart of this subtle, surprising, and captivating novel." —Adam Haslettt, author of Imagine Me Gone

"What a majestic, poignant debut. So often I wanted to pull these characters to the side, as one would a friend, and hug them and ask, what are you doing? The storytelling is exquisite. It delights in its intellect, its precision and its keen, surprising insights. Nnuro is a writer of supreme powers. Here is a storyteller of the ages." —Novuyo Rosa Tshuma, author of House of Stone and I Dream America