The Majority: A Novel (Hardcover)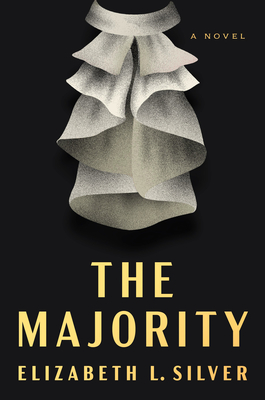 $28.00

Should be on our shelves now -- but wait for confirmation from us before coming to pick up. We'll respond to your order shortly.
Description
---
Inspired by history, a riveting novel of love and friendship, motherhood and ambition, and one woman's fight to be a Supreme Court justice.

Half of the United States is waiting for Justice Sylvia Olin Bernstein to die. The other half is praying for her to hold on. At 83, "the contemptuous S.O.B." doesn't have much time left. What she has is a story, one she has wrested from the grip of history to tell herself—of how she rose to her historic position on the Supreme Court, and the barriers she broke along the way.

Told over fifty years, from losing her mother at a young age, to falling in love, to navigating an unplanned pregnancy and motherhood, to learning how to spar with a sexist mentor, Sylvia's personal story reveals the intimate truth about who she was as she ascended to her modern throne: not just a brilliant mind, but a daughter, a best friend, a wife, mother, and advocate. While caught in a dramatic tug of war between career and family, truth and convenience, progress and patience, she will be given a chance to change the course of American history – and give voice, at last, to the majority.

Set against the vibrant sweep of the 20th century, THE MAJORITY brings us into the sacrifices, heartaches, and complex emotional life of a powerful woman ahead of her time, whose life and work turn out to have supreme stakes.
About the Author
---
Elizabeth L. Silver is the author of the novel, The Execution of Noa P. Singleton, which was an Amazon Best Book of the Year and published in seven languages. Silver has also worked as an attorney in California and Texas, where she was a judicial clerk for the Texas Court of Criminal Appeals, and currently teaches creative writing with UCLA. She has written for Harper's Bazaar, New York Magazine, The Washington Post, and lives in Los Angeles with her family.
Praise For…
---
Praise for The Majority:

"Silver is particularly persuasive when dramatizing what women faced when trying to maintain careers and families in the 1970s."—The Washington Post

"[Ruth Bader Ginsberg's] legend lives on, most recently in Elizabeth Silver's new novel The Majority. It's RBG-esque protagnist, Sylvia Olin Bernstein, 83, considers her life as she looks back to her decades on the highest court. . .stealthily devastating . . . [an] important novel."—The Los Angeles Times

"Engrossing and thought-provoking. . .While The Majority is a clear homage to Ginsburg, Silver paints a full portrait of Sylvia, whose life unfolds during some of the most consequential events in American history. . .The Majority is more than an entertaining read, although it is certainly that. It's a profound contemplation of how women are treated by the law and how they administer the law. The Contemptuous S.O.B. is both a brilliant jurist and an all-too-human woman fighting against a system stacked against her."—BookPage

"Readers will, of necessity, think of real-life trailblazers Sandra Day O'Connor and Ruth Bader Ginsburg, but Silver wisely brings a universality to Sylvia's story of sacrifice and determination, making it recognizable to women of every era, background, and profession who battle to forge their own paths against society's limiting expectations."—Booklist

"Incisive. . .Silver wisely gives Sylvia her own path to travel, emphasizing how her professional goals both shape and are shaped by her experiences as a woman. Ginsburg's many admirers will be captivated by her literary counterpart." —Publishers Weekly

"Drawing from the life of Ruth Bader Ginsburg, Silver's novel depicts a fictionalized Supreme Court justice who navigates the misogyny of the world in which she finds herself. Even as she shoulders her own burdens of love, career, and motherhood, Justice Sylvia Olin Bernstein also seeks to be a force of moral reckoning. In The Majority, readers are given a look at a vivid life."—Alta

"A story of secrets, impossible choices, and how we negotiate the uneasy space between our personal and public lives. Like Curtis Sittenfeld's American Wife, The Majority transforms the life of a singular woman into a compelling narrative that illuminates the most important themes playing out in America today."—Amanda Eyre Ward, New York Times bestselling author of The Jetsetters
 
"This is Justice Sylvia Olin Bernstein's story but make no mistake, Ruth Bader Ginsburg is hammering her heavenly gavel in approval. The Majority is replete with raw emotional context, perception, and humanity that resonates far beyond the page. Sure to be one of the most unforgettable reads of the year. It already holds that distinction for me." —Sarah McCoy, New York Times bestselling author of Mustique Island and Marilla of Green Gables
 
"With the story of one remarkable woman's life, The Majority reveals how the lives of ALL women have been altered over the course of the last eighty-some years. Exploring important questions about the sacrifices we both should and shouldn't make for those we care about, Silver has written a novel at once intimate and epic, about how we are changed by experience, and how the people we love are central to these transformations." —Edan Lepucki, New York Times bestselling author of California
 
"The Majority is the great American novel you will urge your daughters and sisters and friends to read. From post-war Brooklyn to the gold-trimmed curtains of the Supreme Court, the story of Sylvia Olin Bernstein is rendered with such clarity and compassion that readers will reconsider everything they thought they knew about the remarkable women who transformed American history." —Julia Fierro, author of Cutting Teeth and The Gypsy Moth Summer

"This book should be required reading. The Majority is a tiny hammer in Silver's hand, undetectable and hovering overhead, the act of reading like a trigger breaking you apart over and over again. I was literally lost in The Majority and it changed me."—Natashia Deon, NAACP-nominated author of Grace

"Surprisingly personal . . .The complexity of Sylvia's background and the personal cost of her commitment make for a thought-provoking read with many echoes of a certain departed Supreme Court Justice also known by three initials." —Janet Fitch, New York Times bestselling author of White Oleander and The Revolution of Marina M. 

"Restored my faith in justice. I loved this novel."—Lynn Steger Strong, author of Want