Ordinary Heroes: A Memoir of 9/11 (Hardcover)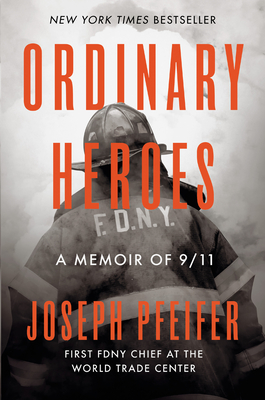 $27.00

Not in the store. We can order it and should have it in store in 3-5 business days.
Description
---
New York Times Bestseller

From the first FDNY chief to respond to the 9/11 attacks, an intimate memoir and a tribute to those who died that others might live

When Chief Joe Pfeifer led his firefighters to investigate an odor of gas in downtown Manhattan on the morning of 9/11, he had no idea that his life was about to change forever. A few moments later, he watched as the first plane crashed into the World Trade Center. Pfeifer, the closest FDNY chief to the scene, spearheaded rescue efforts on one of the darkest days in American history.

Ordinary Heroes is the unforgettable and intimate account of what Chief Pfeifer witnessed at Ground Zero, on that day and the days that followed. Through his eyes, we see the horror of the attack and the courage of the firefighters who ran into the burning towers to save others. We see him send his own brother up the stairs of the North Tower, never to return. And we walk with him and his fellow firefighters through weeks of rescue efforts and months of numbing grief, as they wrestle with the real meaning of heroism and leadership.

This gripping narrative gives way to resiliency and a determination that permanently reshapes Pfeifer, his fellow firefighters, NYC, and America. Ordinary Heroes takes us on a journey that turns traumatic memories into hope, so we can make good on our promise to never forget 9/11.
About the Author
---
Joseph Pfeifer retired from the New York City Fire Department in 2018 as an assistant chief and the founding director of FDNY's Center for Terrorism and Disaster Preparedness. During his thirty-seven-year career, he commanded some of the most significant emergencies in New York City's history, including the World Trade Center attacks on September 11, 2001, the Superstorm Sandy fire in 2012, and the Ebola crisis in 2014. Pfeifer is currently a senior fellow at the Harvard Kennedy School and the Combating Terrorism Center at West Point, and the director for crisis leadership at the National Center for Disaster Preparedness at Columbia University. He holds master's degrees from the Harvard Kennedy School, the Naval Postgraduate School, and the Immaculate Conception seminary. Joe lives in New York with his wife, Ginny.
Praise For…
---
"Ordinary Heroes is clear-eyed, spellbinding, extraordinary."—Vanity Fair

"Pfeifer's record of that day and its aftermath surely enters the canon as one of the necessary documents of 9/11. But it's his inclusive sense of public service, one that values the heroism of those who do ordinary things in extraordinary times, that makes Ordinary Heroes a book for today."—The New York Times

"With great humility, Chief Pfeifer has crafted a moving story of how the FDNY was anything but ordinary in the aftermath of the worst terrorist attack this country has ever seen. An incredible picture of the resilience, humor, and heart of New York's bravest."—Jon Stewart

"A heartfelt, affecting book that sheds new light on one of the darkest moments in recent history."—Kirkus Reviews

"I responded to the World Trade Center attacks along with Chief Joseph Pfeifer. His memoir of that day takes me back to those horrific events in a way no other book about 9/11 has done. A vivid, compelling, and accurate portrayal of the gut-wrenching experiences of the FDNY's fire chiefs and firefighters that morning, both inside and outside the Twin Towers."—Salvatore Cassano, former FDNY fire commissioner and chief of department

"A deeply personal and emotionally charged recollection of unthinkable events. Some people go their whole lives and they're never really tested. Chief Pfeifer was tested, as were so many that day and he was proven a true hero."—Susan Zirinsky, former president, CBS News; senior executive producer, CBS News Content Studio; and co-executive producer, 9/11

"One of my many pleasures of doing interviews for my NYC Epicenter documentary was meeting my brother FDNY Chief Joe Pfeifer. He is a son of New York City, who rose through the ranks to deal with NYC's most severe events in his stellar thirty-seven-year career at the FDNY. This book is a living testament to the 'Bravest,' to the greatest fire department in the whole world."—Spike Lee

"A powerful look at an unforgettable event. After experiencing the loss of hundreds of firefighters, Chief Pfeifer became an advocate for change in the first-responder community that inspired interagency collaboration. His book provides a rare look behind the curtain at the everyday heroes and their courage, pain, and perseverance."—Cathy L. Lanier, former chief of the Metropolitan Police Department, Washington, D.C.

"Joe Pfeifer's courage, leadership, and team-building skills are beyond reproach, and Ordinary Heroes is an essential narrative about the importance of those skills in a time of crisis."—John Abizaid, former commander, U.S. Central Command, and ambassador to Saudi Arabia
Thank you for shopping local!