The Return of Faraz Ali: A Novel (Hardcover)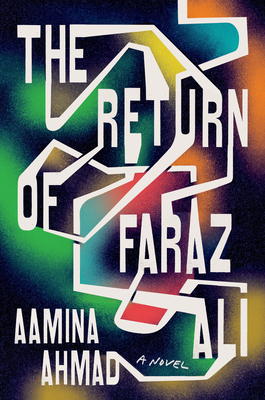 $27.00

Likely on our shelves now
Staff Reviews
---
A Pakistani police officer has been asked to cover up a violent death in Lahore's red-light district, but instead he investigates which leads him into his own past. A novel of family and politics, strong women marginalized by society and men in powerful positions. Great story telling!
—Anne
— From
Staff Picks for Adults
Description
---
"Stunning not only on account of the author's talent, of which there is clearly plenty, but also in its humanity." —New York Times Book Review (cover)

Sent back to his birthplace—Lahore's notorious red-light district—to hush up the murder of a girl, a man finds himself in an unexpected reckoning with his past.

Not since childhood has Faraz returned to the Mohalla, in Lahore's walled inner city, where women continue to pass down the art of courtesan from mother to daughter. But he still remembers the day he was abducted from the home he shared with his mother and sister there, at the direction of his powerful father, who wanted to give him a chance at a respectable life. Now Wajid, once more dictating his fate from afar, has sent Faraz back to Lahore, installing him as head of the Mohalla police station and charging him with a mission: to cover up the violent death of a young girl.

It should be a simple assignment to carry out in a marginalized community, but for the first time in his career, Faraz finds himself unable to follow orders. As the city assails him with a jumble of memories, he cannot stop asking questions or winding through the walled city's labyrinthine alleyways chasing the secrets—his family's and his own—that risk shattering his precariously constructed existence.

Profoundly intimate and propulsive, The Return of Faraz Ali is a spellbindingly assured first novel that poses a timeless question: Whom do we choose to protect, and at what price?
About the Author
---
A graduate of the Iowa Writers' Workshop, Aamina Ahmad has received a Stegner Fellowship, a Pushcart Prize, and a Rona Jaffe Writers' Award. Her short fiction has appeared in One Story, The Southern Review, Ecotone, and elsewhere; she is also the author of a play, The Dishonored. She lives in Berkeley, California.
Praise For…
---
Praise for The Return of Faraz Ali:

"Stunning not only on account of the author's talent, of which there is clearly plenty, but also in its humanity. … The fullness of the characters and their intersecting lives make this far more than a murder mystery… Ahmad's compassion, her deep care for the psychological and  emotional nuances of her characters, never wavers, no matter how monstrous or self-interested or defeated they become. … It extends through generations and transformations of place, all the way to a devastating final chapter, fully human, fully engaged with what makes us human." —New York Times Book Review

"Extraordinarily accomplished. . . . This is a great novel, rich in setting, shocking in its depiction of brute, inexorable power, but unexpectedly sweet in conclusion." —The Washington Post

"It starts out as a crime novel. . . . . and then evolves into so much more. . . . come for the evocative writing, the subtle characters, and plot – some of which veered in completely unexpected territory." —NPR

"A masterpiece of a mystery." —Bitch Media
 
"Dark and compelling, this debut novel is one of secrets, murder and loyalty. It's one that will stay with you." —Ms Magazine

"Outstanding." —PopSugar

"This novel has everything a reader could ask for: a sizzling, noirlike plot; political intrigue juxtaposed with a rich intergenerational family saga; capacious, conflicted characters, including women who may be marginalized by society but are masters of their own narratives; and sublime sentences. A debut novelist, Ahmad manages this complexity seamlessly. A feat of storytelling not to be missed." —Kirkus (starred review)

"The Return of Faraz Ali heralds the arrival of a strikingly accomplished and mature talent. Ahmad has managed to meld fast-paced, intelligent noir with a devastating portrait of the true costs of ambition and desire. Does not let you go, even after the end." —Maaza Mengiste, author of The Shadow King

"A rich and deeply moving novel about confronting histories both personal and political. Marvelous." —Yaa Gyasi, author of Homegoing and Transcendent Kingdom

"The Return of Faraz Ali is a masterpiece. An intricately woven, deeply affecting labyrinth of history, hope, and longing that fulfills its every great ambition. I'm stunned by the gentle grace and spellbinding storytelling of Aamina, a writer I will return to for years to come." —Fatima Farheen Mirza, author of A Place for Us

"Aamina Ahmad has done the impossible: made her literary debut with an enduring classic. Essential and compelling." —Adam Johnson, author of The Orphan Master's Son and Fortune Smiles

"A  gripping read — everything beautifully evoked, from the alleys of the Old City to the atmosphere of corruption and secrets. Noir with a heart." —Kamila Shamsie, author of Home Fire

"Mesmerizing . That a novel so epic in scope can remain so intimate at heart is nothing short of astonishing." – Anthony Marra, author of A Constellation of Vital Phenomena
Thank you for shopping local!