Under the Sky We Make: How to Be Human in a Warming World (Paperback)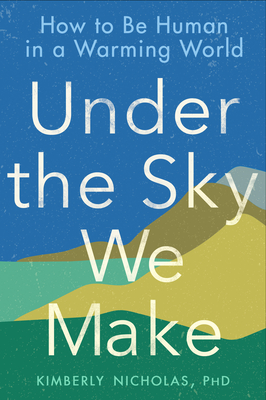 $18.00

Likely on our shelves now
Description
---
** Los Angeles Times bestseller **

It's warming. It's us. We're sure. It's bad. But we can fix it.

After speaking to the international public for close to fifteen years about sustainability, climate scientist Dr. Nicholas realized that concerned people were getting the wrong message about the climate crisis. Yes, companies and governments are hugely responsible for the mess we're in. But individuals CAN effect real, significant, and lasting change to solve this problem. Nicholas explores finding purpose in a warming world, combining her scientific expertise and her lived, personal experience in a way that seems fresh and deeply urgent: Agonizing over the climate costs of visiting loved ones overseas, how to find low-carbon love on Tinder, and even exploring her complicated family legacy involving supermarket turkeys.

In her astonishing, bestselling book Under the Sky We Make, Nicholas does for climate science what Michael Pollan did more than a decade ago for the food on our plate: offering a hopeful, clear-eyed, and somehow also hilarious guide to effecting real change, starting in our own lives. Saving ourselves from climate apocalypse will require radical shifts within each of us, to effect real change in our society and culture. But it can be done. It requires, Dr. Nicholas argues, belief in our own agency and value, alongside a deep understanding that no one will ever hand us power--we're going to have to seize it for ourselves.
About the Author
---
Dr. Kimberly Nicholas is Associate Professor of Sustainability Science at Lund, Sweden's highest-ranked university. Born and raised on her family's vineyard in Sonoma, California, she studied the effect of climate change on the California wine industry for her PhD in Environment and Resources at Stanford University. Since then, she has published over 50 articles on climate and sustainability in leading peer-reviewed journals, and her research has been featured in outlets including The New York Times, The Washington Post, The Atlantic, USA Today, Buzzfeed and more. She has also been profiled in Elle and The Guardian, and gives appearances at around 50 lectures each year, such as the recent Climate Change Leadership summit.
Praise For…
---
Advance Praise for Under the Sky We Make

One of mindbodygreen's 11 New Books on Climate Change That Are Sure To Inform & Inspire
One of Bustle's Most Anticipated Books of March 2021
One of SheRead's 12 Essential Books for Climate Change Activists

"The move from exploitation to regeneration is indeed critical if we are going to have a chance in the global warming fight--and since this decade is critical, this book comes at the right moment!" --Bill McKibben, author Falter: Has the Human Game Begun to Play Itself Out?

"Climate change can be overwhelming, but plenty of viable solutions exist for us to get behind…Under the Sky We Make [is an] engaging new [book] that bring[s] those solutions to life on the page…[A] total joy to read…Read [it] with your giftee to learn together, or use [it] to kick off an eco book club with friends." –mindbodygreen

"As the world faces more and more strange weather brought about by climate change, we'll all be forced to confront its impact on our lives. Thankfully, Kimberly Nicholas' Under the Sky We Make is here to show all of us how we can save the world, just by making meaningful changes in our own lives." –Bustle

"Under The Sky We Make encourages us to live our lives sustainably, with the hope that we can reclaim the planet one good choice at a time." –SheReads

"[A] must-read…that combines unassailable facts with personal anecdotes and a plan for action." –AFAR

"A crash-course on why climate change is happening and how to fix it, interwoven with beautifully written, witty anecdotes...Under the Sky We Make pushes back—politely, but with science—against the narrative that individual actions make little difference to the climate...A breezy field guide on how to align your lifestyle with your values." –Grist

"This compelling book about climate change really packs a punch, because climate scientist Nicholas relentlessly brings things down to the personal level....Libraries wondering if they really need another title on climate change should rest reassured; this is a realistic, accessible, and clarion call for change...Students will enjoy Nicholas's wry observations and appreciate her approachable insights as well as her "key take-aways" from every chapter." --Booklist (starred)

"Lund University climate scientist Nicholas delivers a user-friendly survey of the current state of the knowledge on climate change…Readers looking to save the world—and humanity—should take an interest in this harm-reducing program." –Kirkus
 
"An antidote to climate nihilism. [It] address[es] the tangled roots of the current environmental crisis but also explain[s] the global necessary to move toward a carbon-free future." –Outside

"In these pages, Dr. Kimberly Nicholas takes us by the hand to explore our most important questions about the climate crisis: "What's happening? What next?" And–most importantly–'how do I leverage my power to help make things better for everyone, for generations to come?' Educational and galvanizing, this book is part memoir, part exposé, part warm conversation with a friend–and it is a soul-stirring call to action." --Dr. Lucy Kalanithi, Clinical Associate Professor of Medicine, Stanford University, and widow of Paul Kalanithi, author of When Breath Becomes Air

"A beautiful book—wise, painful, transformative—about all that we might still save. Reading it forced me to dig deep within myself, to try to find answers to what I cared about most, what I believed. " —Jayson Greene, author of Once More We Saw Stars
Thank you for shopping local!