Thank You, Mr. Nixon: Stories (Hardcover)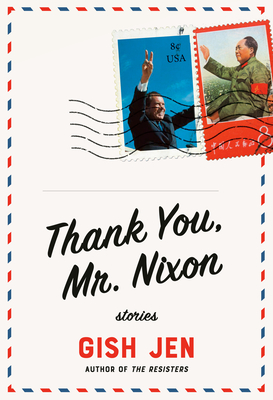 $28.00

Likely on our shelves now
Description
---
The acclaimed, award-winning author of The Resisters takes measure of the fifty years since the opening of China and its unexpected effects on the lives of ordinary people. It is a unique book that only Jen could write—a story collection accruing the power of a novel as it proceeds—a work that Cynthia Ozick has called "an art beyond art. It is life itself."

Beginning with a cheery letter penned by a Chinese girl in heaven to "poor Mr. Nixon" in hell, Gish Jen embarks on a fictional journey through U.S.-China relations, capturing the excitement of a world on the brink of tectonic change.

Opal Chen reunites with her Chinese sisters after forty years; newly cosmopolitan Lulu Koo wonders why Americans "like to walk around in the woods with the mosquitoes"; Hong Kong parents go to extreme lengths to reestablish contact with their "number-one daughter" in New York; and Betty Koo, brought up on "no politics, just make money," finds she must reassess her mother's philosophy.

With their profound compassion and equally profound humor, these eleven linked stories trace the intimate ways in which humans make and are made by history, capturing an extraordinary era in an extraordinary way. Delightful, provocative, and powerful, Thank You, Mr. Nixon furnishes yet more proof of Gish Jen's eminent place among American storytellers.
About the Author
---
GISH JEN is the author of one previous book of stories, five novels, and two works of nonfiction. Her honors include fellowships from the Guggenheim Foundation, the Radcliffe Institute for Advanced Study, and the Fulbright Foundation, as well as the Lannan Literary Award for Fiction and the Mildred and Harold Strauss Living Award from the American Academy of Arts and Letters. Her stories have been chosen for The Best American Short Stories five times, including The Best American Short Stories of the Century; she has also delivered the William E. Massey, Sr., Lectures in American Studies at Harvard University. She and her husband split their time between Cambridge, Massachusetts, and Vermont.
Praise For…
---
"Marvelous . . . On the surface her storytelling seems simple and direct, but the closer you look the more layered and complex it becomes. Through characters distracted by the superficial colors of their lives, Jen invites her readers to consider profound questions about history, ancestry and identity . . . In all her work, Jen locates the tensions between inherited and lived cultures."
—Claire Oshetsky, The New York Times

"Brilliant . . . An exceptional collection, written with intelligence, wit and grace—it's one of the best books of Jen's remarkable career. . . . The collection ends with a heartbreaker of a story, 'Detective Dog,' . . . Emotional but measured, it's as close to flawless as a story can be . . . It could well be one of the first great short stories of the COVID-19 pandemic . . . Every story in this collection, though, is outstanding."
—Michael Schaub, NPR

"A collection to treasure. [Jen] creates a panoramic universe of deftly sketched tales both comic and tragic. Her prose sparkles with clarity and moves with deceptive simplicity toward profound conclusions."
—Kate Tuttle, The Boston Globe

"A jewel box of creativity and a joy to uncover . . . Across eleven synergistic stories about interconnected families, Jen creates a sort of episodic epic spanning fifty years . . . These stories offer valuable insight into our world, which feels increasingly divided in countless ways. Surely everyone—us and them, whoever they are—would benefit if together we read what Jen has to say."
—Cody Oldweiler, Minneapolis Star Tribune

"A thrilling and eye-opening ride."
—Bethanne Patrick, Los Angeles Times

"My kingdom for a writer as savvy, empathetic, and hilarious as Gish Jen . . . A literary trapeze artist, [Jen] leaps and twirls from first person to second to third, weaving in emails and letters with brio . . . The moral authority of leading authors, such as Jen, is essential, leading us forward as we plunge deeper in a darkening century."
—Hamilton Cain, O, The Oprah Magazine

"One of our finest practitioners of the short story form . . . Wry and wise, these big-hearted stories of immigration, identity, and exile linger."
—Esquire, "The Best Books of 2022 (So Far)"

"A jewel box of creativity and a joy to uncover . . . These stories offer valuable insight into our world, which feels increasingly divided in countless ways. Surely everyone—us and them, whoever they are—would benefit if together we read what Jen has to say."
—Cory Oldweiler, The Seattle Times

"Sometimes heartbreaking and often funny . . . Captures the pull, mystery, and myriad contradictions of China as it marches through the last decades of the 20th century and bursts into the 21st . . . These very different women, men, and children get more than a moment in the sun; many appear in an early story only to reappear, more grown up, altered, later in the book."
—Erin Douglass, The Christian Science Monitor

"Gish Jen's gift is to be able to write about culture, human foibles, and generation gaps with a kind of lacerating humor that you don't even know is creeping up on you . . . In Thank You, Mr. Nixon, Jen trains her trademark smart humor on a series of powerful tales that pack a wallop."
—Marie Myung-Ok Lee, Oprah Daily

"This might very well be the most critically acclaimed collection of the year so far . . . This is an exceptional collection of 11 stories that examine U.S.-China relations, starting with a letter written by a young girl addressed to Richard Nixon in Hell."
—Book Riot, "The Best New Short Story Collections"

"Each character is deliciously rendered with heart and humanity, and Jen's affectionate, insightful wit makes these stories sing."
—Jennifer Bort Yacovissi, Washington Independent Review of Books

"Irresistible . . . exquisite  . . . Jen ushers readers through peripatetic, overlapping generations [in] brilliantly interlinked stories spanning countries, cultures and generations over five decades."
—Shelf Awareness (starred review)

"The stories have the sweep and scope of a novel, one that's by turns humorous and harrowing and, above all, humane."
— Jacqueline Houton, The Arts Fuse

"Masterly . . . With wry humor, pathos, and punchy dialogue, Jen's uncanny stories easily stand up to her hefty themes. This is a stellar addition to Jen's prolific body of work."
—Publishers Weekly (starred review)
 
"Stunning . . . Hilarious [and] heartbreaking . . . A fresh take on the experience of immigration and exile . . . Political and economic relations between China and the United States are major news, but Jen takes it to the micro level in her vibrant short stories about characters who are varying degrees of Chinese and American . . . Recurring and related characters link all of the stories, which are set across several decades. Jen's crisp prose, wonderful eye for detail, and wry humor make them a joy to read, and there is wisdom here, too."
—Kirkus Reviews (starred review)
 
"Jen distills five decades of cultural collision, confusion, and collaboration between the U.S. and China into eleven gorgeously comedic and heartbreaking stories cleverly linked through family and friends . . . For all the pain and poignancy, Jen is wryly hilarious, her plots spring-loaded, her dialogue ricocheting and spiked with contrasts in languages and customs . . . The connections Jen finesses among her entrancing characters are surprising and piquing, her painterly descriptions compassionate and amusing, her summoning of ambiguity and hard truths uniquely illuminating."
—Donna Seaman, Booklist (starred review)

"[Jen's] command of detail makes Thank You, Mr. Nixon authentic and engrossing; her vision makes it unique and vital."
—Mike Harvkey, Publishers Weekly (author profile)

"For such weighty topics, what's especially striking about these linked stories is their biting humor. Right out of the gate, we begin with a letter written by a Chinese girl in heaven, addressed to 'poor Mr. Nixon' in hell, and it just takes off from there."
—Katie Yee, Literary Hub

"Fantastic . . . An original, mind-blowing exploration of U.S.-China relations/dynamics . . . The collection makes you laugh, gasp, wonder, and sometimes give you pause. In those little moments when you pause to think, you are actually witnessing the astonishing transformations that have been reshaping the world and era we live in."
—The Millions

"After I read Gish Jen's Thank You, Mr. Nixon, I had a self-indulgent, sentimental moment. This book was written for me, or maybe it's a letter to me. Finally! A book for me! After the initial excitement and ugly cry (due to the last story, 'Detective Dog'), I calmed down and realized that, in actuality, the book is for anyone who is interested in the geopolitical consequences of the China-America dynamic. . . . The book is revelatory about how profound cultural difference can influence human behavior and interaction , [and Jen's] comedic voice helps to bridge the gaps between China and America."
—Evelyn NienMing Chien, Hyphen

"Gish Jen's masterly short stories are as inimitable for their voice as they are for their substance. They speak, with brio and canny wit, via the familiar colloquial of dialogue; yet stirring below this brightness are the dark currents of Chinese history under the thumb of tyranny, the Hong Kong protests, Nixon's visit to Beijing, the refuge and bewilderments of new immigrants, the entanglements of their brainy American children. If this suggests anything like political or polemical fiction, it is overridingly something else: Gish Jen's ironical and feelingful and remarkable art. Or call it an art beyond art. It is life itself."
—Cynthia Ozick, author of Antiquities

"Witty, engaging and profound, the stories in Gish Jen's new collection beautifully illuminate the evolution of American-Chinese relationships over the past fifty years. An indispensable contemporary voice."
—Claire Messud, author of The Burning Girl

"Be prepared to be awed and enthralled by one of our best writers! Fiercely funny and unrelentingly honest, Gish Jen's new collection places a finger on the pulse of many lives caught between the indifferent movement of history and the profound desires of individuals."
—Yiyun Li, author of Where Reasons End

"It is hard to do justice to this wonderful collection of intricately linked stories. The human drama is at once personal and historical, and Gish Jen's unique style—its keen intelligence blended with sly humor—makes this book a marvelous read."
—Ha Jin, author of A Song Everlasting

"An absolute delight. Jen's luminous, deeply moving stories are filled with insight and humor, heartbreak and love. Her elegant prose creates characters who not only endear themselves to us but also illuminate our common humanity. Gorgeous."
—Jean Kwok, author of Girl in Translation

"I loved Thank You, Mr. Nixon so much that I find myself wishing for two things. One, that I could have the space in a review to praise it to the skies and back again. Two, that I could meet Gish Jen and talk to her into the wee hours about how she accomplished such a fantastic work. I've read a lot of novels that take place in China or are about the Chinese American experience. Never before have I seen the China of the last fifty years captured so well, in such an intricately and cleverly constructed plot, or with such understanding and deep wit, while the chapters that take place in the U.S. are current, spot on, and sometimes critical—all written with great love as the foundation. I'm overflowing with admiration."
—Lisa See, author of The Island of Sea Women
Thank you for shopping local!