The Impossible City: A Hong Kong Memoir (Hardcover)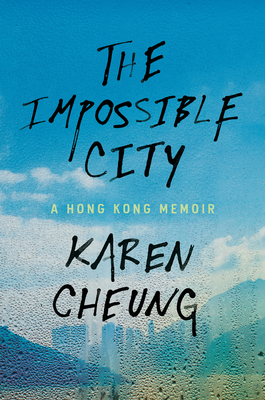 $28.99

Not in the store. We can order it and should have it in store in 3-5 business days.
Description
---
A boldly rendered—and deeply intimate—account of Hong Kong today, from a resilient young woman whose stories explore what it means to survive in a city teeming with broken promises.

"[A] pulsing debut . . . about what it means to find your place in a city as it vanishes before your eyes."—The New York Times Book Review

ONE OF THE MOST ANTICIPATED BOOKS OF 2022—Entertainment Weekly, PureWow

Hong Kong is known as a place of extremes: a former colony of the United Kingdom that now exists at the margins of an ascendant China; a city rocked by mass protests, where residents rally—often in vain—against threats to their fundamental freedoms. But it is also misunderstood, and often romanticized. Drawing from her own experience reporting on the politics and culture of her hometown, as well as interviews with musicians, protesters, and writers who have watched their home transform, Karen Cheung gives us a rare insider's view of this remarkable city at a pivotal moment—for Hong Kong and, ultimately, for herself.

Born just before the handover to China in 1997, Cheung grew up questioning what version of Hong Kong she belonged to. Not quite at ease within the middle-class, cosmopolitan identity available to her at her English-speaking international school, she also resisted the conservative values of her deeply traditional, often dysfunctional family.

Through vivid and character-rich stories, Cheung braids a dual narrative of her own coming of age alongside that of her generation. With heartbreaking candor, she recounts her yearslong struggle to find reliable mental health care in a city reeling from the traumatic aftermath of recent protests. Cheung also captures moments of miraculous triumph, documenting Hong Kong's vibrant counterculture and taking us deep into its indie music and creative scenes. Inevitably, she brings us to the protests, where her understanding of what it means to belong to Hong Kong finally crystallized.

An exhilarating blend of memoir and reportage, The Impossible City charts the parallel journeys of both a young woman and a city as they navigate the various, sometimes contradictory paths of coming into one's own.
About the Author
---
Karen Cheung is a writer and journalist from Hong Kong. Her essays, cultural criticism, and reported features have appeared on This American Life and in The New York Times, Foreign Policy, and other publications. She was formerly a reporter at Hong Kong Free Press and was co–founding editor of Still / Loud, an indie magazine about culture and music in Hong Kong.
Praise For…
---
"Through [Cheung's] graceful writing . . . we learn about Hong Kong's many different worlds and social strata, and her struggles to find her place. . . . Her lyrical book is part diary and part love letter to her hometown."—The Washington Post

"A moving account of a Millennial who watches the free and international city in which she was born and raised slowly devolve into an oppressed society . . . A deeply felt lamentation about a flawed, yet free, society becoming subsumed by authoritarianism."—San Francisco Chronicle

"In her pulsing debut memoir, The Impossible City, Karen Cheung writes eloquently about what it means to find your place in a city as it vanishes before your eyes. . . . Interspersed throughout this narrative are her intimate conversations with friends, fellow protesters, musicians and former classmates…. For far too long, faraway interests have claimed to speak for Hong Kong. It's time to let Hong Kongers, in all their multitudes, speak for themselves."—The New York Times Book Review

"[The Impossible City] is a welcome counterpart to narratives that portray Hong Kong as either exotic or, more recently, as dystopian. Although she writes about various protest movements going back to 2003, also a year that was plagued by the deaths of Hong Kong icons Leslie Cheung and Anita Mui, she also, by merging memoir and observation, goes far beyond the issues that make international headlines."—Asian Review of Books

"Karen Cheung has written a love song to Hong Kong. Her memoir hums with wide-eyed discoveries and the lowest heartache, quiet intimacies and street-shaking roars, the thrill of being lost in this massive, haunted, mythologized, neon city, yet finding oneself in the end."—Hua Hsu, author of A Floating Chinaman

"Karen Cheung is an amazingly good writer whose precise observations about Hong Kong puncture the gauzy clichés about mahjong and milk tea. In the Impossible City, she has produced an edgy, highly personal memoir about a generation living in cage-sized apartments, confronting tear gas, electronic surveillance, cultural confusion and depression, as they witness the disappearance of the city they call home."—Barbara Demick, author of Nothing to Envy and Eat the Buddha

"With her radiant prose and incisive reporting, Karen Cheung renders modern-day Hong Kong with evocative detail in The Impossible City. The word 'protest' lingered in my head as I read Cheung's words about coming of age in her constantly shifting city under the precarious specter of authoritarianism. There is an unmissable passion and intelligence in this story as Cheung weaves together cultural criticism and memoir, insisting that Hong Kong—her Hong Kong—is worthy of our close attention and love."—Kat Chow, author of Seeing Ghosts

"A powerful memoir of love and anguish in a cold financial capital with an underbelly of vibrant, freedom-loving youth."—Kirkus Reviews (starred review)

"An outstanding contribution for any library about one personal experience of political upheaval in Hong Kong."—Library Journal (starred review)

"English-language readers might not find a book that more fully captures Hong Kong in such visceral detail and humanity . . . It's a grim status report, to be sure, but Cheung doesn't quite let go of hope for that extraordinary city."—Booklist (starred review)
Thank you for shopping local!