Mi Ciudad Sings (Hardcover)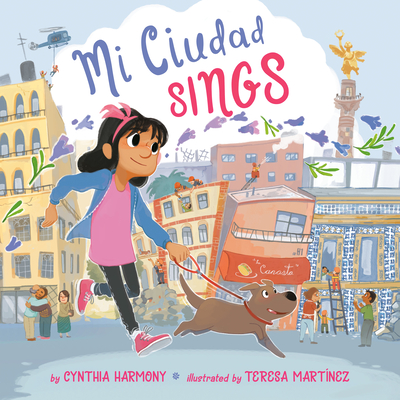 $17.99

Should be on our shelves now -- but wait for confirmation from us before coming to pick up. We'll respond to your order shortly.
Description
---
After experiencing a devastating earthquake, the spirit of a charming and vibrant Mexican neighborhood might be shaken, but it cannot be broken.

As a little girl and her dog embark on their daily walk through the city, they skip and spin to the familiar sounds of revving cars, clanking bikes, friendly barks, and whistling camote carts. But what they aren't expecting to hear is the terrifying sound of a rumbling earthquake...and then...silence.
 
With captivating text and lively, beautiful illustrations, this heartwarming story leaves readers with the message that they can choose to be strong and brave even when they are scared, and can still find joy and hope in the midst of sadness.
About the Author
---
Cynthia Harmony is an educational psychologist who has created exhibits and bilingual learning materials for children and science museums. Originally from Mexico City, Cynthia is a children's author and translator, and this is her debut picture book.

Teresa Martínez is the illustrator of numerous books for children, including The Halloween Tree, Sing with Me: The Story of Selena Quintanilla, and It's Not a Bed, It's a Time Machine. She lives in Puerto Vallarta, Mexico.
Praise For…
---
"Mi Ciudad Sings is both a heartwarming ode to the musical heart of a city and a reminder that even though the tune may change, we are strongest when we lift our voices and our hands together in hope and love." ---Andrea Wang, author of WATERCRESS


"Harmony's sweet story line about humanresilience is brought to vivid life by Martínez's illustrations, which clearly mirror the movement ofa tumultuous natural disaster, as well as the joy in recuperating after such an event. A helpfulglossary sits at the back of the book, ready to help young readers with the Spanish vocabularyand phrases present in the text." ---Booklist


"Mi Ciudad Sings is a lovely poem about community, friendship, and hope. ¡Me encanta!" ---Margarita Engle, Newbery Honor–winning author and Young People's Poet Laureate Emeritus


"In this sweet and hopeful story, Harmony pays homage to the city of her birth. At first the streets of Mexico City ring with happy sounds and song as the young protagonist stomps, skips, and leaps through her neighborhood. With the great rumble of an earthquake, there is suddenly silence, and new sounds--of fear. Soon though, hands clasp together as people help each other, and the ciudad wakes up once again to music." ---Monica Brown, award-winning author


This lovely picture book will inspire kids (and adults) to take a moment to listen to the world around them. It will also inject a sense of pride in their neighborhood and surroundings. The familiar 'Look to the helpers' is accompanied by 'look to your neighbor' in this stirring picture book" ---School Library Journal