Frequently Asked Questions about the Universe (Hardcover)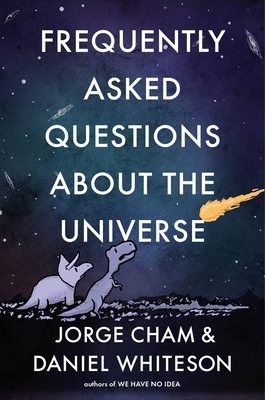 $28.00

Not in the store. We can order it and should have it in store in 3-5 business days.
Description
---
"Delightful, funny, and yet rigorous and intelligent: only Jorge and Daniel can reach this exquisite balance." —Carlo Rovelli, author of Seven Brief Lessons on Physics and Helgoland

You've got questions: about space, time, gravity, and the odds of meeting your older self inside a wormhole. All the answers you need are right here.

As a species, we may not agree on much, but one thing brings us all together: a need to know. We all wonder, and deep down we all have the same big questions. Why can't I travel back in time? Where did the universe come from? What's inside a black hole? Can I rearrange the particles in my cat and turn it into a dog?

Researcher-turned-cartoonist Jorge Cham and physics professor Daniel Whiteson are experts at explaining science in ways we can all understand, in their books and on their popular podcast, Daniel and Jorge Explain the Universe. With their signature blend of humor and oh-now-I-get-it clarity, Jorge and Daniel offer short, accessible, and lighthearted answers to some of the most common, most outrageous, and most profound questions about the universe they've received.

This witty, entertaining, and fully illustrated book is an essential troubleshooting guide for the perplexing aspects of reality, big and small, from the invisible particles that make up your body to the identical version of you currently reading this exact sentence in the corner of some other galaxy. If the universe came with an FAQ, this would be it.
About the Author
---
Jorge Cham is the cartoonist behind the popular online comic Piled Higher and Deeper (a.k.a. PHD Comics). He holds a PhD in robotics from Stanford University and is a former instructor and research associate at Caltech.
 
Daniel Whiteson is a professor of physics and astronomy at the University of California, Irvine, and a fellow of the American Physical Society. He earned his PhD in physics from the University of California at Berkeley and is an active researcher, using the Large Hadron Collider at CERN to search for exotic new particles.

Together they are the authors of We Have No Idea, hosts of the podcast Daniel and Jorge Explain the Universe, and creators of the animated PBS series Elinor Wonders Why.
Praise For…
---
Praise for Frequently Asked Questions about the Universe:

"Easy-to-understand explanations of complex scientific theories and concepts. . . . This quirky, easily digestible book makes for a fun read." —Library Journal

"Cham and Whiteson use nontechnical language and humor to discuss the most up-to-date theories about the cosmos and humans' place in it. Illustrated with Cham's science-themed cartoons, the book is both educational and entertaining." —Physics Today

"Delightful, funny, and yet rigorous and intelligent: only Jorge and Daniel can reach this exquisite balance." —Carlo Rovelli, author of Seven Brief Lessons on Physics and Helgoland

"Amusing intro to the mysteries of the cosmos. . .The authors' answers always feel fresh, and Cham's fun cartoons are a treat. Entertaining and satisfying, this is sure to please." —Publishers Weekly (starred review)

"The authors' work fits neatly into the recently burgeoning market of breezy pop-science books full of jokes, asides, and cartoons that serve as introductions to concepts that require much further study to fully understand. A solid foundational education in a handful of lively scientific topics." —Kirkus

"These are some of the biggest questions humanity has ever asked and the authors tackle them with wit, humor, expertise, and humility. . . . an excellent, easy-to-understand resource for curious people who want to start learning about cosmology." —Booklist
Thank you for shopping local!