Let's Get Physical: How Women Discovered Exercise and Reshaped the World (Paperback)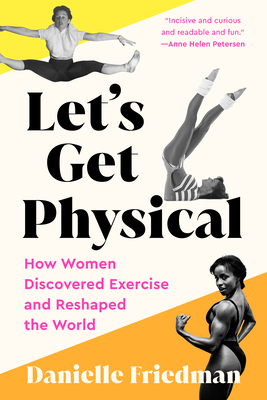 $18.00

Should be on our shelves now -- but wait for confirmation from us before coming to pick up. We'll respond to your order shortly.
Description
---
A captivating blend of reportage and personal narrative that explores the untold history of women's exercise culture--from jogging and Jazzercise to Jane Fonda--and how women have parlayed physical strength into other forms of power.

For much of the twentieth century, sweating was considered "unladylike" and girls grew up believing physical exertion would cause their uterus to "fall out." It was only in the Sixties that, thanks to a few forward-thinking fitness pioneers, women began to move en masse. In Let's Get Physical, journalist Danielle Friedman reveals the fascinating untold history of contemporary fitness culture, chronicling in vivid, cinematic prose how exercise evolved from a beauty tool pitched almost exclusively as a way to "reduce" into one millions have harnessed as a path to mental, emotional, and physical well-being.

Let's Get Physical takes us into the workout studios and onto the mats to reclaim these forgotten origin stories—and shine a spotlight on the trailblazers who made it possible for women to move. Each chapter uncovers the birth of an fitness movement that laid the foundation for working out today: the invention of the barre method in the Swinging Sixties, jogging's path to liberation in the Seventies, the explosion of aerobics and weight-training in the Eighties, the rise of yoga in the Nineties, and the ongoing push for a more socially inclusive fitness culture—one that celebrates every body. Ultimately, it tells the story of how women discovered the joy of physical competence and strength—and how, by moving together to transform fitness from a privilege into a right, we can create a more powerful sisterhood.
About the Author
---
Danielle Friedman is an award-winning journalist whose feature writing has appeared in The New York Times, The Cut, Vogue, Harper's Bazaar, Glamour, Health, and other publications. She has worked as a senior editor at NBC News Digital and The Daily Beast, and she began her career as a nonfiction book editor at the Penguin imprints Hudson Street Press and Plume. She lives in New York City with her husband and son.



Praise For…
---
One of The New Yorker's Best Books of 2022
One of Veranda's Most Anticipated Books of 2022

"Fact-packed but bouncy…Most enjoyable is when Friedman shines light on less hallowed figures, like Judi Sheppard Missett, the relentlessly upbeat founder of Jazzercise, whose classes "changed the rhythm of women's days"; and Bonnie Prudden, "the lady in the leotite" and a descendant of Davy Crockett…[Friedman's] book is very much "pro" exercise, but for the right reasons: not slimming down but mood management, community, spirituality in the corporal." —The New York Times

"Friedman's engaging stories of the women who created and transformed the fitness industry illustrate an evolution built upon strong female shoulders." —The Washington Post

"[A] fascinating look at the world of modern exercise and some of the main female players in it."—New York Post

"Canny and informative." —The New Yorker

"Fascinating…persuasively encapsulates the relatively recent history of women's fitness and the wide-reaching impact its trailblazers had. Let's Get Physical is packed with stories of people who come to classes because of how they want to look, but stay because of how those classes make them feel: strong, supported, engaged, and empowered." —The Atlantic

"Danielle Friedman's new book, Let's Get Physical: How Women Discovered Exercise and Reshaped the World, is basically a perfect book....The book uncovers an important history that was sitting right there in the open but had never been wrapped between covers and contextualized with the fitful fight for women's rights." —Alexis Madrigal, Forum (KQUED)

"There are few areas of American culture as complicated—and as understudied—as women's exercise. Which is why I feel like I've been waiting for a book like Let's Get Physical for decades: something that takes the history and importance of fitness seriously, but is also incisive and curious and readable and fun." —Anne Helen Petersen, author of Can't Even: How Millennials Became the Burnout Generation

"Friedman takes a jaunt through the history of women's fitness in her astute and entertaining debut...This zippy history is bursting with energy." —Publishers Weekly

"Fascinating stuff." —Booklist

"A fascinating and complicated history, masterfully shared. Let's Get Physical made me grateful to the women of the past and hopeful about the future of fitness. My favorite read of the year!" --Kelly McGonigal, author of The Joy of Movement

"It's easy to critique the class, race, and gender stereotypes perpetuated by many fitness industry advertising campaigns, but Friedman reminds us how revolutionary it was, not so long ago, to encourage women to do strenuous physical exercise. An engaging account of the complicated, unconventional individuals who pioneered today's fitness culture for women." --Stephanie Coontz, author of A Strange Stirring: The Feminine Mystique and American Women at the Dawn of the 1960s

"It is all too easy to look at the history of women's fitness as an unconnected timeline of fads and celebrities. In Let's Get Physical, Danielle Friedman weaves together the cultural history of a movement that is nothing less than the story of the modern American woman—and she does it with fascinating and fun storytelling that will appeal to anyone who has ever wondered why thighs need to be mastered or buns should be made of steel." —Dan Koeppel, author of Banana: The Fate of the Fruit That Changed the World and Every Minute Is a Day: A Doctor, an Emergency Room, and a City Under Siege

"Don't read this book because it's 'good for you.' Read it because it's an eye-opening cultural history of the fitness pioneers who put the 'move' into the feminist movement. Let's Get Physical reminded me of why feeling strong feels so good." --Brooke Hauser, author of Enter Helen: The Invention of Helen Gurley Brown and the Rise of the Modern Single Woman

"How did we get from the notion that exercise was unladylike, even dangerous for women, to the 1980s fitness craze and beyond that has totally transformed women's lives?  In this lively book, Danielle Friedman uses fitness pioneers and icons, from Bonnie Prudden to Jane Fonda to Lilias Folan, to trace how regular exercise became central to millions of women's pursuit of vitality, confidence, and happiness.  Full of fun and inspiring stories, Let's Get Physical reminds us that this is not just a history of sports bras or leg warmers, but also of how feminism itself enabled and drew from women finding empowerment in the strength of their own bodies." —Susan J. Douglas, author of In Our Prime:  How Older Women are Reinventing the Road Ahead

"Danielle Friedman's wildly engaging Let's Get Physical answered the questions I didn't even know I had about the origins of women's fitness (Jane Fonda sold how many copies of her Workout?!), and left me with a huge debt of gratitude to the trailblazing women who had the foresight to do things like sneak into the Boston Marathon and invent the sports bra so that we could swan into the gym without a second thought. A fascinating, meticulously researched read that left me with a much greater appreciation for the burn of barre class." —Doree Shafrir, author of Thanks for Waiting and Startup: A Novel

"Friedman's study of modern fitness culture is as illuminating as it is enthralling. She reveals the wild characters, political agendas, and social movements that changed not only our exercise behaviors but our understanding of exercise itself. Behind every workout there is a story, and it's usually a good one." —Kelsey Miller, author of I'll Be There for You: The One About Friends
 
"With lively writing and compelling storytelling—tales of bamboo swords, spandex, and a sexy gerbil included—Danielle Friedman teases out the complicated relationship between exercise culture and feminism in this engaging exploration of modern fitness history. You'll want to hit the barre afterward." —Haley Shapley, author of Strong Like Her: A Celebration of Rule Breakers, History Makers, and Unstoppable Athletes

"Delicious…Danielle Friedman tracks exercise culture into the 21st century, debunking myths and delighting readers with diamond-sharp prose, wry humor and rigorous research." —Sarah Everts, author of The Joy of Sweat: The Strange Science of Perspiration