Choosing to Run: A Memoir (Hardcover)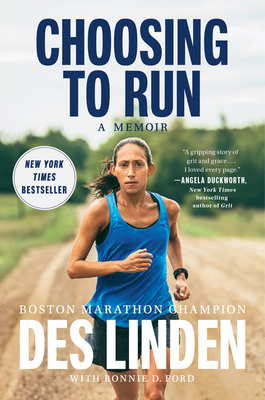 $29.00

Not in the store. We can order it and should have it in store in 3-5 business days.
Description
---
Featuring both the story of an historic, unforgettable win and insight into the life of an indelible champion, Choosing to Run is a truly inspirational memoir from Boston Marathon winner and Olympian Des Linden, sharing her personal story and what motivates her to keep showing up.

When Des woke up on April 16, 2018, the morning of the Boston Marathon, it was 39 degrees and raining, with high, gusty winds. The weather didn't bother her. In fact, she thought it might be a blessing. She was far from peak form—recovering from illness and questioning her running future—and didn't expect much of herself that day.

But as she ticked off mile after mile in the brutal conditions, passing familiar landmarks on the course she knew by heart, something shifted. Opportunity unexpectedly presented itself. Des tapped into her inner strength and remembered all of the reasons she loved to race.

Coming off Heartbreak Hill at Mile 22, Des took the lead and never relinquished it, becoming the 2018 Boston Marathon champion and the first American woman to win the race in thirty-three years. 

Her career has always been defined by tenacity and an independent spirit, stretching back to her first competitive race in San Diego, when she beat better-outfitted, more experienced kids. Des was a two-time All-American at Arizona State University, and as her collegiate years wound down, she decided she wasn't done with the sport. Des gambled on herself and moved to Michigan to give professional running a try. As she rose through the elite ranks, she became increasingly determined to do things her way in an industry often bound by the status quo.

In her first book, readers will learn the story behind that resolve: the way Des trains, the way she thinks, her relationships with other great runners of her generation, and how much she values her family and friends. They'll read about her deep connection to the most famous marathon in the world, her two very different Olympic experiences, and how she defined new goals and set a world record at the 50-kilometer distance.
 
Most of all, they'll learn what makes her get up and run every day.
About the Author
---
Des Linden grew up in San Diego, graduated from Arizona State University, and has been a professional runner since 2006. She is the 2018 Boston Marathon champion, a two-time Olympian, and set a 50k world record in 2021. A bourbon and coffee aficionado, she and her husband, Ryan, live in Michigan with their dogs, Atlas and Boston.
Praise For…
---
"Revealing…Athletes of all ranks will find Linden's memoir heartwarming and inspiring." —Kirkus

"[Linden] provides a fascinating look at the training and culture of professional running…For seasoned runners and beginners alike, Linden's book offers plenty of inspiration about the power of endurance in the face of obstacles. For all readers, it grants a peek at what goes into building that endurance." —Associated Press

"An inspiring memoir about navigating life choices both in youth and as an elite athlete." —Booklist

"There are a lot of books by runners. Many of them are good. Few of them are as human as Choosing to Run. Because Linden knows herself as a human in essence and only contingently as a runner, she writes not for other runners only but for any reader who suspects they might be human, too. It is examples like these that make us so." —Sport Literate

"Exceptional and inspiring" —Trail Runner

"Writing with honesty and energy, Linden shares the life experiences that shaped her determination to rise to the top of her sport." —Arizona Daily Sun



"[Linden's] career has always been defined by tenacity and an independent spirit, and her debut memoir centers on how she trains, how she thinks, her relationships with other great runners of her generation and how much she values her family and friends." —PureWow

"This is a gripping story of grit and grace. With unusual honesty and rare insight, Des Linden shares her journey, showing us that a true champion is defined not by whether she wins the race but by how she runs it. I loved every page, and the morning I finished, I laced up my sneakers and went out the door inspired to do my best!" —Angela Duckworth, New York Times bestselling author of Grit: The Power of Passion and Perseverance  

"Des boldly pulls no punches in this behind-the-curtain account of her life as an elite distance runner.  If you've ever watched a marathon and wondered what was going on in the mind of that person who just blew by at 5:15 pace, here's your chance." —Ben Gibbard, ultra-marathoner and lead singer and guitarist of Death Cab for Cutie
 
"The most entertaining sports book I've ever read, Choosing to Run will have you do just as the title says … Unless, of course, you grab a coffee or bourbon as you read one more chapter." —Deena Kastor, New York Times bestselling author of Let Your Mind Run: A Memoir of Thinking My Way to Victory

"Linden will always be remembered for her 2018 Boston Marathon. But to reduce her running story to a singular moment does a disservice to one of the sport's most consistent performers, and it's a gift to learn more about the ups and downs of a full career in "Choosing To Run" — one that, as she toes the line in Hopkinton later this month for her 10th career appearance at the Boston Marathon, isn't slowing down anytime soon." —Women's Running