The War Widow (A Billie Walker Novel #1) (Hardcover)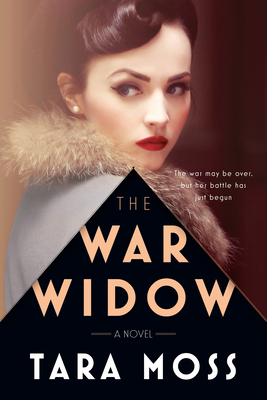 $26.00
Alas, not available through us.
Other Books in Series
This is book number 1 in the A Billie Walker Novel series.
Description
---
AN INTERNATIONAL BESTSELLER!
The war may be officially over, but journalist Billie Walker's search for a missing young immigrant man will plunge her right back into the danger and drama she thought she'd left behind in Europe in this thrilling tale of courage and secrets set in glamorous postwar Sydney. 

Sydney, 1946. Though war correspondent Billie Walker is happy to finally be home, for her the heady postwar days are tarnished by the loss of her father and the disappearance in Europe of her husband, Jack. To make matters worse, now that the war is over, the newspapers are sidelining her reporting talents to prioritize jobs for returning soldiers. But Billie is a survivor and she's determined to take control of her own future. So she reopens her late father's business, a private investigation agency, and, slowly, the women of Sydney come knocking. 

At first, Billie's bread and butter is tailing cheating husbands. Then, a young man, the son of European immigrants, goes missing, and Billie finds herself on a dangerous new trail that will lead up into the highest levels of Sydney society and down into its underworld. What is the young man's connection to an exclusive dance club and a high-class auction house? When the people Billie questions about the young man start to turn up dead, Billie is thrown into the path of Detective Inspector Hank Cooper. Will he take her seriously or will he just get in her way? As the danger mounts and Billie realizes that much more than one young man's life is at stake, it becomes clear that though the war was won, it is far from over.
About the Author
---
Tara Moss is an internationally bestselling author, human rights activist, documentary host, and model. Her crime novels have been published in nineteen countries and thirteen languages, and her memoir, The Fictional Woman, was a #1 international bestseller. She is a UNICEF Goodwill Ambassador and has received the Edna Ryan Award for significant contributions to feminist debate and for speaking out for women and children, and in 2017 she was recognized as one of the Global Top 50 Diversity Figures in Public Life.
Praise For…
---
"With a crackling plot and vibrant prose, Tara Moss concocts a first-rate noir detective mystery."
—Christian Science Monitor

"The War Widow is poised to be Tara Moss's breakout novel in the United States, especially given the book's saucy leading lady, Billie Walker. She's a war reporter-turned-private investigator in post-WWII Australia who—much like Moss herself—refuses to be defined or held back by any man on her quest for justice."
—The Boston Herald

"Just what I needed today--a blast of the escapist past. Sydney in 1946, damaged veterans, bad guys, car chases, mysteries, and a female PI up for the fight."
—Ian Rankin, New York Times bestselling author of the Inspector Rebus series

"Tara Moss's The War Widow is an excellent novel and an even better springboard for its crackerjack heroine: the indomitable Billie Walker. Like a harder-boiled Phryne Fisher meets Martha Gellhorn, Billie is the best kind of heroine: fun, flawed, smart, feminist, and feisty. Even down the darkest of paths—including but not limited to Nazi war profiteers, shady mobsters, cops on the take, and more—Billie is a beacon of light, never losing her sense of justice, or her enjoyment in life (and a good coupe of champagne!). Honestly, I'd follow Billie anywhere."
—Halley Sutton, author of The Lady Upstairs

"In Billie Walker, Moss has conjured up one kick-ass 1940s heroine: a tough-talking, glamorous feminist who's as adept with a pistol as she is on the dance floor, haunted by a tragic past, and unafraid to take on the darkest of foes. An artful, original take on noir suspense that resonates in today's times."
—Fiona Davis, New York Times bestselling author of The Lions of Fifth Avenue
 
"A cracking thriller, with a marvelous, strong, flamboyant heroine."
—Joanne Harris, New York Times bestselling author of Chocolat and Five Quarters of the Orange
 
"Billie Walker is the type of heroine I'd love to befriend: resourceful, clever, adventurous, and a true fashionista. With a gripping plot and the perfect dose of history and intrigue, The War Widow has all the elements of a great page-turner."
—Ellen Keith, nationally bestselling author of The Dutch Wife

"Enough page-turning suspense to keep you up reading far later than you intended!"
—Peter James, New York Times bestselling author
 
"A terrific read!"
—Lynda La Plante, internationally bestselling author
 
"Her novels are completely gripping and entertaining from beginning to end."
—Hugh Jackman
 
"I so enjoyed getting to know Tara Moss's wonderful new character, Billie Walker, in her 1940s Sydney-set mystery[, The War Widow]. Immersive, well-paced, entertaining, thoughtful--so enjoyable!"
—Angela Meyer, award-winning author of Joan Smokes and A Superior Spectre
 
"Moss's ultra-cool prose and whip-smart plotting pull you along at cracking pace until suddenly you look up and realize with a gulp how deep you've gone and how very dark it is down there."
—Emily Maguire, author of Taming the Beast

"Brilliantly atmospheric and completely immersive—this stylishly fierce adventure into post-war darkness will hold you captive on every page. The amazing Tara Moss has created a cinematic and important feminist noir—dark as midnight velvet and tough as steel. Do not miss this!"
—Hank Phillippi Ryan, USA Today bestselling author of The First to Lie

"If you want to read about a fearless and awesome private investigator, if you like Australia, and like the mystery noir genre, then this book is an excellent read."
—Feminist Book Club

"It's the perfect book to cuddle up with this winter season and I guarantee you'll love Billie as much as me. I am definitely looking forward to the next book in the series and Billie's next exciting case."
—Confessions of a Book Addict

"The setting feels simultaneously familiar and exotic. Neatly incorporates history, social commentary, and a satisfying mystery in one appealing package. More, please!"
--Kirkus Reviews

"Spirited...thoroughly researched and anchored by the spunky, sympathetic heroine at its heart...Readers will finish the book clamoring for Billie's next case."
—Booklist

"Rich period detail and a fierce, feminist heroine distinguish this stylish twist on the classic 1940s detective novel."
--Publishers Weekly

"True to its era down to the very fabric around Billie's shoulders, this is a smartmouthed shot straight to the chest."
—Readings (Australia)
 
"Tara Moss has created a streetwise, seductive and staunchly feminist sleuth who even darns her own stockings.…[Billie Walker] is a former war correspondent, whose photojournalist husband is missing, presumed dead.…The war might be over, but the novel is deeply interested in its wreckage."
—The Sun-Herald (Sydney)
 
"Tara Moss's sympathy for the oppressed and voiceless runs firmly through this tale of underworld crime, thuggery, cruelty, and greed. It is a pleasure to find women steering this story as heroines not sidekicks. One very much hopes that [The War Widow] is the first of many Billie Walker mysteries and that, in time, our plucky heroine, her lips daubed with Tussy's Fighting Red, will find her way onto a screen near us."
—Living Arts Canberra
Thank you for shopping local!