American Kompromat: How the KGB Cultivated Donald Trump, and Related Tales of Sex, Greed, Power, and Treachery (Hardcover)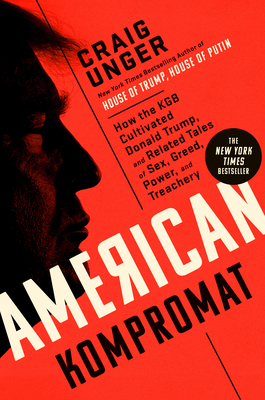 $30.00

Not in the store. We can order it and should have it in store in 3-5 business days.
Description
---
**THE INSTANT NEW YORK TIMES BESTSELLER**

Kompromat n.—Russian for "compromising information"

This is a story about the dirty secrets of the most powerful people in the world—including Donald Trump.

Based on exclusive interviews with intelligence officers in the CIA, FBI, and the KGB, thousands of pages of FBI investigations, police investigations, and news articles in English, Russian, and Ukrainian. American Kompromat shows that from Trump to Jeffrey Epstein, kompromat was used in operations far more sinister than the public could ever imagine.
 
The book addresses what may be the single most important unanswered question of the entire Trump era: Is Donald Trump a Russian asset?
 
The answer, American Kompromat says, is yes, supporting that conclusion with the first richly detailed narrative on how the KGB allegedly first "spotted" Trump as a potential asset, how it cultivated him, arranged his first trip to Moscow, and pumped him full of KGB talking points.
 
Among its many revelations, American Kompromat reports for the first time that:

   • According to former KGB major Yuri Shvets, Trump first did business over forty years ago with a Manhattan electronics store co-owned by a Soviet émigré, triggering protocols through which the Soviet spy agency began efforts to cultivate Trump as an asset, launching a decades-long "relationship" of mutual benefit to Russia and Trump, from real estate to real power.

   • Trump's 1987 invitation to Moscow was billed as a scouting trip for a hotel, but according to Shvets, was actually initiated by a high-level KGB official. These sorts of trips were usually arranged for "deep development."

   • Before Trump's first Moscow trip, he met with Natalia Dubinin, who worked at the United Nations library in a vital position usually reserved as a cover for KGB operatives.

   • In 1987, according to Shvets, the KGB circulated an internal cable hailing the successful execution of an active measure by a newly cultivated American asset who took out full-page ads in The New York Times, The Washington Post, and The Boston Globe promoting policies promoted by the KGB. The ads had been taken out by Donald Trump, who, Shvets said, would become a "special unofficial contact" for the KGB.


In addition to exploring Trump's ties to the KGB, American Kompromat also reveals:

   • How Jeffrey Epstein and Trump jostled for influence and financial supremacy for years. Epstein became a millionaire in part with the help of Ghislaine Maxwell's father—media tycoon Robert Maxwell, who allegedly served as a spy and likely gave Epstein a sum between $10 and $20 million before his death in 1991.

   • How the Epstein-Ghislaine Maxwell sex-trafficking operation provided a source and marketplace for sexual kompromat.

   • How the Epstein-Maxwell ring helped enable young women with possible ties to Russian intelligence to gain access to the highest levels of Silicon Valley and the worlds of artificial intelligence, supercomputers, and the internet. This, at a time when Vladimir Putin has asserted, "Whoever becomes the leader in this sphere [artificial intelligence] will become the ruler of the world."

   • How John Mark Dougan, a former deputy sheriff in Mar-a-Lago's Palm Beach County, says he acquired 478 videos confiscated from the Jeffrey Epstein investigation, fled to Moscow, became only the fourth American to win asylum in Russia, and immediately gained access to Putin's inner circle, showing the ongoing power that comes from kompromat and how its value is highest before it is "used."
About the Author
---
Craig Unger is the author of seven books, including the New York Times bestsellers American Kompromat, House of Trump, House of Putin and House of Bush, House of Saud. For fifteen years he was a contributing editor for Vanity Fair, where he covered national security, the Middle East, and other political issues. A frequent analyst on MSNBC and other broadcast outlets, he was a longtime staffer at New York Magazine, has served as editor-in-chief of Boston magazine, and has contributed to Esquire, The New Yorker, and many other publications. He also appears frequently as an analyst on MSNBC, CNN, and other broadcast outlets. Unger has written about the Trump-Russia scandal for The New Republic, Vanity Fair, and The Washington Post. He is a graduate of Harvard University and lives in Brooklyn, New York.
Praise For…
---
Praise for American Kompromat
"For the first time a former KGB employee has gone on record to describe Donald Trump's historic relationship with the Kremlin. It's a bombshell that must be looked into."—Robert Baer, former CIA operative and author of See No Evil

"I said in 2017 that Trump had more Russian connections than Aeroflot, and American Carnage documents every flight. Trump's loyalty to Russian dictator Vladimir Putin was deeper and more insidious than merely envying his wealth and power. America has removed Putin's puppet from the White House, but the KGB man who controlled him is still in the Kremlin, eager to repeat the success of his greatest operation: President Trump. Read Craig Unger to understand why the danger to American democracy is far from over."—Garry Kasparov, Chairman of the Renew Democracy Foundation and author of Winter Is Coming: Why Vladimir Putin and the Enemies of the Free World Must Be Stopped
 
"By compiling decades of Trump's seedy ties, disturbing and consistent patterns of behavior, and unexplained contacts with Russian officials and criminals, Unger makes a strong case that Trump is probably a compromised trusted contact of Kremlin interests."—John Sipher, Washington Post

"Craig Unger has just published a wonderful, well-written book. The jewel in the crown is how the KGB cultivated Donald Trump. With assistance of the eminent former KGB officer Yuri Shvets, American Kompromat establishes how it really took place."—Anders Åslund, senior fellow, The Atlantic Council

"A must-read. The gun's not quite smoking, but the barrel's plenty hot, and there are Russian shell casings all around."—Kirkus (starred review)

"Make[s] the unassailable case that Donald J. Trump has been cultivated by Soviet and Russian leaders."—CounterPunch

"Craig Unger, who gave us the important books House of Bush, House of Saud and The Fall of the House of Bush, once again delivers. Unger probes the matter deeply. Indeed, the entire book is meant to serve as the counter-intelligence investigation that was promised by the Mueller report, but which failed to materialize. Among many useful aspects of this book, American Kompromat provides a detailed retelling of that particular disappointment and highlights the role that Attorney General William Barr played in lying to the American public about Mueller's work."—Journal of Cyber Policy

"Unger has compiled a mountain of fascinating information, revealing how dark forces, working behind the scenes, attempted to use potentially compromising acts that threatened to drag potential targets down the rabbit hole of betrayal, all in an effort to control our politics. [A] fascinating book."—Global Geneva
Thank you for shopping local!