Under Our Roof: A Son's Battle for Recovery, a Mother's Battle for Her Son (Hardcover)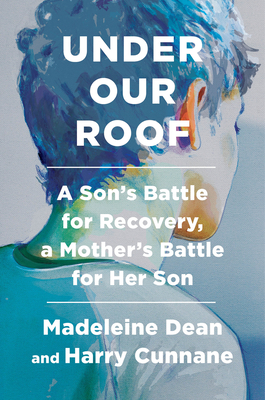 $27.00

Backordered at our distributor but we can check availability from the publisher.
Description
---
A congresswoman and her son reveal how he survived a ten-year battle with opioid abuse—and what their family's journey to recovery can teach us about finding hope amid the unspeakable.

"Beautiful and inspiring."—Maria Shriver's Sunday Paper (Book of the Week)

When Madeleine Dean discovered that her son Harry was stealing from the family to feed a painkiller addiction, she was days away from taking the biggest risk of her life: running for statewide office in Pennsylvania. For years, she had sensed something was wrong. Harry was losing weight and losing friends. He had lost the brightness in his eyes and voice, changing from a young boy with boundless enthusiasm to a shadow of himself, chasing something she could not see. Now her worst fears had come to light.

Under Our Roof is the story of a national crisis suffered in the intimacy of so many homes, told with incredible candor through the dual perspectives of a mother rising in politics and a son living a double life, afraid of what might happen if his secret is exposed. In this honest, bracing, yet ultimately uplifting memoir, they discuss the patterns of a family dealing with an unspoken disease, the fear that keeps addicts hiding in shame, and the moments of honesty, faith, and personal insight that led to Harry's recovery.

In a country searching for answers to the devastating effects of opioids and drug abuse, Under Our Roof is a ray of hope in the darkness. It is not only a love story between mother and son but also an honest account of a pressing national crisis by a family poised to make a difference.
About the Author
---
Madeleine Dean is the congresswoman for the Fourth District of Pennsylvania, suburban Philadelphia, a member of the House Judiciary and House Financial Services committees, and vice chair of the bipartisan Women's Caucus. From 2012 to 2018 she served in the Pennsylvania House. From 2001 to 2011 she taught writing at La Salle University, and she has contributed to Newsweek, The Philadelphia Inquirer, Philadelphia Daily News, and other regional publications. She and her husband, PJ Cunnane, live in Jenkintown, Pennsylvania, and have three sons, two daughters-in-law, and three grandchildren.

Harry Cunnane has been an active member of the addiction recovery community since his recovery began more than seven years ago, participating in a twelve-step program and volunteering at rehabs and jails around Philadelphia to spread a message of hope. He now works as a resource director for the same treatment center where he originally sought help for his own addiction. He lives in Audubon, New Jersey, with his wife, Juliet; his daughter, Aubrey; and his son, Sawyer.

Madeleine and Harry are the authors of the children's book You Are Always Loved.
Praise For…
---
"A riveting and inspiring story of a family confronting addiction . . . Written with breathtaking courage and unadorned honesty, this account by Rep. Madeleine Dean and Harry Cunnane can help all families turn fear of this scourge into understanding, acceptance, and hope."—Jennifer Palmieri, #1 New York Times bestselling author of Dear Madam President

"Through their honesty and bravery, Dean and Cunnane challenge stigma, encourage a strengthening of support systems, and provide hope to the millions of Americans who live with, or have loved ones who live with, substance abuse disorder every day."—Pennsylvania governor Tom Wolf and first lady Frances Wolf