Spain In Our Hearts: Americans in the Spanish Civil War, 1936–1939 (Paperback)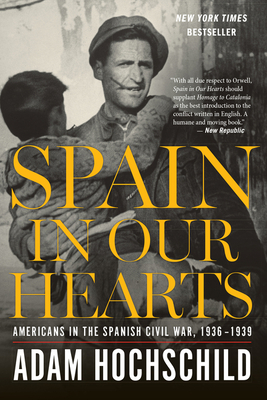 $16.99

Not in the store. We can order it and should have it in store in 3-5 business days.
Description
---
A NEW YORK TIMES BESTSELLER. A sweeping history of the Spanish Civil War, told through a dozen characters, including Hemingway and George Orwell: A tale of idealism, heartbreaking suffering, and a noble cause that failed.

For three crucial years in the 1930s, the Spanish Civil War dominated headlines in America and around the world, as volunteers flooded to Spain to help its democratic government fight off a fascist uprising led by Francisco Franco and aided by Hitler and Mussolini.

Today we're accustomed to remembering the war through Hemingway's For Whom the Bell Tolls and Robert Capa's photographs. But Adam Hochschild has discovered some less familiar yet far more compelling characters who reveal the full tragedy and importance of the war: a fiery nineteen-year-old Kentucky woman who went to wartime Spain on her honeymoon, a Swarthmore College senior who was the first American casualty in the battle for Madrid, a pair of fiercely partisan, rivalrous New York Times reporters who covered the war from opposite sides, and a swashbuckling Texas oilman with Nazi sympathies who sold Franco almost all his oil—at reduced prices, and on credit.

It was in many ways the opening battle of World War II, and we still have much to learn from it. Spain in Our Hearts is Adam Hochschild at his very best.

"With all due respect to Orwell, Spain in Our Hearts should supplant Homage to Catalonia as the best introduction to the conflict written in English. A humane and moving book."—New Republic

"Excellent and involving . . . What makes [Hochschild's] book so intimate and moving is its human scale."—Dwight Garner, New York Times
About the Author
---
ADAM HOCHSCHILD is the author of ten books. King Leopold's Ghost was a finalist for the National Book Critics Circle Award, as was To End All Wars. His Bury the Chains was a finalist for the National Book Award and won the Los Angeles Times Book Prize and PEN USA Literary Award. He lives in Berkeley, California.
Praise For…
---
New York Times best-seller "Excellent and involving . . . What makes [Hochschild's] book so intimate and moving is its human scale." —Dwight Garner, New York Times "With all due respect to Orwell, Spain in Our Hearts should supplant Homage to Catalonia as the best introduction to the conflict written in English. A humane and moving book, it is well-paced and meant to be read rather than studied." —New Republic "Admirable . . . an unusually well-written narrative, full of telling detail and vignettes that capture great human drama." —Wall Street Journal "A commanding performance. Digging through archives, Hochschild finds characters whose lives … pull the war into tight, human-scale focus … After reading Hochschild's book, it's impossible to feel anything but admiration — and awe." — San Francisco Chronicle "The tragic story of the Americans in the doomed Lincoln Brigade . . . comes vividly to life in Adam Hochschild's compelling 'Spain in Our Hearts,' a long-overdue book that explores this long-overlooked conflict." —Los Angeles Times "By assembling a well-chosen set of individual narratives, many about figures who are relatively unknown, [Hochschild] captures why so many people thought the fate of the world might be decided by who won the conflict ... Consistently vivid ... Captivating." —New York Times Book Review "A vivid and level-headed new history of American participation in the Spanish Civil War."  —The New Yorker "Excellent … Hochschild captures both the passionate, partisan views of particular combatants and the larger political currents that shaped their experiences. It's a moving and useful investigation into the dangers and promises of idealism." — Christian Science Monitor "Exemplary . . . Moving and powerful." —Seattle Times "The book's narrative is driven by Hochschild's deft handling of the personal stories, some heartbreaking, of a half dozen Americans . . . highly engaging . . .  A book like Hochschild's keeps their stories and spirit alive." —St. Louis Post-Dispatch "A sweeping, suspenseful, and somber chronicle of the Spanish Civil War … Mak[es] superb use of diaries and letters." — Minneapolis Star-Tribune "Hochschild tells the story of this heady time with moving, well-paced prose exploring both international policy and intensely personal experiences … Exceptional." — Los Angeles Review of Books "A fine new chronicle of Americans … determined to do their part to fight fascism. One's heart breaks to read what awaited them." — Dallas Morning News "Brings history alive … Hochschild is a writer capable of making any topic interesting, relevant, and accessible … Spain in Our Hearts is a primer, a meditation, and a story of American adventure abroad." — Tampa Bay Times "Well-paced … Closes on a poignant note of mourning and remembrance." — Boston Glo —