A Wolf Called Romeo (Paperback)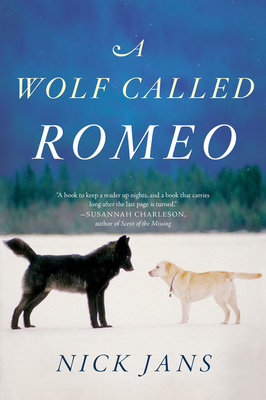 $15.99

Should be on our shelves now -- but wait for confirmation from us before coming to pick up. We'll respond to your order shortly.
Description
---
From award-winning author and photographer Nick Jans, A Wolf Called Romeo is "beautifully written...a thoughtful and moving story about one of nature's most evocative animals." (Patricia B. McConnell, author of The Education of Will and The Other End of the Leash)

A Wolf Called Romeo is the true story of the exceptional black wolf who spent seven years interacting with the people and dogs of Juneau, Alaska, living on the edges of their community, engaging in an improbable, awe-inspiring interspecies dance, and bringing the wild into sharp focus.

When Romeo first appeared, author Nick Jans and the other citizens of Juneau were wary, but as Romeo began to tag along with cross-country skiers on their daily jaunts, play fetch alongside local dogs, or simply lie near Nick and nap under the sun on a quiet afternoon, Nick and the rest of Juneau came to accept Romeo, and he them. Part memoir, part moving animal narrative, part foray into the mystique, lore, science, and history of the wolf, A Wolf Called Romeo is a book no animal lover should miss.

"Jans is an exceptional storyteller — no nature writer can top him in terms of sheer emotional force."—The New York Times

"Jans is a perfect narrator for this story. He's deeply knowledgeable about the Alaskan wilderness and he evokes its harsh beauties in powerful and poetic prose...A tingling reminder of the basic bond that occasionally spans the space between two species."—Christian Science Monitor
About the Author
---
NICK JANS is an award-winning writer, photographer, and author of numerous books, including The Grizzly Maze. He is a contributing editor to Alaska Magazine and has written for Rolling Stone, Backpacker, and the Christian Science Monitor.
Praise For…
---
An Amazon Best Book of the Month "Insightful and philosophical, Jans probes the boundaries between wilderness and civilization and our responsibilities to the untamed creatures in our midst." -- Publishers Weekly "The sweet and cautionary tale of a wolf that liked to play with dogs...An astute, deeply respectful encounter between man and wolf." -- Kirkus Reviews "Jans is an exceptional storyteller — no nature writer can top him in terms of sheer emotional force — and he frames even the smallest moment with haunting power." -- The New York Times "A thoughtful, highly detailed account of one community's poignant encounter with a truly magnificent creature." -- BookPage "Beautifully written, A Wolf Called Romeo is a thoughtful and moving story aboutone of nature's most evocative animals. Be forewarned: I read it cover to cover in one sitting late into the night. The author owes me a good night's sleep; but it was well worth it." -- Patricia McConnell, author of The Other End of the Leash "The compelling, grounded account of a black wolf that stepped forward in the half-light between wilderness and civilization and the people who met him there. From the powerful first moments to a hard-won conclusion that becomes our journey, too, A Wolf Called Romeo is a book to keep a reader up nights, and a book that carries long after the last page is turned." -- Susannah Charleson, author of Scent of the Missing and The Possibility Dogs "A Wolf Called Romeo is one of the best books I've read in a great many years. It gives heart-wrenching insight into an amazing animal, important insight into the shining side of our relationship with that animal, and important if bitter insight into the dark side. It's told in a quiet, even-handed manner which makes it all the more compelling, and it's riveting. In short, this is a real page turner-- one that years from now you will remember in all its detail. If you have only the time to read one book, read this one." --Elizabeth Marshall Thomas, author of The Hidden Life of Dogs and A Million Years With You —