My America: Recipes from a Young Black Chef: A Cookbook (Hardcover)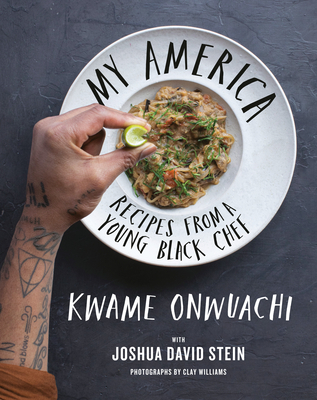 $35.00

Likely on our shelves now
Description
---
What is American food? In his first cookbook, Kwame Onwuachi ("the most important chef in America" —San Francisco Chronicle), the acclaimed author of Notes from a Young Black Chef, shares the dishes of his America; dishes that show the true diversity of American food.

"A must-have for anyone who wants to be a better cook. Each recipe is an insight into Kwame's family, travels, and time spent in some of the best kitchens in the world." —David Chang

Featuring more than 125 recipes, My America is a celebration of the food of the African Diaspora, as handed down through Onwuachi's own family history, spanning Nigeria to the Caribbean, the South to the Bronx, and beyond. From Nigerian Jollof, Puerto Rican Red Bean Sofrito, and Trinidadian Channa (Chickpea) Curry to Jambalaya, Baby Back Ribs, and Red Velvet Cake, these are global home recipes that represent the best of the patchwork that is American cuisine.

Interwoven throughout the book are stories of Onwuachi's travels, illuminating the connections between food and place, and food and culture. The result is a deeply personal tribute to the food of "a land that belongs to you and yours and to me and mine."
About the Author
---
KWAME ONWUACHI is a James Beard Award-winning chef, who was raised in the Bronx, Nigeria, and Louisiana. A former contest and now a recurring judge on Top Chef, Onwuachi has been named Esquire's Chef of the Year, one of Food & Wine's Best New Chefs, and a 30 Under 30 honoree by both Zagat and Forbes. He trained at the Culinary Institute of America and opened five restaurants before turning thirty. Onwuachi is the author of Notes from a Young Black Chef. JOSHUA DAVID STEIN is a Brooklyn-based author and journalist. He is the co-author of Notes from a Young Black Chef, with Kwame Onwuachi; Il Buco: Stories and Recipes with Donna Lennard; and The Nom Wah Cookbook with Wilson Tang and the author of Cooking for Your Kids.

Praise For…
---
"Kwame's powerful, lyrical book is part memoir, part cookbook, but also all memoir and all cookbook. It's other things, too—a history of food, a collection of mouth-watering photographs, and a repository of wisdom." —Questlove, best-selling author of Music Is History
 
"Flat-out delicious. . . . [A] cookbook that, in its own way, asserts the right to weave a personal cuisine from a blend of ancestral recipes, diverse influences and idiosyncratic obsessions. . . . Onwuachi's pantry is a family tree with roots in the American South, Trinidad and Tobago, Jamaica, Nigeria and beyond." —The Wall Street Journal

"My America is a must-have for anyone who wants to be a better cook. Each recipe is an insight into Kwame's family, travels, and time spent in some of the best kitchens in the world. This book will expand your pantry with spices and ingredients that are so delicious and that really should be in every kitchen everywhere. I want to make the Egusi Stew for dinner tonight—so good!" —David Chang, chef and founder of Momofuku and best-selling author of Eat a Peach

"A nuanced, multicultural interpretation of what defines American food. . . . If you're looking to diversify your home cooking game—and celebrate the cultural patchwork of America—this cookbook is a staple." —USA Today

"Have a quart of shrimp stock ready: We're making gumbo this weekend. . . .  After a few pages, I couldn't get Onwuachi's voice out of my ear—Ethiopian braised short ribs are 'achingly tender and totally on fire'—and I couldn't shake the sudden urge to fill my fridge with remoulade and jerk paste." —Alex Beggs, Bon Appetit

"In My America, Chef Kwame Onuwuachi's story continues with recipes! He offers us his culinary vision of an inclusive nation. 'His' America revels in Nigerian suya and Creole hash browns, Trinidad callaloo and Southern collard greens. There's braised oxtail, egusi with goat, and a repertoire of dishes that delight with the bright tastes of the African Atlantic world. It is a savory nation, indeed, and I am proud to be a citizen." —Jessica B. Harris, best-selling author of High on the Hog: A Culinary Journey from Africa to America
 
"I love My America—not only for its vibrant, delicious, and seasonal recipes that explore the African diaspora, but for the moving story Kwame tells: how food knits together our communi­ties, celebrates and preserves our cultures, and intimately connects us to the land and the people we came from." —Alice Waters, chef and owner of Chez Panisse and author of We Are What We Eat
 
"Kwame Onwuachi takes us on a journey through personal taste memories from the Bronx, down to Texas, and across to ancient lands of Nigeria and the Caribbean. Vibrant and unique recipes like Cucumber and Avocado Salad tempered with a gooseberry peri-peri call back ancestral knowledge that he marries with his own unique experiences and culinary genius." —Food & Wine

"My America is a culinary journey that's well seasoned with many flavors of the diaspora. Kwame pays respect to the ancestors, using his culinary chops to remix their food to show the beauty of his people." —Marcus Samuelsson, best-selling author of Yes, Chef

"Kwame Onwuachi uses his own story as a vehicle for sharing recipes from the African diaspora. These dishes—from the United States, the Caribbean, Nigeria, and elsewhere—as honed by his expert palate and tremendous talent, are American food at its finest." —Angela Rye, social justice advocate, lawyer, and award-winning host of "On One with Angela Rye

"If the book . . . contained just cooking directions, it would already earn a spot on the kitchen counter of avid cooks. But the accompanying anecdotes with each recipe are what shines as Onwuachi charts the journeys of different diasporas in his blood and community." —Shondaland
 
"Packed with gems to upgrade anything, like jerk BBQ sauce, tamarind glaze, and ginger-garlic purée." —Food52
 
"My America is a cookbook for anyone who, like Onwuachi, knows that there's always more to learn—about our past, and about ourselves." —Eater
 
"A celebration of the food of the African Diaspora, as handed down through Onwuachi's own family history, spanning Nigeria to the Caribbean, the South to the Bronx, and beyond." —Salon
Thank you for shopping local!