The Unidentified: Mythical Monsters, Alien Encounters, and Our Obsession with the Unexplained (Paperback)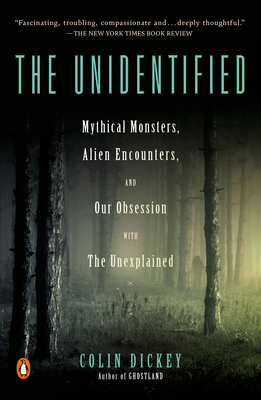 $18.00

Likely on our shelves now
Description
---
America's favorite cultural historian and author of Ghostland takes a "thought-provoking and delicoiusly unsettling" (Publisher's Weekly) tour of the country's most persistent "unexplained" phenomena

In a world where rational, scientific explanations are more available than ever, belief in the unprovable and irrational--in fringe--is on the rise: from Atlantis to aliens, from Flat Earth to the Loch Ness monster, the list goes on. It seems the more our maps of the known world get filled in, the more we crave mysterious locations full of strange creatures.

Enter Colin Dickey, Cultural Historian and Tour Guide of the Weird. With the same curiosity and insight that made Ghostland a hit with readers and critics, Colin looks at what all fringe beliefs have in common, explaining that today's Illuminati is yesterday's Flat Earth: the attempt to find meaning in a world stripped of wonder. Dickey visits the wacky sites of America's wildest fringe beliefs--from the famed Mount Shasta where the ancient race (or extra-terrestrials, or possibly both, depending on who you ask) called Lemurians are said to roam, to the museum containing the last remaining "evidence" of the great Kentucky Meat Shower--investigating how these theories come about, why they take hold, and why as Americans we keep inventing and re-inventing them decade after decade. The Unidentified is Colin Dickey at his best: curious, wry, brilliant in his analysis, yet eminently readable.
About the Author
---
Colin Dickey is a writer, speaker, and academic, and has made a career out of collecting unusual objects and hidden histories all over the country. He's a regular contributor to the LA Review of Books and Lapham's Quarterly, and is the co-editor of The Morbid Anatomy Anthology. He is also a member of the Order of the Good Death, a collective of artists, writers, and death industry professionals interested in improving the Western world's relationship with mortality. With a PhD in comparative literature from the University of Southern California, he is an associate professor of creative writing at National University.
Praise For…
---
"Fascinating, troubling, compassionate and—in the end—deeply thoughtful…Dickey's sense of history reminds us of the complex reasons our odder beliefs endure." —NEW YORK TIMES BOOK REVIEW

"Colin Dickey's examination of fringe beliefs is absolutely perfect for the current moment, as we watch a growing (and worrying) distrust in science… In shrewd, accessible analysis and firsthand reporting, Dickey explores his own theories about theories."—BUZZFEED
 
"Any aficionado of the macabre would be remiss not to pick it up."—TOR
 
"Colin Dickey's new book about the rise of conspiracy theories and paranoid thought in American culture, could not come at a better time… Brilliant." —THE NEW REPUBLIC
 
"A fascinating expedition through fringe belief and theory… A thought-provoking and deliciously unsettling guide into the stranger corners of American culture."—PUBLISHERS WEEKLY, Starred Review
 
"Meticulously researched and written, this is the grown-up version of the mysteries of the
unknown books... Perfect for the skeptics and believers alike."—BOOKLIST
 
"Dickey succeeds in informing and entertaining his audience with his sense of wonder… A fascinating blend of history and the strangeness of human nature."—LIBRARY JOURNAL
 
"An intriguing mix of myths and monsters."—KIRKUS REVIEWS

"[A] compelling historical and cultural analysis of human nature… engaging and impressively researched."—BOOKPAGE
 
"There are moments while reading The Unidentified where can feel yourself becoming fundamentally smarter about the world than you were before."—Caitlin Doughty, New York Times bestselling author of Smoke Gets In Your Eyes
Thank you for shopping local!