Friends and Strangers: A novel (CD-Audio)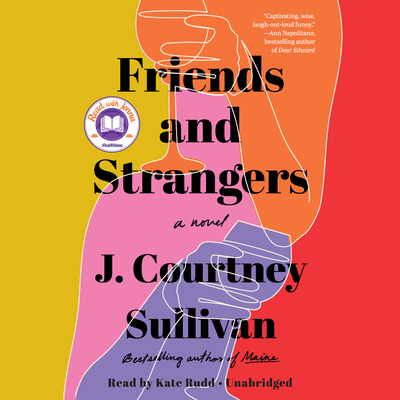 $45.00
Out of stock at the moment; would not arrive before the holidays.
July 2020 Indie Next List
---
"I will be recommending J. Courtney Sullivan's newest to my friends and even perfect strangers this summer. It's that good! So many of my best friends are new mothers right now and I can't wait to get this book in their hands. It's the perfect grass-is-always-greener story. It's smart, it's relevant, and it touches on so many relationships, from motherhood to marriage, from friendship to acquaintanceship. I loved it!"
— Tim Ehrenberg, Nantucket Bookworks, Nantucket, MA
Description
---
A TODAY SHOW #ReadWithJenna BOOK CLUB PICK!

An insightful, hilarious, and compulsively readable novel about a complicated friendship between two women who are at two very different stages in life, from the best-selling author of Maine and Saints for All Occasions (named one of the Washington Post's Ten Best Books of the Year and a New York Times Critics' Pick).

Elisabeth, an accomplished journalist and new mother, is struggling to adjust to life in a small town after nearly twenty years in New York City. Alone in the house with her infant son all day (and awake with him much of the night), she feels uneasy, adrift. She neglects her work, losing untold hours to her Brooklyn moms' Facebook group, her "influencer" sister's Instagram feed, and text messages with the best friend she never sees anymore. Enter Sam, a senior at the local women's college, whom Elisabeth hires to babysit. Sam is struggling to decide between the path she's always planned on and a romantic entanglement that threatens her ambition. She's worried about student loan debt and what the future holds. In short order, they grow close. But when Sam finds an unlikely kindred spirit in Elisabeth's father-in-law, the true differences between the women's lives become starkly revealed and a betrayal has devastating consequences.

A masterful exploration of motherhood, power dynamics, and privilege in its many forms, Friends and Strangers reveals how a single year can shape the course of a life.
About the Author
---
J. Courtney Sullivan is the New York Times best-selling author of the novels Commencement, Maine, The Engagements, and Saints For All Occasions. Her work has been translated into 17 languages. Sullivan's writing has appeared in The New York Times Book Review, The Washington Post, The Chicago Tribune, New York magazine, Elle, Glamour, Allure, Real Simple, and O: The Oprah Magazine, among many others. She lives in Brooklyn, New York with her husband and two children.
Praise For…
---
A #ReadWithJenna TODAY Show Book Club Pick

An Amazon "Best Book of 2020"
A Washington Post "Book to Read this Summer"
A Real Simple "Best Book of 2020"
An Entertainment Weekly "Book to Read this June"
A Parade "Best Book of the Summer"
A theSkimm "Hottest Book of the Summer"
A Vogue "Book to Read this June"
A People magazine "Best Book to Read this Summer"
A Good Housekeeping "Best Beach Read" 
A Marie Claire "Best New Book to Read this Summer"
A Bustle "Most Anticipated Book of 2020"
A SheReads "Most Anticipated Book of 2020"
A RealSimple "Top Pick for Summer"
A Travel and Leisure "Most Anticipated Book of the Summer"
A Parade "Best Beach Read of 2020"
A Good Morning America "Book to Read This Summer"
A Town and Country "Must-Read Book of the Summer"
A New York Times "Book to Watch For"
A CNN "Perfect Summer Read'

"J. Courtney Sullivan's fifth novel, which examines the intricate relationship between a babysitter and her employer, begins in the middle of the night, in the middle of the suburbs — 'Nobody up at this hour besides mothers and insomniacs' — from which promising vantage point we're given delightful permission to sit back and spy... Drawn by Sullivan's deft hand, the relationship feels authentic and richly textured... Friends and Strangers is a big novel with big ideas... An honest rendering of what happens behind closed doors."
—Clare Lombardo, New York Times Book Review

"There's a rare degree of emotional maturity in Friends and Strangers, a willingness to resist demonizing any of the players, a commitment to exploring the demands of family with the deliberate care such complex relations require. Once again, Sullivan has shown herself to be one of the wisest and least pretentious chroniclers of modern life. Every hard-won insight here is offered up with such casual grace."
—Ron Charles, The Washington Post

"Friends and Strangers is a compellingly readable book that feels a little bit like a beach read, but at the same time tackles themes of acceptance of others and also of yourself... The novel takes on modern issues surrounding adulthood, motherhood and class. It also offers a broader look at issues we are facing as an American society...  as hilarious as it is insightful and paints an authentic picture of modern motherhood and the power of female friendship."
—Today

"What's crucial about... Friends and Strangers, though, is that they are more than "nanny novels" predicated on a Manichaean dynamic between employer and employee. They expertly lay bare the shortcomings of the employers they represent, but they allow them humanity too: These mothers are lost, isolated and often have no one else to whom they feel they can turn other than their nannies. More importantly, while these books center the young women who have been transported into unfamiliar and luxe surroundings under the auspices of caregiving, they take care to define their protagonists by more than their work."
—Vogue

"Courtney Sullivan's new Friends and Strangers... fits neatly into my preferred category of summer reading: literate and smart, but also a heck of a lot of fun and a break for my news-addled brain... a gimlet-eyed examination of classism and privilege in America and a close look at the complicated terrain between parents and hired caregivers, with the ensuing guilt and resentments that so often accompany such relationships."
—Portland Monthly

"Extremely timely."
—New York Post

"One of summer's most delicious reads."
—Town and Country

"A hilarious and insightful novel about a complicated friendship between two very different women... When their differences are revealed, a betrayal takes place with devastating consequences."
—SheReads

"You'll like this one...  a modern look at power dynamics, privilege, and motherhood, and is one you'll be seeing all over Insta."
 —TheSkimm

"The clash between rich and poor animates Friends and Strangers, J. Courtney Sullivan's quietly perceptive new novel about two women on different sides of America's economic divide: a new mother and the college-age nanny she hires for her son... Friends and Strangers is at its best when Sullivan emphasizes the widening class difference in America between people who can afford $46 peony-scented hand soaps and those worried about meeting basic needs. Sullivan dares to further complicate her narrative by showing that financial security doesn't guarantee happiness. The result is a poignant look at the biases of modern society."
—BookPage

"Sullivan's writing is captivating and witty as the characters observe the disconnects in their respective lives and those around them."
—New Canaan Advertiser

"Courtney Sullivan's Friends and Strangers exposes fraught truths about power dynamics, class, and privilege."
—Marie Claire

"This new novel from the author of Saints for All Occasions looks at how our locations, both geographic and where we are in life, can take their toll, and delivers what promises to be one of summer's most delicious reads."
—Town and Country

"Sullivan... once again displays her keen observation skills with this insightful examination of two women at very different places in their lives. With well-developed, very real-feeling characters the story moves seamlessly from one perspective to the other. Friends and Strangers is a deeply personal yet profound exploration of motherhood, friendships, and the role of privilege in determining how we shape our lives."
—Booklist

"Readers should jettison any expectation they have for the book--fish-out-of-water story, manipulative-nanny chiller, send-up of campus culture. J. Courtney Sullivan's fifth novel offers something more interesting... Friends and Strangers is about whether the unfairness of privilege can ever be sufficiently offset by good deeds. And what of bad deeds: Are they forgiven if they result from good intentions?... . Sullivan massages her themes in scenes as barbed as they are funny, by way of characters as infuriating as they are heartbreaking."
—Shelf Awareness

"Sullivan... writes with empathy for her characters even as she reveals their flaws and shortcomings. And while the story she tells focuses primarily on two women from different backgrounds and at different stages of life, it also illuminates broader issues about money, privilege, and class; marriage, family, and friendship; and the dueling demands of career and domesticity with which many women struggle. This perceptive novel about a complex friendship between two women resonates as broadly as it does deeply."
—Kirkus, starred

"Sullivan's intimate, incisive latest explores the evolving friendship between a new mother and her babysitter... Readers will be captivated by Sullivan's authentic portrait of modern motherhood."
—Publishers Weekly

"Friends and Strangers is a smart and deeply compelling exploration of female friendship and the complicated politics of motherhood and childcare. J. Courtney Sullivan is a shrewd and sympathetic observer of our current cultural moment, with an unerring eye for the way that the unspoken realities of money and class can affect even our most intimate relationships."
—Tom Perrotta, best-selling author of The Leftovers  

"J. Courtney Sullivan is one of our great literary treasures, and Friends and Strangers is permeated with her brilliance and heart. The novel is a captivating, wise, laugh-out-loud-funny story about the life-changing friendship between Elisabeth, a new mom, and Sam, her college-age babysitter. I loved this novel from the first word to the last."
—Ann Napolitano, best-selling author of Dear Edward

"I have long been a fan of J. Courtney Sullivan's insightful and rich novels—Friends and Strangers is her best yet! Sullivan has a stunning ability to capture the tenderness and frailty of human relationships. Her newest is a poignant, wise, big-hearted novel full of complicated women doing their best and striving to do better. I loved it."
—Taylor Jenkins Reid, best-selling author of Daisy Jones & The Six

"J. Courtney Sullivan is a writer of extraordinary gifts, and this is her most affecting book yet, which I just wanted to keep reading and reading straight through to its climactic and emotional last pages, because its world felt completely realized, and completely real. Sullivan is a writer who offers up small human moments and large social ones, all within the frame of a truly good story. I loved it."
—Meg Wolitzer, best-selling author of The Female Persuasion