Chance and Change: Ecology for Conservationists (Hardcover)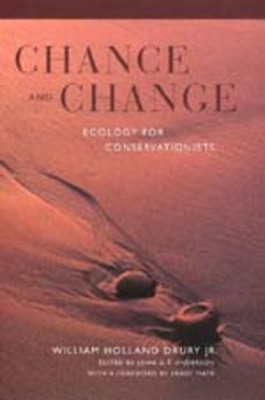 Description
---
The result of a lifetime in the field and in the classroom, Chance and Change challenges many of the tenets of establishment ecology. Charging that most of the environmental movement has ignored or rejected the changes in thinking that have infiltrated ecological theory since the mid 70s, William Drury presents a convincing case that disorder is what makes the natural world work, and that clinging to romantic notions of nature's grand design only saps the strength of the conservation movement. Drury's training in botany, geology, and zoology as well as his life-long devotion to work in the field gave him a depth and range of knowledge that few ecologists possess. This book opens our eyes to a new way of looking at the environment and forces us to think more deeply about nature and our role in it.

Chance and Change is intended for the serious amateur naturalist or professional conservationist. Drury argues that chance and change are the rule, that the future is as unpredictable to other organisms as it is to us, and that natural disturbance is too frequent for equilibrium models to be useful. He stresses the centrality of natural selection in explaining the meaning of biology and insists the book and the laboratory must be checked at all times against the real world. Written in an easy, personal style, Drury's narrative comes alive with the landscape—the salt marshes, dunes, seashores, and forests—that he believed served as the best classroom. His novel approach of correlating landscape evolution with ecological principles offers a welcome corrective to discordance between what we observe in nature and what theory tells us we should see.
About the Author
---
William Holland Drury Jr. (1921-1992) was Professor of Biology at the College of the Atlantic, Bar Harbor, Maine. John G.T. Anderson is Professor of Biology at the College of the Atlantic.
Thank you for shopping local!