The Best and the Brightest (Paperback)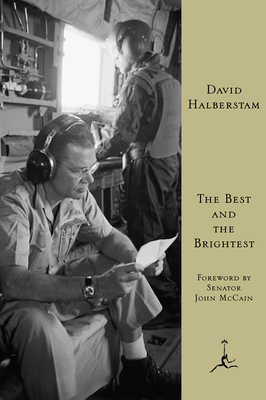 $20.00

Should be on our shelves now -- but wait for confirmation from us before coming to pick up. We'll respond to your order shortly.
Description
---
David Halberstam's masterpiece, the defining history of the making of the Vietnam tragedy, with a new Foreword by Senator John McCain.

"A rich, entertaining, and profound reading experience."—The New York Times

Using portraits of America's flawed policy makers and accounts of the forces that drove them, The Best and the Brightest reckons magnificently with the most important abiding question of our country's recent history: Why did America become mired in Vietnam, and why did we lose? As the definitive single-volume answer to that question, this enthralling book has never been superseded. It is an American classic.

Praise for The Best and the Brightest

"The most comprehensive saga of how America became involved in Vietnam. . . . It is also the Iliad of the American empire and the Odyssey of this nation's search for its idealistic soul. The Best and the Brightest is almost like watching an Alfred Hitchcock thriller."—The Boston Globe

"Deeply moving . . . We cannot help but feel the compelling power of this narrative. . . . Dramatic and tragic, a chain of events overwhelming in their force, a distant war embodying illusions and myths, terror and violence, confusions and courage, blindness, pride, and arrogance."—Los Angeles Times

"A fascinating tale of folly and self-deception . . . [An] absorbing, detailed, and devastatingly caustic tale of Washington in the days of the Caesars."—The Washington Post Book World

"Seductively readable . . . It is a staggeringly ambitious undertaking that is fully matched by Halberstam's performance. . . . This is in all ways an admirable and necessary book."—Newsweek

"A story every American should read."—St. Louis Post-Dispatch
About the Author
---
David Halberstam is the author of a number of books, including The Powers That Be, The Reckoning, Summer of '49, Playing for Keeps, and War in a Time of Peace. He lives in New York City. 

Senator John McCain entered the Naval Academy in June of 1954 and served in the United States Navy until 1981. He was elected to the U.S. House of Representatives from Arizona in 1982 and to the Senate in 1986. The Republican Party's nominee for president in the 2008 election, McCain was also the author of Faith of My Fathers, Worth the Fighting For, Why Courage Matters, Character Is Destiny, Hard Call, Thirteen Soldiers, and The Restless Wave. John McCain died in 2018.
Praise For…
---
"A rich, entertaining, and profound reading experience."—The New York Times

"The most comprehensive saga of how America became involved in Vietnam. . . . It is also the Iliad of the American empire and the Odyssey of this nation's search for its idealistic soul. The Best and the Brightest is almost like watching an Alfred Hitchcock thriller."—The Boston Globe

"Deeply moving . . . We cannot help but feel the compelling power of this narrative. . . . Dramatic and tragic, a chain of events overwhelming in their force, a distant war embodying illusions and myths, terror and violence, confusions and courage, blindness, pride, and arrogance."—Los Angeles Times

"A fascinating tale of folly and self-deception . . . [An] absorbing, detailed, and devastatingly caustic tale of Washington in the days of the Caesars."—The Washington Post Book World

"Seductively readable . . . It is a staggeringly ambitious undertaking that is fully matched by Halberstam's performance. . . . This is in all ways an admirable and necessary book."—Newsweek

"A story every American should read."—St. Louis Post-Dispatch