A Higher Call: An Incredible True Story of Combat and Chivalry in the War-Torn Skies of World War II (Paperback)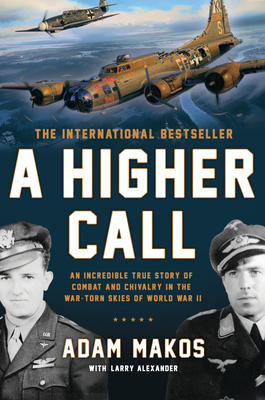 $18.00

Not in the store. We can order it and should have it in store in 3-5 business days.
Description
---
THE INTERNATIONAL BESTSELLER: "Beautifully told."—CNN • "A remarkable story...worth retelling and celebrating."—USA Today • "Oh, it's a good one!"—Fox News
 
A "beautiful story of a brotherhood between enemies" emerges from the horrors of World War II in this New York Times bestseller by the author of Spearhead. 

December, 1943: A badly damaged American bomber struggles to fly over wartime Germany. At the controls is twenty-one-year-old Second Lieutenant Charlie Brown. Half his crew lay wounded or dead on this, their first mission. Suddenly, a Messerschmitt fighter pulls up on the bomber's tail. The pilot is German ace Franz Stigler—and he can destroy the young American crew with the squeeze of a trigger...

What happened next would defy imagination and later be called "the most incredible encounter between enemies in World War II."

The U.S. 8th Air Force would later classify what happened between them as "top secret." It was an act that Franz could never mention for fear of facing a firing squad. It was the encounter that would haunt both Charlie and Franz for forty years until, as old men, they would search the world for each other, a last mission that could change their lives forever.
About the Author
---
Hailed as "a masterful storyteller" by the Associated Press, Adam Makos is the author of the New York Times bestseller A Higher Call, Spearhead, and the critically-acclaimed Devotion. Inspired by his grandfathers' service, Adam chronicles the stories of American veterans in his trademark fusion of intense human drama and fast-paced military action, securing his place "in the top ranks of military writers," according to the Los Angeles Times. In the course of his research, Adam has flown a WWII bomber, accompanied a Special Forces raid in Iraq, and journeyed into North Korea in search of an MIA American airman.  


Larry Alexander is the author of the New York Times bestselling biography Biggest Brother: The Life of Major Dick Winters, the Man Who Led the Band of Brothers. He is also the author of Shadows in the Jungle: The Alamo Scouts Behind Japanese Lines in World War II and In the Footsteps of the Band of Brothers: A Return to Easy Company's Battlefields with Sgt. Forrest Guth. Alexander has been a journalist and columnist for the Intelligencer Journal in Lancaster, Pennsylvania, for nearly twenty years and has won numerous state-level awards for excellence in journalism.
Praise For…
---
Praise for A Higher Call

"A remarkable story...worth retelling and celebrating."—USA Today

"Beautifully told."—CNN

"A riveting story of humanity and mercy set against the ghastly backdrop of war."—Publishers Weekly

"Oh, it's a good one!"—Fox News

"Deeply felt by its author and deeply affecting to read."—The Times (London)

"A truly awe inspiring story of wartime chivalry."—Daily Mail (London)

"Incredible."—New York Post

"Inspiring."—Kirkus Reviews 

"Simply told, splendid, and well worth the read."—*Joe Galloway, co-author of the #1 New York Times bestseller We Were Soldiers Once...and Young 

"This book grips you like a movie. It's part Top Gun, part Valkyrie, and more."—Marcus Brotherton, co-author of the New York Times bestseller Tough as They Come

"It is often said that 'war is hell'—and it is—however, this story reveals how the human spirit can shine in the darkest hours."—Colonel Charles McGee, Tuskegee Airman, WWII

"A Higher Call exemplifies beautifully the brotherhood of warriors and will forever change how you look at World War II."—Eric Blehm, author of the New York Times bestseller, Fearless

"Can good men be found on both sides of a bad war? The author asks the question and delivers the answer. A powerful, haunting read."—Chuck Tatum, author of Red Blood, Black Sand
Thank you for shopping local!