Alexander Hamilton: The Graphic History of an American Founding Father (Paperback)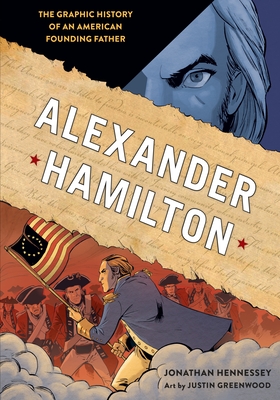 $19.99

Not in the store. We can order it and should have it in store in 3-5 business days.
Description
---
A graphic novel biography of the American legend who inspired the hit Broadway musical Hamilton.
 
Alexander Hamilton was one of the most influential figures in United States history—he fought in the Revolutionary War, helped develop the Constitution, and as the first Secretary of the Treasury established landmark economic policy that we still use today. Cut down by a bullet from political rival Aaron Burr, Hamilton has since been immortalized alongside other Founding Fathers such as George Washington and Thomas Jefferson—his likeness even appears on the ten-dollar bill. In this fully-illustrated and impeccably researched graphic novel-style history, author Jonathan Hennessey and comic book illustrator Justin Greenwood bring Alexander Hamilton's world to life, telling the story of this improbable hero who helped shape the United States of America.
About the Author
---
JONATHAN HENNESSEY is the author of three previous nonfiction graphic novels, The United States Constitution, The Gettysburg Address, The Comic Book Story of Beer, and The Comic Book Story of Video Games. He is also the writer of the history-based time travel series Epochalypse. Based in Los Angeles, he works in film and television.

JUSTIN GREENWOOD is a Bay Area-based comic book illustrator known for his work on creator-owned comic book series like The Fuse, Stumptown, Wasteland, and Resurrection.
Praise For…
---
Selected for the American Library Association's 2018 Great Graphic Novels for Teens

"There's loads to be learned here, and any Hamilton addict will
eagerly eat it up. . .worthy of high praise." 
—Booklist

". . . a timely portrait of the famous and controversial Alexander Hamilton."
 —Library Journal (Genre Spotlight: Graphic Novels)

"For fans of the stage show who are looking to dive deeper into the real history that inspired it, Alexander Hamilton: The Graphic History Of An American Founding Father is just what you need on your TBR."
 —Bustle

"Unpacking the history behind the high-energy Broadway megahit Hamilton, this focused biography will get teen through adult readers to ask questions about the country's past and
present."
—Library Journal (Review)

Advance praise for Alexander Hamilton:

"Yo, yo, yo, check out this book
It's amazing and cool and has a baller look.
Get on down to an LCS in your neighborhood
Have your mind blown by Hennessey / Greenwood.
This ain't no U.S. propaganda 
It's the best Hamilton since L.M. Miranda."
 —Marc Guggenheim, co-creator of Arrow and Legends of Tomorrow, screenwriter, producer, and comic book writer

"Cramming an entire life into a single graphic novel—especially a life as full as Hamilton's—is no mean feat, but Hennessey is up to the task. Greenwood's engaging art, aided by Simpson's color, brings the pages to life with a vibrant energy."
—Antony Johnston, writer of Atomic Blonde, The Fuse, and Julius

"This book needs to be in schools and on your shelves. Hennessey knows his Hamilton history and Greenwood's art has a pulse that makes the founder's story as compelling for comics as it is for great theatre."
 —Jeff Parker, writer of Future Quest and Batman '66