Gran Cocina Latina: The Food of Latin America (Hardcover)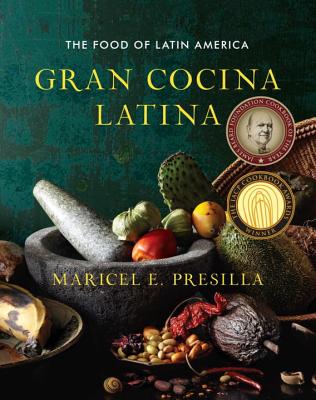 $49.95

Backordered at our distributor but we can check availability from the publisher.
Description
---
The 2013 James Beard Foundation Cookbook of the Year



How to cook everything Latin American.
Gran Cocina Latina
unifies the vast culinary landscape of the Latin world, from Mexico to Argentina and all the Spanish-speaking countries of the Caribbean. In one volume it gives home cooks, armchair travelers, and curious chefs the first comprehensive collection of recipes from this region. An inquisitive historian and a successful restaurateur, Maricel E. Presilla has spent more than thirty years visiting each country personally. She's gathered more than 500 recipes for the full range of dishes, from the foundational adobos and sofritos to empanadas and tamales to ceviches and moles to sancocho and desserts such as flan and tres leches cake. Detailed equipment notes, drink and serving suggestions, and color photographs of finished dishes are also included. This is a one-of-a-kind cookbook to be savored and read as much for the writing and information as for its introduction to heretofore unrevealed recipes.
About the Author
---
Maricel E. Presilla is the co-owner of Zafra and Cucharamama, two Latin restaurants in Hoboken, New Jersey. She holds a doctorate in medieval Spanish history from New York University and lives in Weehawken, New Jersey.
Praise For…
---
This extraordinary masterwork could only have been written by someone with an academic's patience and sense of history and tradition. Vastly detailed and rich with anthropological, historical, and cultural information, I refer to this book first anytime I want to learn or better understand anything about Latin cuisine.
— Samin Nosrat, author of Salt Fat Acid Heat

This book not only answers the how but the why as well. Maricel is our bridge to the past, the history of Latin American cocina, describing the original connections to Spain and its cooking and then what has evolved... more aromas, more textures, more flavors, more sexy ingredients. We can now understand Latin America better because of Maricel and the amazing foods that tell its rich history.
— José Andrés

I know of no other book that approaches the scholarship, passion and decades-long dedication that Maricel Presilla has lavished on Gran Cocina Latina.

— Rick Bayless

Gran Cocina Latina is a book as grand as its subject. It's a beautifully written distillation of Maricel Presilla's decades of experience in the markets and kitchens of Latin America. I can't imagine a better guide to this vast and underappreciated region. Maricel is a scholar, food importer, restaurateur, tireless explorer, and above all is passionate about everything she does. Gran Cocina Latina explains clearly how to bring the special flavors of Latin America to our own tables.

— Harold McGee

Books like this don't happen very often so drink it in and know it will still be in your kitchen ten years from now.
— Lynne Rossetto Kasper, Host of The Splendid Table®, public radio's national food show from American Public Media

The food of the Spanish- and Portuguese-speaking New World is complex, intricate, and has variety and range, extending from Cuba to Ecuador and from Mexico to Brazil. Maricel Presilla, a chef and food historian, takes us through that whole continent in a comprehensible, intelligent, original, and delicious voyage.
— Jacques Pépin

[A] serious but accessible study.
— Pete Wells - New York Times
Thank you for shopping local!