Talk of Champions: Stories of the People Who Made Me: A Memoir (Hardcover)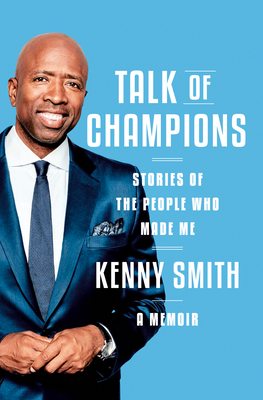 $29.00

Should be on our shelves now -- but wait for confirmation from us before coming to pick up. We'll respond to your order shortly.
Description
---
A revealing, humorous, behind-the-scenes memoir from Kenny "The Jet" Smith—superstar basketball commentator, host of the top-rated show, Inside the NBA, and two-time NBA champion. Smith reveals memorable inside stories of his playing and broadcasting careers, focusing on the star players, coaches, and mentors who inspired him along the way.
 
Kenny Smith was a star at the University of North Carolina before his storied NBA run, in which he won two championships with the Houston Rockets. His popularity skyrocketed when he joined TNT's new show, Inside the NBA, which has thrived for twenty-four years and won multiple Emmys, receiving enormous acclaim for the insight, humor, social commentary, and unrivaled basketball coverage from Kenny Smith, Charles Barkley, Shaquille O'Neal, and Ernie Johnson, Jr. Kenny is known to fans for his laser-sharp analysis and eloquent observations of the basketball scene and culture. 
 
In this honest and profound memoir, Kenny writes chapters about each of the extraordinary people who taught him invaluable life lessons. He illuminates the personalities, affections, and quirks of friends such as Michael Jordan, Shaquille O'Neal, Charles Barkley and Kobe Bryant, among others, and what he learned from each of them. He writes about his legendary UNC coach, Dean Smith, and other indelible role models through his career. And he interweaves poignant material about his upbringing in Queens, New York, his parents, his children, and his marriage, explaining the rich knowledge he obtained from the important figures around him. Kenny is also a strong, intelligent voice on race, as his fans and TV viewers will know. Ultimately this is a revealing, humorous, and powerful memoir, offering a candid glimpse inside the rarified world of elite sports and broadcasting, with inspiring takeaways.


About the Author
---
KENNY SMITH is an acclaimed NBA studio analyst for the Emmy Award–winning TNT show, Inside the NBA. He joins Charles Barkley, Shaquille O'Neal, and Ernie Johnson each week during the NBA season to form one of the most entertaining studio shows in sports television. He is also a CBS analyst during the NCAA March Madness tournament. Kenny won two NBA World Championships with the Houston Rockets in 1994 and 1995, and played nine seasons in the NBA for the Detroit Pistons, Houston Rockets, Sacramento Kings, and Atlanta Hawks. He played his college ball at the University of North Carolina. He lives with his family in California.
Praise For…
---
"A smartly structured memoir that reinforces the significance of relationships, perspective, and social awareness in the making of a champion. . . Refreshingly absent is the phrase 'as told to (sportswriter name)' normally associated with memoirs from celebrities and professional athletes. [Talk of Champions] is clearly Smith's alone. . . Throughout, Smith writes with detailed recall and focus. An engaging read with insights and stories that basketball fans in particular will value highly." —Kirkus Reviews (starred)

"Uplifting. . . The backstage anecdotes offer revealing insight into a storied career, but the strongest moments are when Smith discusses using his platform to speak out against racism. . . Smith scores in this thoughtful and intimate outing." —Publisher's Weekly